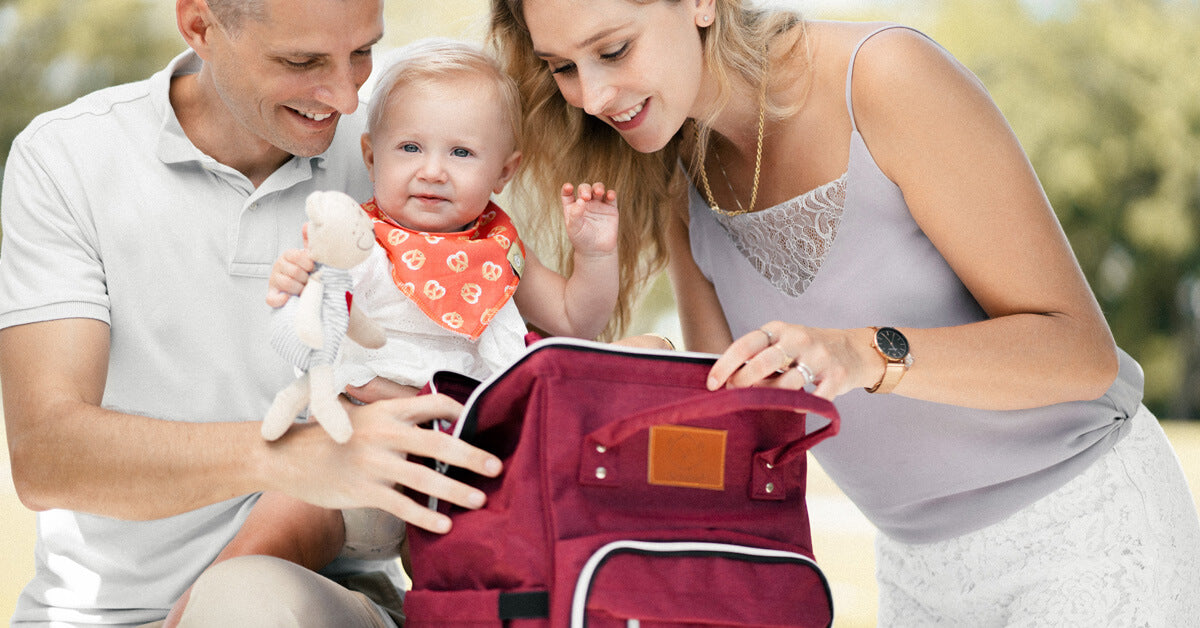 What's In My Diaper Bag: Cloth Diaper Edition
Having the right Diaper bag will be super helpful when it comes to packing your on-the-go essentials. One that makes enough space for your baby's cloth diaper than the regular ones. Wherever you're going, a well-packed diaper bag is a must!
It's time to get out of the house. Maybe it's an errand to the grocery store, a few hours at the beach, some park play hours, or last-minute shopping (hello holidays!). Whatever the occasion, a well-packed diaper bag is critical to a successful outing. Forgetting one thing or not having enough of another costs something. 
This KeaBabies mama packs only the essentials for her toddler and newborn, but her baby wears regular diapers. If you're a cloth diapering momma like me (I've got a 16-month-old), your diaper bag will look different. I only go for the essentials as well, but with slight variations. Here's what the diaper bag of a cloth diapering duo looks like. 
Diaper Bag
You have to start with the right diaper bag. They are built for outings (waterproof, scratchproof, insulated), include parent-baby friendly features (pockets for all the things, hooks, straps, hidden pockets for security), and last longer than just using any old bag (durable fabric). Plus, they're cute, and they give me nostalgia for the days I wore backpacks. 
Having the right diaper bag, like the KeaBabies' original, is super helpful. Having so much room is great because cloth diapers take up more space than regular diapers. It already comes with a changing pad, so I don't have to think about that part (but if you need a large one for your diaper bag, grab one here). 
However, if your child is anything like mine, it's impossible to get him to lay down for a diaper change. Am I right, moms? That's why I don't try anymore. I'm a pro at changing him whether he's standing, sitting, or running around. 
What's Inside 
Reusable Cloth Diapers: How many I pack depends on how long I'll be out, but my rule is one diaper for every 2 hours plus two in case of, well, everything. I don't ever want to be in a situation where I have to go to the store to buy reusable diapers. I wouldn't know where to start, even though I'm sure I could figure it out. 
Wipes: If you missed it, I dived deep into how I created an effective eco-friendly diapering system. This includes wipes. My cleaning involves small reusable towels (that I tuck in every diaper) and a spray bottle with a wipe solution. 
Biodegradable Plastic Bags: Having bags at the ready is key for number-two messes. They keep the smell and mess in with the diapers and the load. Plus, I can use them to hold just about everything else, like all that snack garbage.
Travel Wet Bag: You can easily dispose of a regular diaper just about anywhere. For reusable cloth diapers, a travel bag is my on-the-go storage solution. I can use a plastic bag if I forget to pack my wet bag (it happens!). However, it's easier to have my travel bag when laundry day rolls around. Plus, it's on-brand with being eco-conscious.
Bibs: KeaBabies' Bandana Bibs are superb because, yes, they work as bibs, but they can be used as cloths for the inevitable messes that primarily come from snacks and other foods. 
A Toy & Snacks: There's usually a toy left in the car, so sometimes I can get away with not packing one. However, snacks, especially fruits, are the best foods to have in my diaper bag during any length of a trip. Toys and snacks make the journey easier for all involved.
Extra Clothes: The final essential and staple in my diaper bag are extra clothes. I rarely ever use them, thanks to bibs and non-messy snacks, but I'm grateful it's always in my diaper bag when I do need it.
No matter where you're going or what kind of kid you have, a well-packed diaper bag will help you get through leaving the house successfully.
---
Meet Our KeaMommy Contributor: Nadia Rumbolt

Nadia Rumbolt is a mom of many trades, including creative writing, blogging, van life, minimalism, veganism, the beach, nature, and the occult.