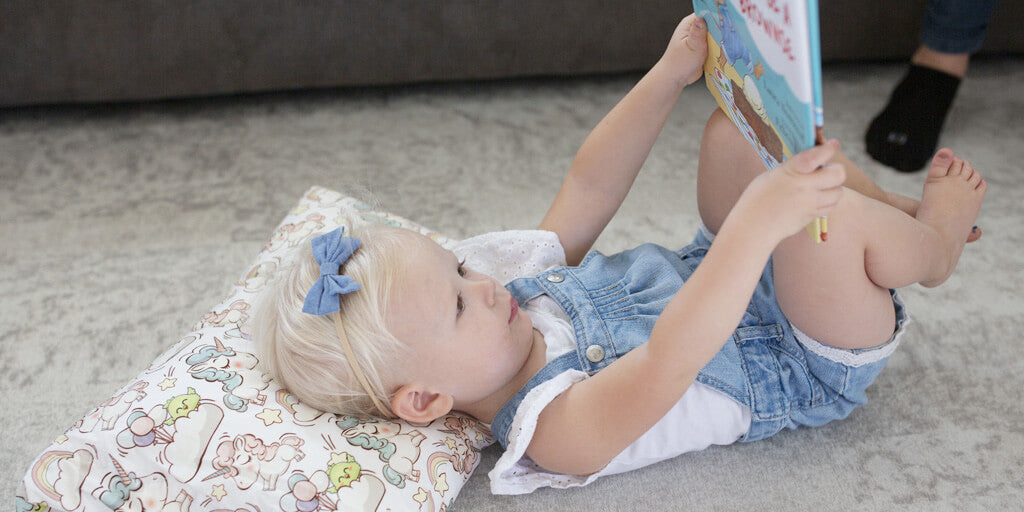 Pandemic Parenting: Keeping Kids Learning At Home
The pandemic doesn't have to mean a halt to your child's learning - there are many great ways you can encourage your child to have meaningful, educational experiences
without
the use of a screen.
This past year has toppled traditional parenting. We've changed how we go about our day, as many of the typical activities have been canceled. Many parents have been forced to work from home, many schools have remained closed, and regular venues for learning and play (like sports, museums, malls, and libraries) have remained locked down in many parts of the country. 
Because of this monumental shift in how we live our daily lives, kids have also shifted in how they spend their time. School is online. Extracurricular activities are online. Play dates are online. And of course, kids are spending much more of their free time online, watching cartoons, playing games, and interacting with friends via text, video calls, and social media. This prolonged, increased amount of screen time can have detrimental effects on a child's growth and development. But the pandemic doesn't have to mean a halt to your child's learning - there are many great ways you can encourage your child to have meaningful, educational experiences without the use of a screen.
If you're concerned about how to encourage your child to continue to learn and explore even at home, check out these simple ideas!
1. Pick toys that present a challenge.
Try to choose toys that challenge your child, and allow many ways to play. Building blocks are a great toy to have on hand (and they come in sizes made for all ages, from babies to school-aged children) because they allow endless possibilities for creation. Science books or science kits can also be a good activity to have on hand, because children can perform experiments as many times as they'd like. Setting up an art station at home can be beneficial for open-ended art projects as well. Children should have access to craft materials so they can create projects whenever they feel inspired. When choosing toys, try to avoid ones that don't encourage much creativity and opt for open-ended activities instead. 
2. Encourage unstructured playtime. 
Giving your kids plenty of unstructured play time can be beneficial to their growth and creativity. In fact, it's okay to let your children be bored sometimes. Let them figure out activities to do, where they want to explore, and how they'll fill their time. Letting your kids experience boredom can actually force them to utilize their creativity and imagination.
What parents can do is set up play areas that encourage kids to let their imagination soar. Having dress-up clothes and props on hand can give children a chance to play certain roles and imagine what it would be like to be in a certain career. A play kitchen with cooking utensils, cookbooks, and pretend foods or materials that resemble food can be a fun activity for toddlers and preschools. Children might also benefit from some toy roads, train tracks, and items to use for scenery, and they can create their own scenes using these materials. Letting older kids play around with an old camera or video camera can help spark their imagination, too. Be sure to give kids access to art materials and a special space to do art projects. Setting up simple creative play activities doesn't have to take a lot of time, but it can benefit kids a lot as they learn to rely on their own imagination and ideas. 
3. Teach your child practical life skills. 
If you've been trapped at home with your kids, this can be a great time to teach them some practical life skills. For example, pull out those old cookbooks and teach your children how to cook simple recipes. Young children can assist in measuring, pouring, scooping, and mixing. Older children can help read cooking instructions and follow along. Tweens and teens can learn how to use kitchen appliances and practice preparing their own meals (this can be a wonderful help to stop those constant work interruptions if you're a working parent).
Practicing doing laundry is another good skill to master during this time. Even toddlers can help by moving clothes from the washing machine to the dryer, or working on pairing matching socks together. Older children can practice pouring in laundry soap, knowing which cycle to run, and folding their clothes to put away. 
If everyone is at home all the time, it's important for everyone to also practice cleaning. Young children can help sweep, dust, or even simply pick up toys at the end of the day. Older children can take turns vacuuming, taking out the trash, unloading the dishwasher, or putting school work away. Children should be encouraged to keep their bedrooms tidy and clean. Tweens and teens can help sanitize household surfaces, such as doorknobs, handles, and light switches daily. If everyone helps, the housework will be less of a burden to you! 
4. Know the importance of breaking routine. 

At the beginning of the pandemic, the importance of routine was triumphed. Parents printed out daily schedules for their children. Chore charts were posted on the wall. Getting up on time, eating a healthy breakfast, and getting dressed for work or school (even if virtual) were emphasized. However, novelty is important for keeping children's brains engaged. Set aside times to break routine by having a family movie night, going on a neighborhood scavenger hunt, planning a backyard picnic, skipping virtual school to go on a hike or a drive, having a family dance party, and more! Encourage kids to come up with ideas for routine-breakers, too - this is a family effort!
5. Ask meaningful questions. 
Your children might be struggling emotionally during this difficult time, but what you can do to help them is to ask meaningful questions that keep their minds rolling. Even if you're a busy mom of multiple kids, or you're juggling remote work at home, try to listen in on what your kids are talking about during their classes or with each other. Use this information to fuel what questions you ask them. Instead of just checking in on whether they completed their daily homework assignments, did their daily chores, or made sure to keep the house tidy, try to ask your kids open-ended questions that will lead to meaningful discussions. 
Life has changed for everyone over the last year, but it's important to help our kids continue to thrive and succeed even during these trying times. By making simple adjustments to your everyday life, you can help set up meaningful experiences that enable your children to continue to grow their minds and creativity. 
Do remember to follow us on Instagram @keababies and join our loving and supportive KeaCommunity Facebook Group!
Parenting is awesome. Sleep is overrated. Every day is an adventure. 
---
Meet Our KeaMommy Contributor: Kaitlyn Torrez

I'm Kaitlyn Torrez, from the San Francisco Bay Area. I live with my husband and two children, Roman and Logan. I'm a former preschool teacher, currently enjoying being a stay at home mom. I love all things writing, coffee, and chocolate. In my free time, I enjoy reading, blogging, and working out.