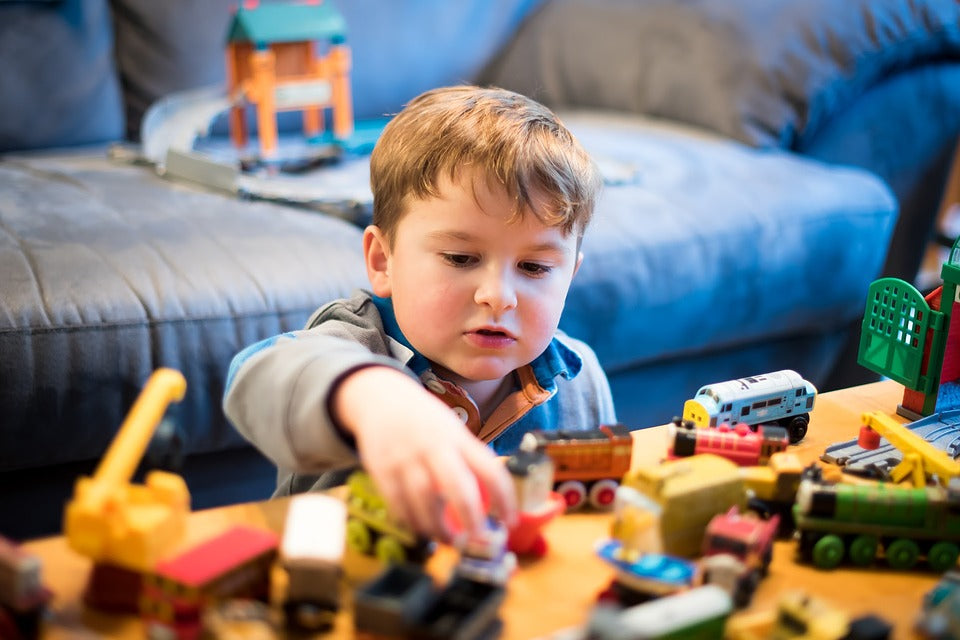 KeaBabies How To: Creating A Toy Rotation
Are you feeling overwhelmed with your little one's toy tornado! A toy rotation might be just the solution for you! Read on to find out how to successfully rotate toys to keep your house neat and tidy!
Is your house getting taken over by a whirlwind of baby toys? Does your living room look like a tornado hit? Does your baby have so many toys that he can't pick just one? Are your bookshelves overflowing with ignored titles? 
If this is the case, you might benefit from setting up a toy rotation!
What exactly is a toy rotation? You've probably heard the term before from other parents who are desperate to get their house under control. Toy rotation is a process of cycling out toys over a certain duration of time, only exposing your baby to certain toys at a time. The amount of time you leave toys out is totally up to you! Some parents like to swap out toys once a week, every other week, or even every day! How often you switch out toys all depends on your baby's unique personality and needs. Some babies like to spend more time focusing on a few toys at a time, while others play with a toy for a few days and then get bored. You may find that you leave out a few toys all the time, and swap out the rest. Again, it's totally up to you! There's a lot of flexibility in rotating toys. 
The amount of toys you rotate also depends on your room size and storage situation. Many experts agree that displaying toys in a front-facing manner where your child has easy access to them is the most beneficial setup. You can find divided shelving units, plastic storage containers, wooden shelving with removable plastic bins, open shelving, wall shelves, baskets, and toy chests. However, you choose to display and store your child's toys, always be sure to secure heavy furniture by mounting it to the wall. Babies and toddlers can easily pull and hang on shelving units, making them a danger. Invest in sturdy, quality furniture to keep your little one's toys neat and tidy. 
It is helpful if your little one can easily see his toys, instead of keeping them hidden in boxes or colored storage baskets. If your child can see his toys, it will be much easier for him to pick one activity instead of aimlessly shuffling through (and dumping out!) multiple bins of toys and creating a huge mess. Openly displaying your child's toys can also help her when it is time to clean up. She can see where each toy belongs and place it in the right spot. This setup fosters a sense of independence and allows your child to feel responsibility and control of her environment.
So, you're ready to get started - what kinds of categories should you keep in mind?
You can design your playroom however you choose, but there are certain categories most children like to play with.

1. Transportation.

Most babies and toddlers love anything with wheels. Busses, cars, planes, trains, and trucks are all fun toys for your baby. Younger babies will need larger toys that are easier to grasp, while older babies and toddlers can appreciate smaller, more intricately-detailed vehicles to manipulate. As a general rule, try to keep out 2-4 "things that go" at any given time for your little one to play with.

2. Animals.

Young children also love animals. Invest in a quality set of toy animals for your child to interact with. Younger babies might appreciate stuffed animals or teething toys shaped like animals, while older children will enjoy playing with toys that resemble the actual animals. Playing with animals can be a wonderful teaching tool, and toy animals can also be a great foundation for creating "sensory bins" for your toddler or preschooler later on. Again, you don't need 30 animals out all the time - keep 5-10 toy animals out and rotate them periodically.

3. Art.

Older babies and toddlers enjoy making art. From coloring books to non-toxic finger paints, to actual painting with paintbrushes, to markers and stamps, to safety scissors and glue, all young children love a sense of creating. Keep at least one art activity out for your little one to interact with at all times. You can even keep an easel or chalkboard in your playroom.

4. Pretend play.

Pretend play is an important developmental milestone for toddlers. Many babies and toddlers enjoy playing with pretend kitchens, pretend cleaning supplies, or play dress-up. If you have a toddler or preschooler, keep some pretend play items out and rotate them as your child tires of them.

5. Blocks.

Quality wooden blocks will last a lifetime. Blocks are great for developing motor skills l like grasping and stacking and provide endless possibilities for imaginative play.

6. Physical play.

Young babies will appreciate a bouncer, exersaucer, or activity mat, while older babies and toddlers might enjoy a small indoor slide or climbing toy or ball pit. If you have the physical space in your house, try to incorporate some larger physical play into your play area.

7. Books and music.

Babies and toddlers need books. Even young babies can benefit from being read to. Reading with your little one forms the foundation for early language skills. Babies can also benefit from music. Toy instruments are inexpensive and fun for little ones of all ages! You can even just get a rattle or egg shakers to create fun sounds with your baby.

However often you choose to rotate toys, keep in mind the categories above. Babies and toddlers can get overwhelmed by a mountain of toys and books, so creating a toy rotation where only 5-10 toys and activities are out at any given time can help them feel calmer and more in control of their environment!
Do remember to follow us on Instagram @keababies and join our loving and supportive KeaCommunity Facebook Group!
Parenting is awesome. Sleep is overrated. Every day is an adventure. 
---
Meet Our KeaMommy Contributor: Kaitlyn Torrez

I'm Kaitlyn Torrez, from the San Francisco Bay Area. I live with my husband and two children, Roman and Logan. I'm a former preschool teacher, currently enjoying being a stay at home mom. I love all things writing, coffee, and chocolate. In my free time, I enjoy reading, blogging, and working out.