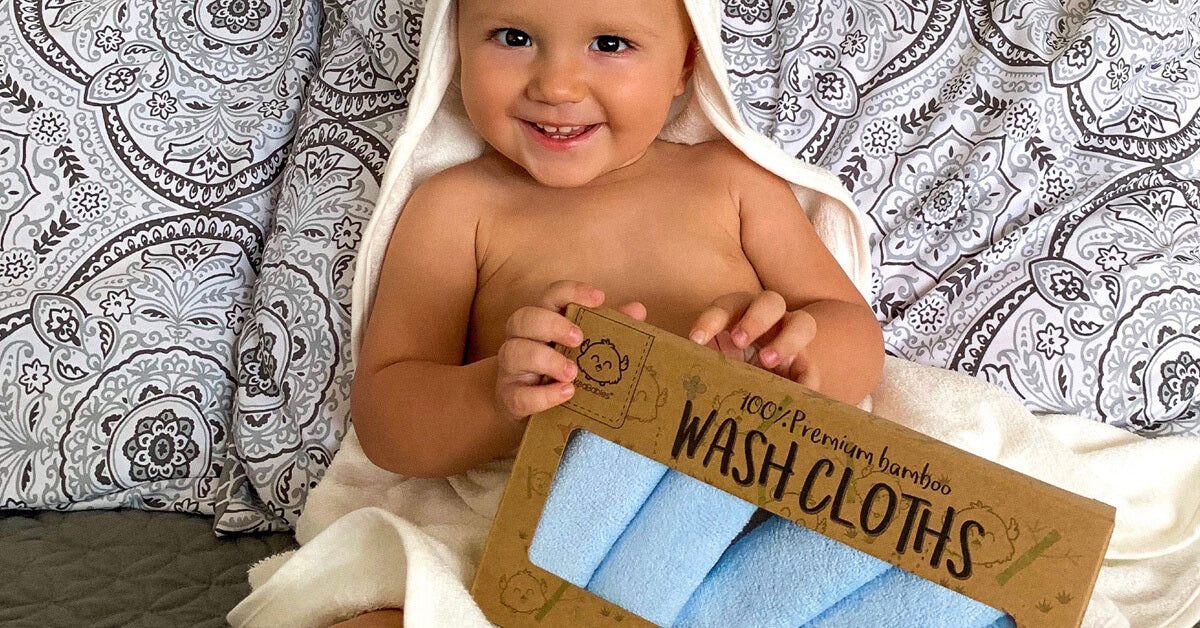 The Best Bath Time Accessory: KeaBabies Wash Cloths
Does your sweet little one enjoy bath time? If she's like most kids, we're sure she does! Babies, toddlers, and older kids alike love to splash, pl...
Does your sweet little one enjoy bath time? If she's like most kids, we're sure she does! Babies, toddlers, and older kids alike love to splash, play, and relax in the bath. Taking a bath can be a great way to relax after a long, exciting day of learning and exploring. It can also be a learning experience, as your child experiments with different bath toys, textures, and temperatures. Bath time can be a fun way to end the day!

If your child loves bath time, the KeaBabies Wash Cloths are the perfect addition to your daily bath time routine. Like all products in the KeaBabies brand, these washcloths are affordable, durable, and luxuriously soft!
Our washcloths come in 2 colors: white and mint love. They come in packages of six 10" by 10" square towels. Made of premium bamboo fibers, KeaBabies washcloths are wonderfully soft and unique!
Here are some of the primary features of the KeaBabies Wash Cloths:
1. Premium Softness
Here at KeaBabies, we're all about making high-quality products that help you and your family live happily and comfortably. Our KeaBabies Wash Cloths are luxuriously soft, gentle on your child's delicate skin. No little one wants to take a bath using a scratchy, stiff towel. Our washcloths are soft and lightweight, made from organic bamboo. They are durable and hold their softness, even when washed frequently. The 100% bamboo fibers enable these washcloths to remain plush and perfectly gentle!
2. Perfect for Cradle Cap
Infants, especially newborns, have very sensitive skin. Cradle cap is a common condition for babies that causes white or yellow crust-like scales to appear on your baby's scalp. While it can be frustrating to deal with, and a bit of an eyesore, it is actually harmless for little ones. Getting rid of the flakes can be a challenge, though. Some common treatments are using specialty shampoos, using a soft scrub brush during bath time, or massaging oil into your baby's scalp and then washing it off in the bath. You don't want to scratch your baby's head too roughly – using a KeaBabies Wash Cloth to scrub your baby's scalp during bath time can be a wonderfully gentle solution for treating cradle cap. Like many newborn skin conditions, cradle cap usually resolves on its own within a few months.
3. Made for Baby's Sensitive Skin
Newborns and infants have extremely sensitive skin. Their skin can easily become irritated by fragrances, temperatures, textures, and dyes. It is helpful for parents to choose products that are dye-free and fragrance-free, and natural and free of harmful chemicals. KeaBabies Wash Cloths are ideal for your child's delicate skin because they are made of premium material. Our 100% bamboo fibers are plush and hypoallergenic, and won't irritate your baby's skin, even in sensitive areas like the face. The washcloths aren't rough and aren't bleached, making them safe for all kinds of skin conditions. They are soft, natural, and dye-free – and they hold up over many washes! Whether your baby is dealing with eczema, baby acne, cradle cap, dry skin, or rashes from saliva or heat, our KeaBabies Wash Cloths will never further aggravate the condition!
4. High Quality, Organic Bamboo Material
The KeaBabies Wash Cloths are thicker and more absorbent than many other brands of  washcloths on the market. Made of 100% luxurious bamboo fibers, the quality is superior to standard cotton washcloths. The material is organic and hypoallergenic, making them premium quality. They are fluffy, ultra-soft, and safe for your child's delicate skin.
5. Stay Clean and Comfortable
Our KeaBabies Wash Cloths are machine washable, durable enough to hold their shape and texture over many washes and perfect for everyday use! Our premium organic bamboo fiber material helps your baby stay clean and comfortable during bath time. They are also antibacterial and deodorizing. The bamboo material prevents harmful bacteria from growing on the washcloths and enables them to stay odor-free.
6. Multi-Purpose 
KeaBabies Organic Wash Cloths are not just for babies, mommies can use them as facial towels for your toddlers or even for yourself! You will definitely love the softness of KeaBabies Premium WashCloths on your skin! 

Mommies can also use the washcloths for burps and spits! 🙌🏼
The KeaBabies Wash Cloths' many features make them the ideal bath time accessory for any family. Their softness, durability, and premium quality material make them an excellent addition to your bath time routine.

Check out KeaBabies Premium Organic WashCloths NOW!
Don't forget to follow us on Instagram @keababies and join our Facebook Group: KeaBabies Love and be part of our loving and supportive #KeaCommunity! 💕