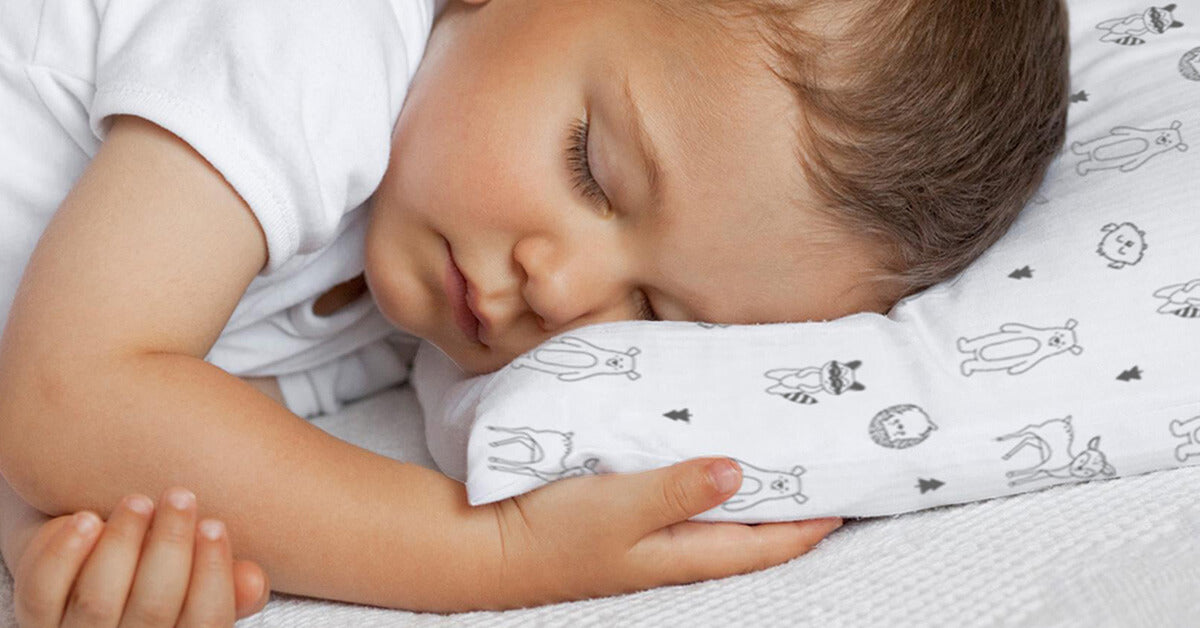 Sweetest Dreams With The KeaBabies Jumbo Toddler Pillow
When your toddler is ready to begin using a pillow, it's important to choose one that is suitable for safe sleep practices. 
We've updated a customer favorite - our toddler pillow is now available in "jumbo" size!
Once the tumultuous first year of your little one's life is through, chances are that your toddler is sleeping through the night consistently. If your child starts to climb out of the crib or becomes uncomfortable, it might just be time to switch to a toddler bed - an exciting milestone for both of you! It's a wonderful opportunity to let your toddler pick out some new bedding and accessories for their sleep space, and might be time to introduce a pillow! Set your child up for a restful night's sleep with the all-new KeaBabies Jumbo Toddler Pillow, the key to a successful night of sweet dreams! 
The American Academy of Pediatrics warns against any loose items in an infant's sleep environment, including blankets, pillows, bumpers, toys, and stuffed animals. However, once your child begins sleeping in a toddler bed, it's generally safe to begin adding these items to their bed. Although not every child needs to sleep with a pillow, it can add comfort to your little one's sleep routine - just make sure to pick one that is the right size and shape for their age. 
The main issue with using a pillow or other sleep accessories before 18 months is that it increases the risk of suffocation and SIDS, Sudden Infant Death Syndrome. In addition to pillows, other hazards include your baby becoming too warm during sleep, your baby sleeping on his stomach or side, and your baby sharing a bed with a family member. Until your little one is ready for a bed, it's important to keep your child's sleep environment clear of hazards.
Here are some things to keep in mind when it comes to toddlers and pillow safety: 
Using a pillow that is not specifically designed for toddlers can put strain on your child's neck. 

Toddlers with environmental allergies may experience heightened symptoms when using a pillow. 

If a pillow has too much stuffing, your child might have trouble breathing comfortably at night. 

Many pillows, especially adult ones, are filled with unsafe materials (for example, small pellets or feathers) that may be a choking hazard for toddlers if the pillow becomes damaged. 
When your toddler is ready to begin using a pillow, it's important to choose one that is suitable for safe sleep practices. Material matters, so choose a pillow made from hypoallergenic materials that reduce the growth of bacteria and mold and is free from harsh chemicals. Choose a pillow that is filled with toddler-safe stuffing such as synthetic fiber or foam. Consider your child's neck support as well - the pillow should not be too firm or too flimsy. Lastly, choose a pillow that is an appropriate size for your toddler, not one that is a standard adult size. 
The KeaBabies Jumbo Toddler Pillow is the perfect addition to your older toddler's sleep routine. At KeaBabies, we value the importance of your little one feeling safe and secure during nighttime, because sleep is vital for brain and physical development. With the expert approval from a children's chiropractor, the KeaBabies Jumbo Toddler Pillow has been ergonomically designed to protect your little one's spinal health. The pillow's softness and height are suitable for any type of sleeper!
The toddler pillow is made from 100% cotton, making it perfectly safe for toddlers. It is machine washable, which makes it easier to keep out harmful mold and bacteria. The pillow and pillowcase can be washed separately in cold water and air dried to maintain shape. The jumbo pillow is 14" by 20," the perfect size for travels, naps, and bedtime. The adorable, gender-neutral safari print is perfect for both boys and girls. Its modern, clean look and muted colors make it match any nursery style and theme! 
The jumbo version of our toddler pillow is suitable for children ages 2-5. It is bigger than the original toddler pillow, so be sure to choose the right one for your child's age and development. Older toddlers and preschoolers can enjoy using the larger-sized pillow as they grow and mature. It's even great for taking along on vacations or using it for naptime at preschool. 
A great way to set your toddler up for a peaceful night of sleep is to read bedtime stories as part of your winding-down routine! 
Here are some of the most popular bedtime books for babies and toddlers:
Goodnight Moon by Margaret Wise Brown 
The Very Hungry Caterpillar by Eric Carle 
Goodnight, Gorilla by Peggy Rathmann
The Goodnight Train by June Sobel 
Llama Llama Red Pajama by Anna Dewdney 
The Going To Bed Book by Sandra Boynton 
Pajama Time by Sandra Boynton 
The Runaway Bunny by Margaret Wise Brown
Brown Bear, Brown Bear, What Do You See? by Bill Martin Jr. and Eric Carle
Little Blue Truck by Alice Schertle
Reading to your child before bed can help create an environment of relaxation and calm, as well as exposing your child to written language and new vocabulary. Toddlers have a shorter attention span than older children, so choose books that are concise and contain bold, colorful imagery on every page. Interactive books are fun as well! Your toddler can sit or lay on her Jumbo Toddler Pillow for extra comfort during story time. 
If you want to set your toddler up for a successful night's rest, consider trying the KeaBabies Jumbo Toddler Pillow. It's soft, durable, and a safe addition to your little one's sleep space. 
---
Meet Our KeaMommy Contributor: Kaitlyn Torrez

I'm Kaitlyn Torrez, from the San Francisco Bay Area. I live with my husband and two children, Roman and Logan. I'm a former preschool teacher, currently enjoying being a stay at home mom. I love all things writing, coffee, and chocolate. In my free time, I enjoy reading, blogging, and working out.