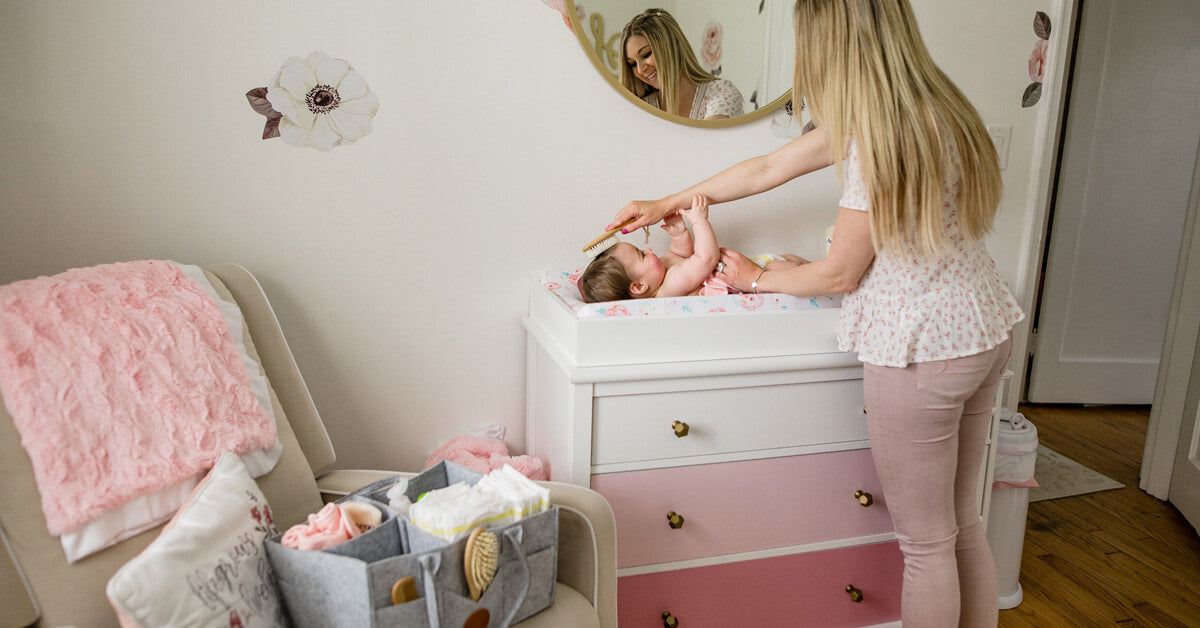 Suggested Newborn Essentials
A new baby, another experience, and life seems to be so different now. There will be surprises and unexpected twists. You'll come to see that what worked for others may not work for you. So, to prepare for this exciting journey of parenting, we have a checklist of the basics for a newborn! Consider this your guide. 
A new baby, another experience, and life seems to be so different now. There will be surprises and unexpected twists. You'll come to see that what worked for others may not work for you.
So, to prepare for this exciting journey of parenting, we have a checklist of the basics for a newborn! Consider this your guide. Caring for your little one doesn't have to beget a shopping spree. With wise planning and spending, you can have a great start. To get a better idea of the must-haves, here is a list of some baby products that will genuinely help you meet your baby's needs.
Nursery Necessities
The importance of having a cozy and comfortable nursery is for the baby's welfare and safety. Nurturing your little one will require the following nursery essentials at the very least:
Crib or cot with a mattress or a bassinet; cradle or rocking chair
Changing pad or diaper changing table and diaper storage
An organizer or storage space for formula and baby bottles
Storage for beddings and linens
These are the basics that you need to maintain in your nursery room, but if you have a little extra space and a hefty budget, you may include these add-ons to make the nursery room cozier, safer, and comfortable:
A reclining chair for breastfeeding
Dresser for baby's clothes and diapers
Hamper for dirty linens
Baby monitor to check on the baby
White noise machine or lullaby music player
Vaporizer or humidifier
Night light for a peaceful sleep
Feeding Essentials 
Breastfeeding
Feeding your baby is indispensable, exhausting, sleep-depriving, and recurring, especially for new moms. You need a handful of things to prepare if you want to breastfeed your newborn. You will need:
There are many breastfeeding products designed to help moms in their nursing journey, and the following are some you may consider:
Nursing pillows
Breastmilk storage bags or containers
Baby bottles for thawed breastmilk
Bottlebrush and dishwashing liquid 
Bottle drying rack
Breast pump
Bottle warmer
Bottle sterilizer
Formula-feeding
If you choose to feed your baby using formula milk, you will need the following items:
Unexpired formula milk
Baby bottles
Bottle brushes
For a better formula-feeding experience, you may also include:
Thermal bottle carrier
Bottle warmer
Bottle sterilizer
Solid food feeding
BPA-free feeding spoons and bowls
Baby food blender for puree
Sippy cup or a BPA-free cup for water
You will need a few supplies to feed your baby, but here are some optional feeding materials you may want to consider:
Checklist for Diaper Change
Keeping your baby clean throughout the day is already difficult to manage. However, there things to consider to maintain organization at home (and on the go). Fortunately, you can sustain cleanliness without compromising the comfort and well-being of your little one. 
For diaper change, you will need the following items:
Washable diaper bag (for home and travel)
Waterproof changing pad and covers
Diapers (disposable/cloth)
Baby wipes, cotton rounds or washcloths
Safety pins or Velcro for re-usable diapers
You will surely get used to changing diapers over time. Aside from these must-haves, you will appreciate the following items, too:
Diaper caddy organizer bag
Grasp toys to keep your little one occupied
Pail, trash bin, and disposable bags for proper diaper disposal
Ointment, lotion, or cream for diaper rash
Diaper dispenser
Wipes warmer
Baby powder
 Bathing and Grooming Needs
Babies are small and vulnerable. So, they need extra care, especially when getting close to water. A slippery baby is quite hard to handle, so be prepared with your bath essentials to help you through bath time: 
Basin or bucket (one that's safe for babies with no sharp edges and non slippery
Baby bathtubs, plastic or inflatables especially designed for babies or infants
Baby body wash or baby soap
Baby shampoo
Soft washcloths
Soft baby hooded towels or soft towels for babies
Baby nail trimming set (scissors, clippers, file)
Comb or brush set (cradle cap or soft-bristled baby brush)
You may also include these to make the bath time fun and safer:
Faucet guard
Baby bath toys and a mesh bag to keep them dry after bath
Baby lotion
Baby powder
Cotton swabs or cotton balls
Digital bath thermometer
Baby bathrobe
Baby Clothing Essentials
The best kind of clothing to warp your baby with is all natural, organic cotton. It's comfortable and safe for baby's delicate skin. Babies grow significantly during the first twelve months from birth, and they will outgrow their clothes quickly.
So, shop thoughtfully around the seasons. As such, that may include the following:
Tops:

T-shirts
Undershirts
Side snap shirts
Kimono-style with snaps
Shirts with an envelope closure at shoulders
Short and long-sleeved button-down onesies
Trousers:

Stretch cotton pants
Lightweight shorts or pants
Snap-crotch bodysuits
Bedtime:

A Pajama set or one-piece snap-crotch pajama
Sleeping gowns
Stretchy cotton sleepers
Wearable sleep sack
Winter clothes:

Cardigan sweaters (front closure)
Thick hoodies (front closure)
Cotton jackets
Cold-weather hat that can cover baby's ears
Infant snowsuit or bunting
Fleece suit
Other possible clothing:

Pairs of socks
Pairs of soft booties (before baby walks)
Knit caps, newborn hats, and sun hats
No-scratch mittens
Rompers or similar clothes appropriate for the season
You may also need:
Gentle or mild laundry detergent
Baby hangers for tiny clothes
Clean storage boxes or drawers to prevent insects like ants and spiders from crawling into your kid's clothes
On-the-Go Travel Gear
Most of the things your baby needs at home must have a portable version because at some point, you'll be desperate to leave the house! Our duties as parents will not stop when we have to run errands or go out for a beach day. If anything, it can get a little tricky so planning is your bestie.
To keep you equipped with all your baby's needs, here is a rundown of the essentials for you to bring or buy when traveling with a baby:
Rear-facing infant car seat and mirror
Strollers with shade and rain cover
Sun shields for windows of your car
Portable baby bed or bassinet
A diaper bag filled with diapers, wipes, baby bottles, and spare clothes
Water bottle when baby is allowed to drink water
To have a more convenient trip, you may also consider bringing the following items with you:
Baby carrier
Playmat for picnics
Soft toys to keep your baby busy while on the road
Blanket to keep your baby warm during cold days
Baby Health and Safety Kit
We always want the best for our babies, and our maternal instincts kick in even more when our little ones are sick. In times of the inevitable, it helps to know you have the medical essentials you need to take care of your little. 
Here is a guide of what to store in your medical kit:
Baby thermometer
Pedialyte for dehydration
First aid medication for fever, cough, colds, and flu
Petroleum jelly
Nasal aspirator
Bulb syringe to help in the suction of mucous
Saline drops for the nose
Alcohol and betadine for wound treatment
Sterile gauze
Scissors and gloves
Band-Aid and bandage
Insect bite ointment
Hot and cold compress
Eyedropper or medicinal spoon
Vitamins
Play and Fun Must-Haves
Your child will begin exploring their surroundings as part of their physical and cognitive development. To help introduce them to the world, you may let them play with things that can stimulate the use of their senses. 
Here are some sensory-building items to have that can aid in their early discoveries:
Baby cloth books and board books
Bouncer seat
Squishy ball
Building blocks
Rattles
Baby nursery rhymes
Playmat with colorful images
Activity gym
Shapes and colors in baskets
Home Baby Proofing
The safety of your baby at home is naturally our priority. Here are some items that can keep your little one safe from possible bumps and cuts:
Gates at staircases
Drawer and cabinet latches
Outlet safety covers
Table bumpers
Corner soft guards
Toilet locks
Furniture locks
Soft play area
Enclosed kitchen and parking area
Putting away small objects that they can put inside their mouth
Conclusion
There are many things you need to prepare for your baby. So be wise with organizing and planning so you can spend wisely and stay organized. Having a checklist such as ours with you can help you avoid unnecessary spending and frustration. Good luck!
---
Meet Our KeaMommy Contributor: Nadia Rumbolt

Nadia Rumbolt is a mom of many trades, including creative writing, blogging, van life, minimalism, veganism, the beach, nature, and the occult.