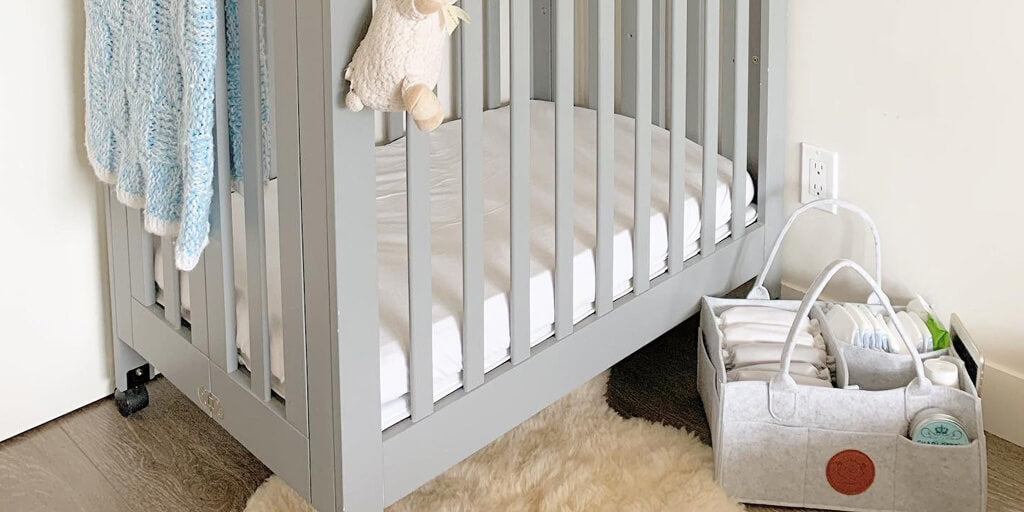 Spring Cleaning With The KeaBabies Diaper Caddy
Has staying at home got you constantly thinking about cleaning and organizing? Guess what - the KeaBabies Diaper Caddy can be useful for organizing so much more than just diapers and wipes! Read on for more ideas on how to utilize this versatile storage caddy!
The weather is warming up, the flowers are blooming, and many states are beginning to loosen their strict shelter-in-place guidelines. Now is the perfect time to get your household in order so you'll be all set to resume a more "normal" pace of life in the coming months! If you've found yourself inspired to "spring clean" your living space, the KeaBabies Diaper Caddy can be the ultimate organization tool to help you accomplish all your cleaning projects!
Wait - how can parents use a diaper caddy to help with cleaning and organization projects? Our KeaBabies Diaper Caddy is worth so much more than just storing diapers and wipes. Here are some simple ideas for how to utilize this wonderful storage caddy for keeping all your cleaning supplies close by! 
1. Keeping homeschool essentials together 
Are your older kids still immersed in distance learning? Keep all their school supplies neat and tidy with the KeaBabies Diaper Caddy! The different compartments can easily hold notebooks, pens, pencils, erasers, chapter books, headphones, tablets, and more! Try to set up a designated work station for your school-aged children to ensure their academic success. 
2. Organizing feeding accessories  
The KeaBabies Diaper Caddy can be a great tool for making sure your kitchen doesn't become a scattered mess of feeding supplies! The caddy can store all your baby's utensils, silicone bibs, bandana bibs, small bowls and plates, sippy cups, placemats, wipes, and small snacks! We recommend KeaBabies Silicone Bibs and KeaBabies Bandana Bibs for keeping your little one mess-free during mealtime. The silicone bibs can easily be tucked into one another and rolled for easy storage, and the bandana bibs can be folded in half and tucked into one of the storage compartments. 
3. Creating a snack station 
Do you find your kids constantly asking for snacks? Help them be more independent by creating a fun snack station using the KeaBabies Diaper Caddy! The caddy is big enough to hold bags of pretzels or crackers, bags of fruit snacks, containers of puffs, puree pouches, and more! Be sure to include some reusable water bottles, napkins and wipes, and some fresh produce like apples or bananas to create a stress-free zone for healthy snacking. 
4. Organizing water play essentials 
As the weather warms up, outdoor water play is a must! Babies and toddlers love to explore and play with water. Use the KeaBabies Diaper Caddy to keep all your outdoor essentials on one spot. Include some baby-safe sunscreen, a wide-brimmed sun hat, wipes, infant-safe bug repellent, swim diapers, some bath toys, a washcloth, cups and funnels, a small towel, and more! Invest in a good water table or sensory bin for your little ones to have fun water play all season long. There are many inflatable or plastic baby pools available online or at local stores. On hot days, make your backyard a fun water zone for your children to enjoy! 
5. Carting cleaning supplies from room to room  
Forget dragging a handful of cleaning supplies all over the house! Simply tuck all your cleaning essentials into the KeaBabies Diaper Caddy, and you have a simple cleaning station you can carry from room to room! Things to have on hand include: disinfectant spray, air freshener, sanitizing wipes, washcloths, hand towels, glass cleaner, dish soap, and more! 
The KeaBabies Diaper Caddy is useful for so many things besides simply storing baby items! It's use extends well beyond the baby and toddler years, and is a great accessory to have on hand as a parent. Be sure to share with us on social media (Instagram, Facebook, or TikTok) how you utilize your KeaBabies Diaper Caddy for a chance to be featured on our page! 
Do remember to follow us on Instagram @keababies and join our loving and supportive KeaCommunity Facebook Group!
Parenting is awesome. Sleep is overrated. Every day is an adventure. 
---
Meet Our KeaMommy Contributor: Kaitlyn Torrez

I'm Kaitlyn Torrez, from the San Francisco Bay Area. I live with my husband and two children, Roman and Logan. I'm a former preschool teacher, currently enjoying being a stay at home mom. I love all things writing, coffee, and chocolate. In my free time, I enjoy reading, blogging, and working out.