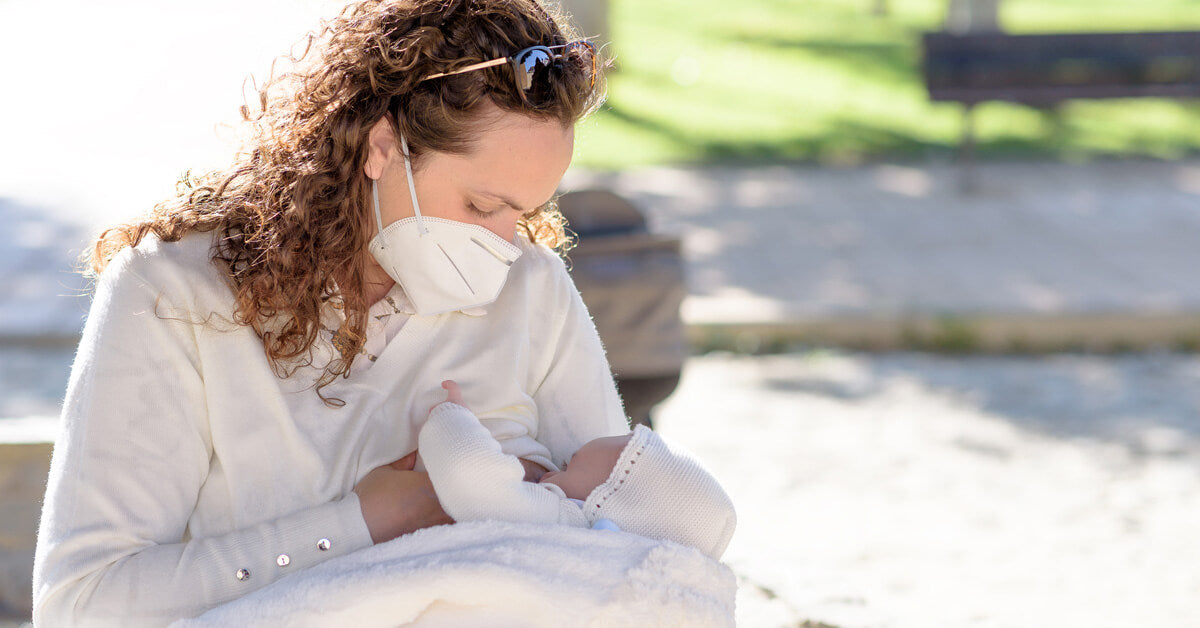 New Mom in the New Normal
It's no secret that we are living in a worrying, stressful, and confusing time. The novel coronavirus (COVID-19) pandemic has shaken the world and changed pretty much everything, piling a lot of stress and pressure on new moms and their families.
It's no secret that we are living in a worrying, stressful, and confusing time. The novel coronavirus (COVID-19) pandemic has shaken the world and changed pretty much everything, piling a lot of stress and pressure on new moms and their families.
Sure, as a new mom, you now have more time for your little one and other loved ones. But staying home isolated from the rest of the world creates a new set of unexpected challenges. First of all, you may be worried and unsure how this will affect you, your infant, and your postpartum care.
In this post, I'll walk you through some of the common challenges those with newborn babies may be facing during the current pandemic. Look ahead for tips and suggestions on how to make your stay at home more bearable as a new mom.
Challenges of Parenting during the Pandemic
- Missing your Little One's "Firsts"
Welcoming a baby into your family and into the world is one of the most amazing and marvelous things you should be proud of as a mom. In fact, the first few months with your newborn are supposed to be exciting and full of joy, particularly if you're a first-time mom.
But the current pandemic has upended everything. When staying home and self-distancing are strongly advised, you have no choice but to limit physical interactions in order to protect yourself and your loved ones.
If you're like the best of us, I'm sure it wasn't your plan or desire to spend countless hours confined to your home, isolated. Moreover, you never planned to miss some of your baby's more exciting "firsts", such as introducing your little bundle of joy to your friends, relatives, and colleagues.
I bet it rouses your basest and innermost emotions that you're not able to show your baby off to his or her grandparents and extended family. You may have planned to take a much-needed vacation with your family after welcoming the little member of the clan. But that's now in the back-burner … and the list goes on and on.
Missing all, or most of these newborn's "firsts" can be challenging for any mom. To make matters worse, you may have fewer and fewer people to talk to and rely upon when you feel that you're missing out on the best part of motherhood.
Health Concerns
When you're a new mom, keeping your little one healthy is a top priority. This means the pandemic has filled your mind with so many "what if" questions. What if you catch the virus?
With so many unknowns about the novel coronavirus, you may be worried if you'll get sick if you get infected. What about your other loved ones? This can be quite disconcerting when you're already facing additional challenges in your postpartum care.
- Over-relying on family members
As a new mom, you may be feeling the effects of the pandemic at a time when you are already going through major life changes. You may be dealing with postpartum stress. Perhaps you're trying to lose some baby weight, get back in shape, and take care of your family, all while providing the very best care for your newborn.
The truth is, the stress and shock of caring for a newborn during a pandemic can take a toll on your physical, mental, and emotional health. The cabin fever that results from staying indoors for long can do a number on your overall health and well-being.
In normal circumstances, new moms can get plenty of help through support groups. But now you must rely on your family members for that, which in and of itself can be challenging because they also depend on you. As such, you may end up talking yourself down, trying to manage the stress and anxiety associated with caring for your child, home, and more in between.
Tips for Moms Struggling With Parenting during the Pandemic
Let's be honest; new moms appreciate the presents and shout-outs, but what they really need is support. They need support from family, other moms, support groups, and our communities. So, how can you fill the support gaps created by the pandemic?
Here are some key tips and suggestions on how new moms can cope especially with the stress of not getting enough help and support from others. If you find yourself relying too much on immediate family members, these tips are poised to help make staying at home more bearable.
- FaceTime
In pre-COVID times, family, friends, and others would rotate in and out of a new mom's house, holding the newborn and bringing gifts. They'd spend hours and hours saying cute things about the new bundle of joy.
That face-to-face interaction and burst of admiration for your baby can't be replaced. I know, I know. But hear me out: there's this thing called video calling. That's right; you can take advantage of FaceTime, Zoom, Messenger, WhatsApp, and other video chatting apps to bring those who matter closer to your isolated world.
Video call your friends, siblings, parents, and anyone who loves to hear about your progress, baby, and postpartum care. I know it can be tempting to just wing it, or perhaps turn to texting, but don't. Let FaceTime become your new BFF.
- Take advantage of online therapy and telehealth services
Seeking mental health counseling is a key component of great postpartum care. It's important that you stay proactive, reach out, and ask for help.
Despite the pandemic shutting down most services, it's not all gloom and doom for new moms. Technology has made it easy and hassle-free for you to access the mental health support services you might require.
You can opt for online therapy and take advantage of other telehealth services. Use these safe avenues to get support and discuss any issues you might be having.
- Join online support groups
Looking to connect with moms sailing through the same challenges as you? There are plenty of highly specific support groups that offer help to new moms struggling during the pandemic. You can get support on pretty much any postpartum care issue, from breastfeeding to postpartum stress and much more.
These online support groups will provide you with a safe, judgment-free, and understanding space where you can give/receive advice, vent, or just know you are not in this alone. Since the pandemic hit, a growing number of social media support groups have mushroomed, providing community to every mom looking for help and support.
Whether you're working from home with a newborn, struggling to breastfeed, or simply looking for a shoulder to cry on, there's a group for your situation. Facebook groups like The KeaCommunity Facebook Group, The 'COVID-19 Baby' Parents Group, and Parenting in a Pandemic give you a chance to engage and interact with individuals who get it. This helps make everyday overwhelm, tedium, fear, and staying home a little easier to bear.
- Read parenting and motherhood blogs
Parenting a newborn baby during the pandemic can be stressful and lonely, even when you know many other mothers have been through it before. But it doesn't have to be that way. Thankfully, there's been a resurgence of reliable blogs on motherhood and parenting.
Regardless of your personal parenting style, or the struggles you're going through, there's a good parenting/mommy blog for you out there. For starters, check out KeaBabies Mommy Blogs, where most of the posts are written by real moms looking to find community and connect.
- Take great care of yourself
It's true, the health and happiness of your baby are a top concern. But don't forget to take care of yourself, too. For one, try to get as much ZZZs as you can; sleep when your little one does. More importantly, find some "me time" when your nanny, partner, or someone else is watching your baby.
---
Meet Our KeaMommy Contributor: Avery K.

When she isn't looking after the many needs of her 2 kids, Avery enjoys taking walks in the park, enjoying nature, and getting her daily fix of caffeine.