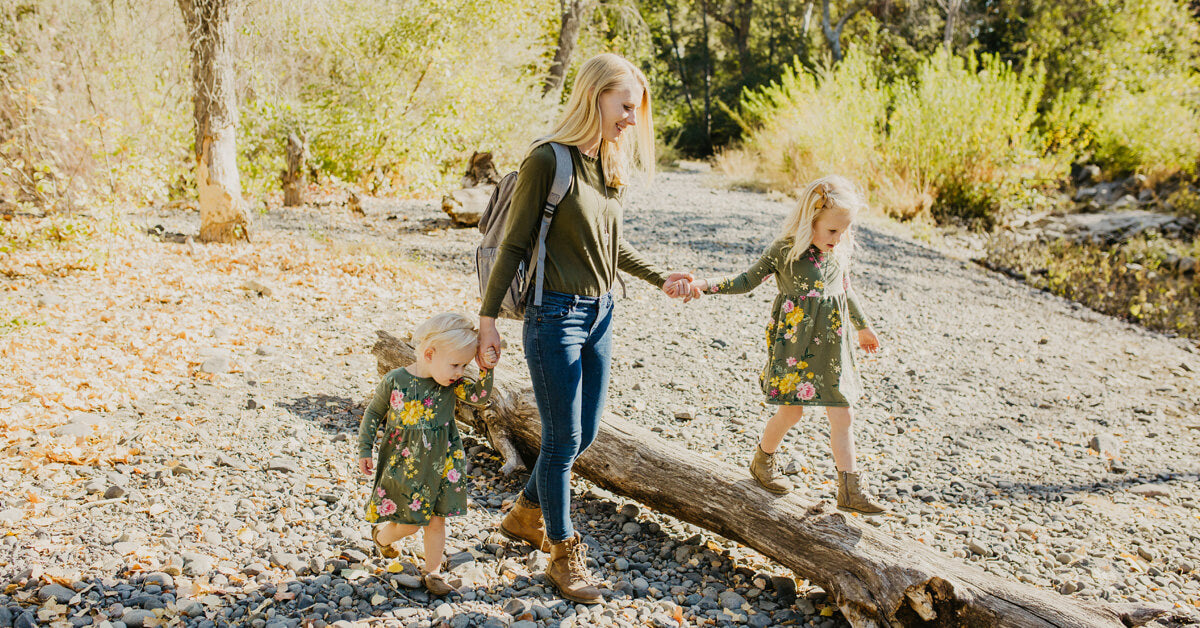 Mother's Day Activities Mamas Will Actually Love
For many moms, Mother's Day is a nice holiday, but once the cards and gifts are exchanged, things quickly return to normal. If you really want to impress a mom, you've got to get a little creative!
Cards, flowers, breakfast in bed, and macaroni necklaces - they're adorable and sweet, but why not give a mother something she really would enjoy? 
For many moms, Mother's Day is a nice holiday, but once the cards and gifts are exchanged, things quickly return to normal. Mom is responsible for changing all the diapers, providing all the snacks, handling all the schedules, and cooking all the meals. If you really want to impress a mom, you've got to get a little creative! If you're stumped for Mother's Day activity ideas, don't worry - we've got you covered. 
Creative ideas for Mother's Day games: 
Don't Say "Mom." This game is a welcome relief to mamas who are used to hearing "Mom" approximately 2 million times per day. Challenge the family to refrain from saying the word "Mom" (or Mommy, or Mama) for as long as they can stand. Whoever can make it the longest wins! 

Handwritten Madlibs. Have an adult write out a story about Mom, and then erase random words throughout the story. Have the kids give suggestions to fill in the missing words, and then read the new story out loud for everyone to enjoy. 

Family dance party. Have an adult make a playlist of Mom's favorite tunes, and then blast the music for everyone to dance to. Dancing is so much fun for kids and adults alike, and a great way to get some exercise in! 

Cleaning race. Give Mom a much needed break by doing a fun race with the kids! Set a timer, and race to clean as many rooms of the house as possible while Mom rests for a while. 
Creative ideas for Mother's Day activities: 
Family picnic. Pack some food and head to your favorite local park for a nice family meal in a beautiful setting. After the meal, let the kids play and burn off some energy! 

Book a family photographer. It's not often that moms get to be in the photos, so surprise Mom by booking a family photographer to capture some amazing pictures of your family! Every mama will appreciate this heartfelt gift. 

Let her sleep in. Really, let her sleep in, for as long as she needs. 

Book a spa day. Although moms love their kids, it's important for them to take time for self-care! Book Mom a manicure, pedicure, massage, hair appointment, or day at the spa, and give her a fabulous day of pampering. 

Go on a family "staycation" or day trip. Pick somewhere fun to explore for the day. Whether it's a day at the beach, a zoo adventure, shopping downtown, or hiking in the mountains, plan a fun adventure for your family to do together on Mother's Day! 

Plan a shopping spree at her favorite store. Figure out Mom's favorite store, and get her a gift card to spend all on herself! Give her some time to go shopping, browse, and shop till she drops! 

Book a virtual cooking class. Even though most days, it feels like a chore, most moms really do love cooking and experimenting in the kitchen. Sign her up for an online cooking class, find a sitter for the kids, and let her enjoy getting creative in the kitchen. 
Creative Mother's Day gifts from the kids: 
Cook her a cherished family recipe. Surprise Mom by gathering the kids and cooking one of her favorite family recipes. Maybe it's a vanilla cake recipe passed down from her great grandma, or a lasagna recipe from her distant cousin in another state. Help the kids make the special recipe for her and surprise her on Mother's Day!

Make her a wreath filled with handwritten notes from the kids. Pick up a basic wreath (or create your own) from any craft or party store, and then help your kids fill out little notes to fold and place all around the wreath. Decorate the wreath with fabric flowers, candy, or gift cards, and present your unique keepsake to Mom on her special day. 

Create a flower arrangement just for her. Store-bought bouquets are fine, but totally overdone and expected. Surprise Mom by taking the kids to the store and letting them pick out flowers to create their own unique bouquet for Mom - bonus points if they know some of her favorite flowers! 

Make a photo album. Creating photo albums online is simple with the many mobile apps and digital options available today. Spend some time picking out cherished family photos, and create a unique photo album filled with some of Mom's favorite snapshots over the years. 

Paint a fingerprint tree. Moms love holding onto mementos to remember how little their children once were. If you have babies or young children at home, help them create a beautiful fingerprint tree by drawing an outline of a tree on a piece of white paper, and then helping your child stamp her fingerprint all over the page to look like the leaves. 

Paint a flower pot. Buy a small flower pot and some acrylic paint, and let your little ones paint a design all over it. You can add glitter, do handprints or footprints, or whatever design you'd think Mom would love! Then, grab her favorite plant from a local nursery, and transfer it into your flowerpot. This is a beautiful gift that moms can enjoy for a long time. 
However you choose to spend Mother's Day, make sure it's a truly special one for the moms in your life. While Mom will probably smile and thank you for the traditional breakfast in bed and cards, why not spend this year creating a new tradition that she'll cherish for years to come? 
Do remember to follow us on Instagram @keababies and join our loving and supportive KeaCommunity Facebook Group!
Parenting is awesome. Sleep is overrated. Every day is an adventure. 
---
Meet Our KeaMommy Contributor: Kaitlyn Torrez

I'm Kaitlyn Torrez, from the San Francisco Bay Area. I live with my husband and two children, Roman and Logan. I'm a former preschool teacher, currently enjoying being a stay at home mom. I love all things writing, coffee, and chocolate. In my free time, I enjoy reading, blogging, and working out.