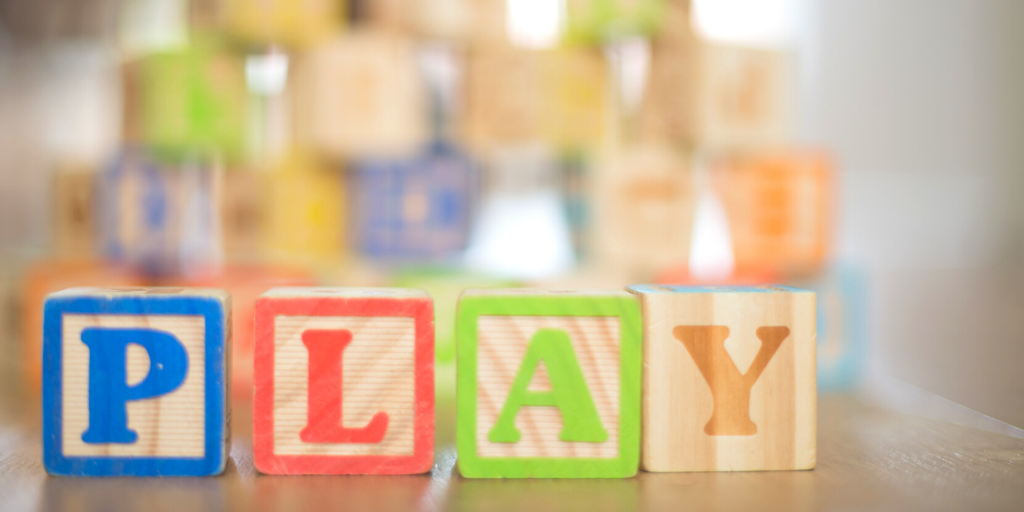 Learning Through Play: Magnetic Tiles
Does your child have a set of magnetic tiles? They come in many shapes, sizes, and colors, and are the perfect addition to any family's toy rotation! Read on for some great activity ideas for different age groups! 
If your little ones seem bored of blocks, play dough, dyed rice, sensory balls, and shape sorters, there's another toy that might just capture their attention - magnetic tiles. 
Magnetic tiles are a great boredom-buster for toddlers, preschoolers, and even school-aged children! They often come in fun colors and shapes, and the opportunities for exploration and experimentation are endless. Magnetic tiles are fun for little ones because of the constant opportunity to change things up and start over - and they're the perfect addition to any toy bin! 
Here are some of the most popular magnetic tile brands:
Magna-Tiles

PicassoTiles

Magformers 

Playmags
Many of these brands can be found at your local toy store or online! 
Choosing the right set of magnetic tiles for your family can depend on a number of factors. First, parents will want to ensure that the toy set is made from quality materials and does not use low-grade plastic, which contains phthalates, lead, and BPA, and is toxic. If you have a small child, you'll want to choose a toy set made from a quality, durable materials that won't snap or break and become a choking hazard. You want to make sure that the small magnets within the toy don't become loose and easily swallowed by a toddler. Always supervise small children when playing with magnetic tiles, and be diligent about storing magnetic tile sets away from small babies and toddlers. 
Furthermore, parents will want to choose a set of magnetic tiles that allows for the most creativity. Pick a set that allows for a multitude of construction possibilities, shapes, and designs. Pick a set with bright colors that will engage your child's senses. Playing with these tiles can be a wonderful calming sensory experience as well, perfect for winding down before a nap or before bedtime. 
Aside from the fun factor, magnetic tiles are educational tools that can help your child learn to manipulate and build with objects. Some of the developmental benefits of magnetic tiles include:
1. Improvement of motor skills
2. Basic understanding of magnetic properties
3. Rooted in STEM learning
4. Teaches patience and concentration 
5. Introduces cause-and-effect
6. Helps a budding imagination 
7. Teaches organization and categorization skills
8. Practice of counting and shape recognition 
Wondering what to do with your new set of magnetic tiles? Here are some fun activities for different ages. 
1. Basic shape recognition. (Toddlers and preschoolers)
Magnetic tiles come in all sizes and shapes. They are perfect for young children to explore the properties of different two-dimensional and three-dimensional shapes. You can teach your little one what a square, triangle, rectangle, and diamond look like, and you can also create three-dimensional models of cubes and pyramids. It's never too early to start building the foundational skills necessary for success in math and science! 
2. Making rainbows. (Toddlers and preschoolers)
Color recognition is another skill you'll want to help your toddler or preschooler learn. Magnetic tiles present the perfect opportunity to talk about color and patterns! You can practice creating "rainbow" roads with your child by arranging the tiles in lines of red, orange, yellow, green, blue, and purple. This activity introduces your child to the colors of the rainbow, and also how to create patterns.
3. Tile farm. (Preschool)
If your child loves animals, he'll love this activity! Use the magnetic tiles to create a farm. It doesn't have to be complicated - some simple walls will do. Then, find some toy farm animals and create your own farm scene! Help your child practice what animal makes what sound, what animals live where, what the different animals eat, and other facts about farms. This activity can be recreated with several other scenes too: the beach, the ocean, the mountains, a hotel, a parking garage, a zoo, a pet shop, and more! 
4. Vertical play. (Preschool)
There's a lot to be said for the importance of vertical play. While most young children spend much of their time playing with toys on the floor, a good way to train their growing brains is to engage in different forms of play such as vertical play. A simple activity to engage your toddler or preschooler would be to bring a box of magnetic tiles outside and let them stick them to your garage door or to a large magnetic whiteboard on the wall. Your little one might interact with the magnetic tiles in a whole new way when given the opportunity to play with them on a vertical surface! 

5. Light table exploration. (Preschool and Elementary)
Create your own light table using a plastic bin and a flashlight or LED candle. Put the lights inside the bin, shut the lid, and let your little one build with the magnetic tiles on top of the box. The light will illuminate the colorful tiles and allow your child's imagination to soar! 
6. Domino matching. (Elementary)
Does your school-aged child need help practicing number recognition? Using a dry-erase marker, draw dots on square magnetic tiles to look like pieces of dominoes. Then, draw numbers on the other tiles. Your child's job will be to count the dots and match them to the corresponding number. You can also use magnetic tiles to help your child understand fractions, addition, and subtraction!

7. Christmas tree. (Preschool and Elementary) 
All you need to create an adorable holiday project are green triangular magnetic tiles, put together to create a pyramid shape, and some small jingle bells (you can find these at any craft store or online). The little jingle bells will stick to the sides of the Christmas tree and serve as the ornaments. You can use various sizes and colors of jingle bells, too. 

8. Magnetic tile maze. (Elementary)  
Help your older child construct a maze using magnetic tiles, a baking sheet/pan, and a small ball. Use the magnetic tiles to stick to the pan and serve as the walls of the maze. Your child can create the maze in whatever shape she wants! Then tilt the maze so the ball rolls through it to the finish line! This STEM-based activity helps encourage design and engineering skills. 
There are so many ways to use magnetic tiles with children young and old! They are simple, cost-effective tools to help children engage in learning many different concepts. From simple shape and color recognition to more complex activities such as maze creation, there are so many different ways to incorporate magnetic tiles into your family's toy rotation.
Do remember to follow us on Instagram @keababies and join our loving and supportive KeaCommunity Facebook Group!
Parenting is awesome. Sleep is overrated. Every day is an adventure. 
---
Meet Our KeaMommy Contributor: Kaitlyn Torrez

I'm Kaitlyn Torrez, from the San Francisco Bay Area. I live with my husband and two children, Roman and Logan. I'm a former preschool teacher, currently enjoying being a stay at home mom. I love all things writing, coffee, and chocolate. In my free time, I enjoy reading, blogging, and working out.