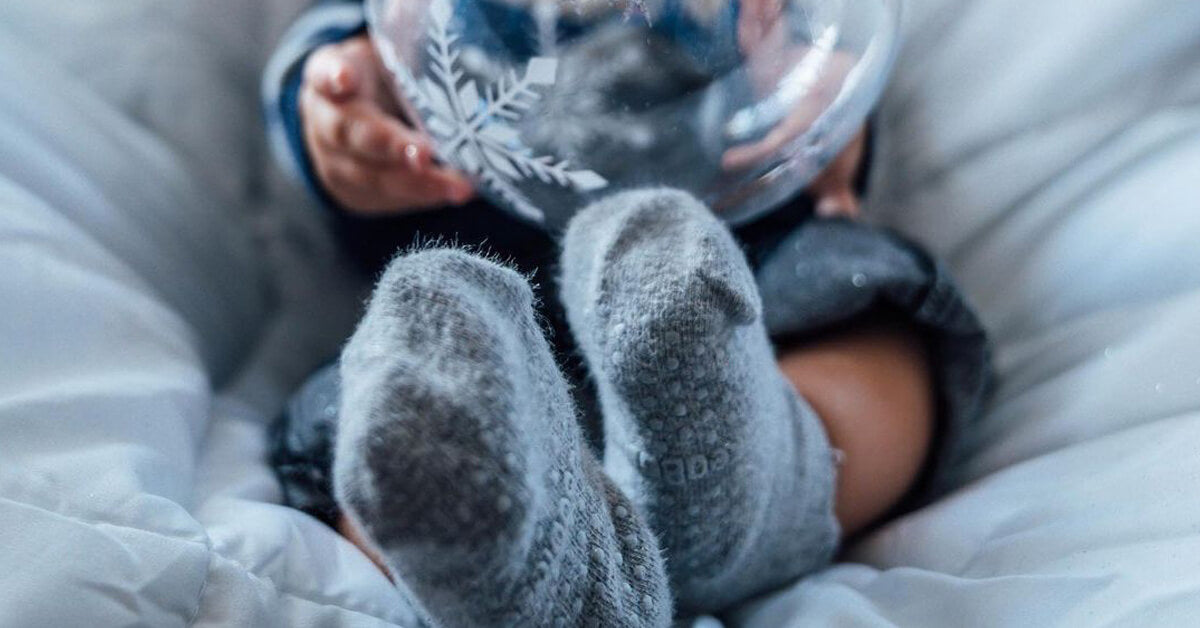 Keep Your Toddler Safe And Warm This Christmas
Keep your little one's toes warm and snug this winter with our newest product: KeaBabies Baby Socks! Our anti-skid design allows your toddler to explore freely without the worry of slipping and falling! Learn more about our socks set by clicking the link above.
Do you have a toddler, or soon-to-be toddler, at home? Gear up for this holiday season with one of our newest products: KeaBabies Baby Socks! Our socks will keep your little one's feet warm and snug during the cool winter months, and will also allow them to learn and play freely without the fear of slips and falls! 
Like all products in the KeaBabies line, the KeaBabies Baby Socks allow parents and caregivers to create wonderful moments with their children. With amazing quality at affordable prices, our set of baby socks is the perfect addition to any toddler's wardrobe. What sets KeaBabies socks apart from other brands? Read on for information on how these socks are comfortable, stylish, affordable, and high quality!
1. Skid-proof design.
These socks are set apart by the KeaBabies Sole Grip. Never worry about your little one slipping and falling while learning to walk, climb, and run! The ergonomic design has been rigorously tested on children between 12 and 36 months of age. Socks that have no grip, or even too much grip, may cause your beginning walker to become off balance or fall easily. Babies and toddlers need to be able to fully lift their feet off the ground while walking in order to maintain a steady gait. 
The grip on the KeaBabies Baby Socks allows your little one to maintain a steady grip on many surfaces both indoors and outdoors! The ergonomic grip allows toddlers to run, climb, jump, and walk without restricting their natural motion in their toes and heels. 
Choose the KeaBabies Baby Socks to ensure your child's safety, especially when he or she is just beginning to walk and run!  
2. Affordable large pack. 
KeaBabies Baby Socks come in packs of 12 - enough to last more than a week! No parent wants to be a slave to the washing machine. With the KeaBabies Baby Socks, you'll have enough quantity to last well over a week! With the many different colors, there's sure to be a pair to match any outfit! 
3. Comfortable and breathable. 
The socks are soft and breathable, comfortable for any baby on the move! From the cool winter months to warm summer days, the KeaBabies Baby Socks will keep your little one comfortable at any temperature. KeaBabies uses a premium terry cotton-spandex blend, making the toddler socks ultra-plush and super soft and cozy. They are stretchy and won't leave any marks on your toddler's feet from being pulled too tightly. Your toddler can wear these socks all day long (and even at night!) without becoming sweaty and uncomfortable. 
4. Adaptable for many ages. 
Are you tired of constantly replacing your child's wardrobe as they grow rapidly? Stop constantly buying new clothes and choose the KeaBabies Baby Socks - they're comfortable for a wide variety of ages! They've been tested on babies and toddlers 12-36 months, guaranteed to last your little one well into toddlerhood! Why buy socks that your little one will grow out of in a few months when you can buy the KeaBabies socks that will last for years? The premium stretchy material will help the socks naturally mold to your child's feet even as they grow. 
5. Stylish and classic. 
Don't let your little one's socks distract from their adorable outfit of the day! The KeaBabies Baby Socks come in neutral hues of white, black, blue, and gray. It's easy to find a pair that matches with any outfit in your child's wardrobe! They keep your little one looking neat and polished, making them the perfect addition to any wardrobe. They are designed for comfort and adaptability - great for both boys and girls! 
6. Durable and lasting. 
Like all products in the KeaBabies lineup, KeaBabies Baby Socks are meant to last. These socks can adjust to your child's feet as they grow, allowing them to wear these socks for years! The socks are made from a premium cotton-spandex blend, so they won't tear or get holes easily even during many months of rough play. Don't worry about constantly replacing your child's socks - these socks from KeaBabies are made to last! 
KeaBabies Tips For Using The KeaBabies Baby Socks: 
We hope you'll try out our KeaBabies Baby Socks with your little walker!
Do remember to follow us on Instagram @keababies and join our loving and supportive KeaCommunity Facebook Group!
Parenting is awesome. Sleep is overrated. Every day is an adventure. 
---
Meet Our KeaMommy Contributor: Kaitlyn Torrez

I'm Kaitlyn Torrez, from the San Francisco Bay Area. I live with my husband and two children, Roman and Logan. I'm a former preschool teacher, currently enjoying being a stay at home mom. I love all things writing, coffee, and chocolate. In my free time, I enjoy reading, blogging, and working out.