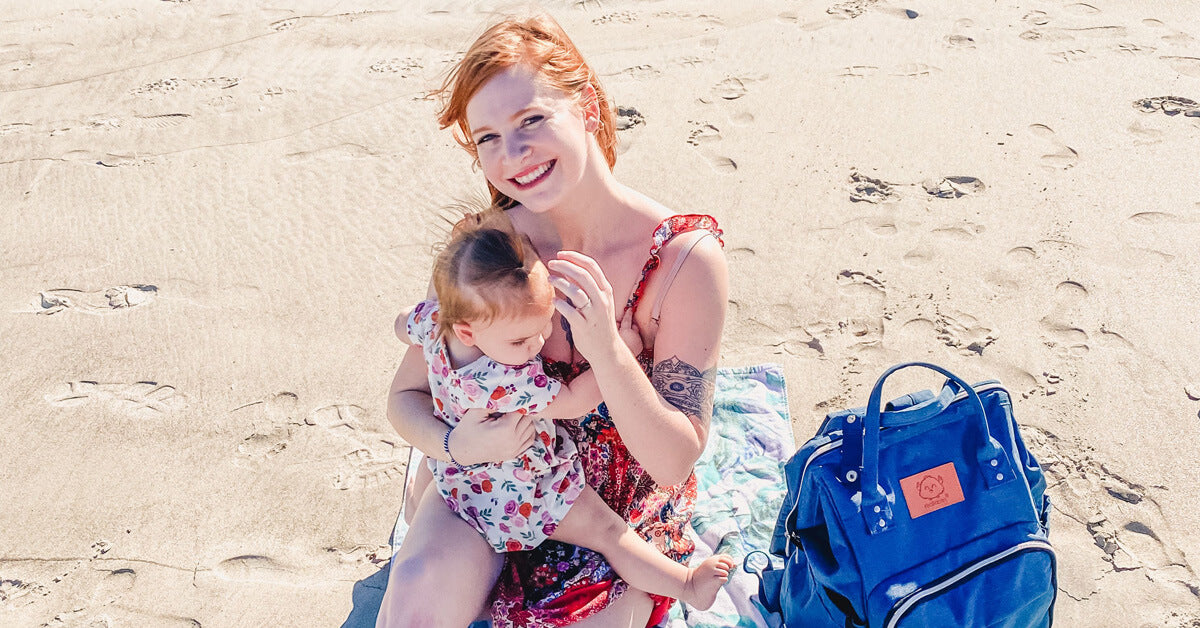 How To Plan A Trip To The Beach With Your Baby
Taking a trip to the ocean can be fun, relaxing, and a great way to spend a warm summer day! 
However, you will not want to venture to the beach unprepared if you have little ones! A simple family outing can become a big ordeal if you forget to pack a few important essentials for your adventure.
Going to the beach is a summer ritual for many families. Taking a trip to the ocean can be fun, relaxing, and a great way to spend a warm summer day! Babies love the beach too, as they soak in all the new sights and sounds of the environment. The opportunities for sensory stimulation are endless: babies can listen to the seagulls squawk overhead, watch the waves crash toward the shore, let the soft sand fall through their fingertips, and practice walking in the difficult sandy terrain. 
However, you will not want to venture to the beach unprepared if you have little ones! A simple family outing can become a big ordeal if you forget to pack a few important essentials for your adventure. 
Here are some things you'll want to bring along when you take your baby to the ocean:
1. Sunscreen or sun protection. 
Babies six months and older can wear a baby-safe sunscreen, which should be applied 30 minutes prior to sun exposure and then every 2 hours after you arrive at your destination. If your baby is going to spend a lot of time in the water, give the sunscreen some time to sit on the skin first so it doesn't wash off in the waves. Babies younger than six months are too young to use sunscreen, so bring along an umbrella, a beach hat, or a stroller with a canopy to shield them from direct sunlight. 
2. Sand toys and bags. 
Sand is wonderful for sensory play - but it's also tempting for young babies to shove in their mouths! Keep the sand away from your baby's face by giving her plenty of beach toys to play with. Shovels, buckets, plastic shapes, small trucks, funnels, sifters, and scoops are perfect for sand play. Even if your sand toys come in a plastic bag, bring some mesh bags along to put wet, dirty toys in after your beach trip. These bags make it easier to shake out any leftover sand and water as you leave! 
3. Water and snacks. 
Because of the sun and heat exposure, you'll want to make sure your baby is more hydrated than usual. If your baby is over six months, bring a bottle of water for him to sip on throughout the day. Nurse your baby as often as possible. Don't forget snacks! All that playing and exploring will make your little one extra hungry, so pack some simple snacks for your outing. Some ideas for beach snacks include puffs, teething wafers, cereal, crackers, pretzels, yogurt melts, and fruit and veggie pouches.
4. Protective clothing. 
Sun shirts, bathing suits, and sun hats are a must! Babies under six months of age should not use sunscreen, so you'll have to be creative in protecting them from the sun's harmful rays. You can buy long-sleeved sun shirts or swim suits to keep your baby's sensitive skin safe, or dress your baby in long-sleeved, lightweight clothing. Get a wide brimmed sun hat that protects your baby's whole face and neck. Beach clothing has come a long way in recent years, so you'll have plenty of options to shield your baby's skin from the sun. Babies over six months can use a baby-safe sunscreen applied 30 minutes before sun exposure, and every 2 hours after. 
5. Baby powder. 
Although no longer considered safe for diaper changes, baby powder is still useful! Baby powder can magically get sand to dry and wipe easily from the body, so it's a great tool to pack for beach outings. The last thing you want is to try to maneuver a soggy, sandy baby into the car seat at the end of a long day. 
6. Swim diapers. 
Although it might be tempting to use regular diapers, swim diapers are more absorbent and can hold more liquid than standard diapers. Regular diapers can become a wet, droopy mess if they become saturated with water. Invest in a quality reusable swim diaper to use for your pool and beach outings this season. These diapers come in a variety of shapes, sizes, and patterns, so choose one that suits your baby! They are machine washable, making them more cost-effective than disposable swim diapers. 
7. Beach tent or umbrella. 
A beach tent, canopy, or umbrella can be useful to bring, especially for young babies who shouldn't be exposed to prolonged periods of direct sunlight. A tent can also give your baby a spot to take a nap, eat, or stay cool! Beach tents come in a variety of shapes and sizes, but be sure to choose one that is easy to set up and take down! A canopy or umbrella works just as well, but a quality beach tent can be a great way to keep your baby contained to one area. It can also provide privacy if you're nursing your little one!
8. Inflatable baby pool. 
Many babies are scared of the ocean, so consider bringing along a small inflatable baby pool so your baby can still enjoy the water from a safe distance! Filling a small pool with ocean water can also give you an opportunity to keep your baby close by and in a shaded area, like under a canopy or umbrella, shielding your little one from direct sunlight. Splashing and crawling in a baby pool can also help keep your baby cool and comfortable on a hot day. 
Summer is just around the corner, and many families are arranging their summer adventures. Taking your child to the beach can be a fun and exciting experience for the whole family - just be sure to pack all the essentials! 
Do remember to follow us on Instagram @keababies and join our loving and supportive KeaCommunity Facebook Group!
Parenting is awesome. Sleep is overrated. Every day is an adventure. 
---
Meet Our KeaMommy Contributor: Kaitlyn Torrez

I'm Kaitlyn Torrez, from the San Francisco Bay Area. I live with my husband and two children, Roman and Logan. I'm a former preschool teacher, currently enjoying being a stay at home mom. I love all things writing, coffee, and chocolate. In my free time, I enjoy reading, blogging, and working out.