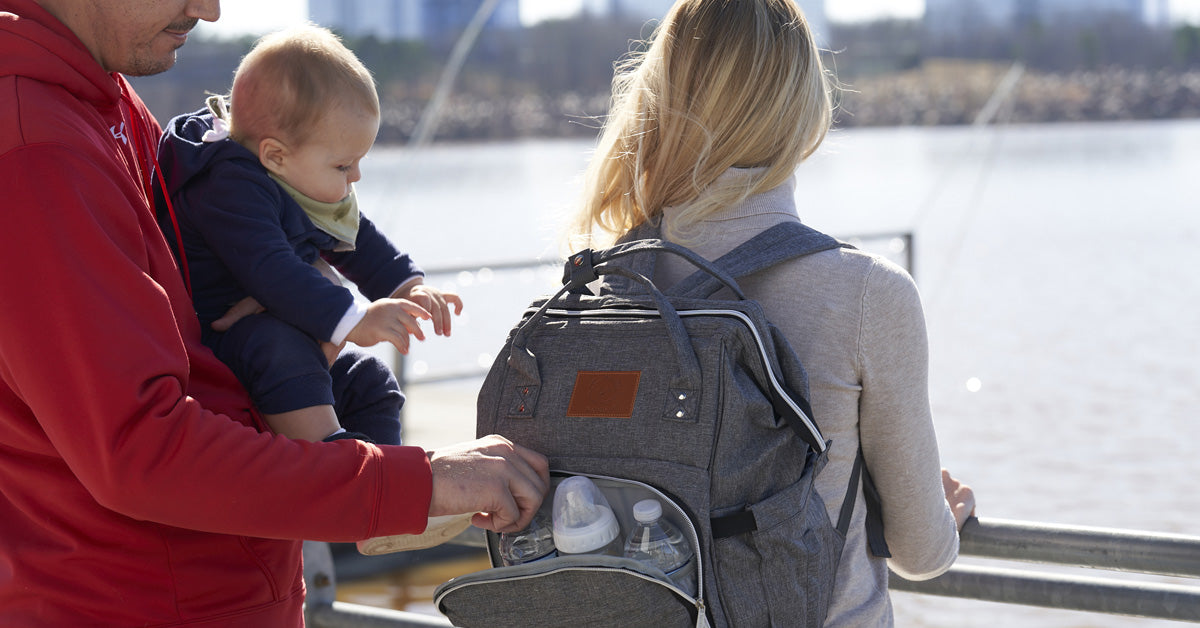 Backpack Diaper Bag Organizer Guide - Simple and Easy ways to keep your diaper bag organized by Keababies
Are you tired of shoving all of your baby's things into your diaper bag, only to create a giant mess as you unpack the entire contents of the bag w...
Are you tired of shoving all of your baby's things into your diaper bag, only to create a giant mess as you unpack the entire contents of the bag when you need something? Do you constantly lose things at the deep, dark depths of your bag? Do you have constant spills and messes?
It seems like the days of traditional, over-the-shoulder diaper bags are gone as backpack-style diaper bags are becoming increasingly popular. The Keababies Diaper Bag Backpack is an excellent product for Keaparents on the go! It has been carefully designed to include many compartments and pockets to store all of your baby's necessities that you might need while out and about!
Here is a guide for KeaParents to follow to make packing a sleek, organized diaper simple and easy!
Step 1: The Front Pocket 
The KeaBabies diaper bag backpack comes with an insulated, zipper-closure front pocket that is ideal for storing baby bottles and feeding accessories. The insulating layer ensures that your bottles stay nice and warm, no matter what the weather is like where you live! There are 3 insulated compartments within the front pocket, making it easy to pack for any occasion, from short trips to the store to long car rides or vacations. There is also a mesh pocket along the inner lining of the front pocket – perfect for storing small feeding items such as bibs or washcloths. 
Step 2: The Inner Pockets
The KeaBabies diaper backpack comes with 5 inner pockets, one with zipper closure, inside the main part of the bag. These can be used for diapers, a changing mat (one is included with the Keababies diaper backpack), baby soap or lotion, toys, snack containers, small blankets, clothes, or your wallet. Because of its large size, keeping this main part of the backpack organized is a breeze! There is plenty of room to store changes of clothes, pump parts, swaddle blankets, and other large items.
Step 3: The Side Pockets
The Keababies diaper backpack has 2 side pockets that expand quite a bit, even enough to store a large container of baby wipes! Other ideas for these pockets include a water bottle, a cell phone, or a container of snacks.
Step 4: The Back Zipper
The Keababies diaper backpack is unique in that it has a zipper along the backside of the bag, making it more convenient to access the items on the bottom of the inside of the bag. Gone are the days of taking out items one by one to find something at the bottom of your bag! Fold and stack blankets, clothes, or burp cloths to ensure easy access through the back zipper. 
List of Essentials to Pack in a Diaper Bag Backpack:
Diapers (of course!): On average, plan for one diaper per hour you'll be out, and if you're like me, you'll pack 2 extra just in case. 

Wipes: You will need a lot – wipes aren't just for diaper changes. They can be used for wiping baby's hands after a meal, wiping down a restroom changing table, or cleaning spills from a bottle.

Travel-size diaper cream and baby soap.

A changing pad: These are washable, easy to fold, and perfect for changing baby in less-than-ideal places such as the car. The Keababies diaper backpack comes with a changing pad.

Pacifiers.

Burps cloths or washcloths.

A light blanket.

A hat: Depending on what season, always have a hat on hand – a sun hat for the summer or a warm beanie for the winter. Babies are very sensitive to temperature and light.

A change of clothes: Babies are just tiny mess-making machines! Always be prepared with an extra outfit (or two) – you never know what baby is going to do or get into. Don't forget socks!

Baby food: Whether it's bottled, jarred purees, food pouches, or little snacks, make sure to always have a meal on hand if baby gets hungry while out and about.

Hand sanitizer.

A few small baby toys: Teething toys or rattles are the perfect sizes for a diaper bag.

An extra shirt for Mom: Trust me on this one – you never know what is going to happen. Spit up, poop, vomit…you don't want the baby to be the only one with a clean change of clothes!

Mom's essentials: small purse or wallet, cell phone, camera, lip balm, tissues, etc.

Miscellaneous/optional items: nail clippers, pain relief medications, bandages, thermometer, sunblock, plastic bags, bulb syringe, gas drops, or baby lotion.
Following these tips can make packing a diaper bag quick and easy, so KeaParents can enjoy their time on the go!
Check out our stylish and highly raved KeaBabies Diaper Bag Backpack It is now available in Classic Gray and Trendy Black colors!
Be Part of our KeaCommunity! Follow us on Instagram @keababies and join our Facebook Group KeaBabies Love and be part of our loving and supportive KeaBabies Community! 
Parenting is Awesome. Sleep is Overrated. Every day is an Adventure.