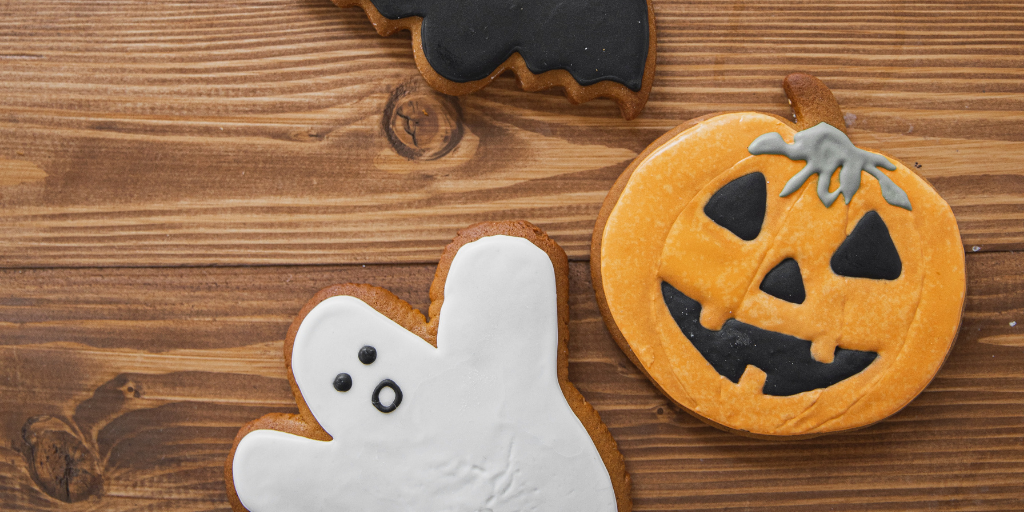 Halloween At Home: Safe Activities For The Whole Family
Halloween is looking a lot different this year, and if you're planning to celebrate at home, check out our list of fun activities for the whole family!
Halloween is going to look a lot different in 2020. With COVID numbers on the rise, health officials across the country are encouraging families to practice safe standards for gathering for holiday celebrations. Even traditional trick-or-treating, large parties, and fall festivals are discouraged. However, just because traditional holiday activities might not be considered ideal this year, there are many ways families can celebrate safely at home! 
The public health guidelines for safe celebrations are simple: social distance, wear masks, and avoid crowded spaces. 
This leaves families plenty of options for Halloween fun, and it's a great time to be creative in how you celebrate! 
Need some ideas for safe Halloween fun? Check out this list of safer-at-home activities to do with the whole family (and those within your social bubble)!
1. Buy or create a Halloween piñata.
You can decorate a traditional piñata with Halloween glitter or glow-in-the-dark paint, or buy one online! Amazon has a few adorable piñata options that suit a Halloween theme such as ghosts, pumpkins, monsters, and tombstones! Fill with small wrapped candies and trinkets, and your kids will have plenty of fun taking swings at the piñata until it cracks! 
2. Go on a neighborhood drive. 
With many traditional Halloween festivities on hold this year, many families are choosing to go all-out on house decorations! People have set up large inflatable characters, graveyards, skeletons, pumpkins, spiders and webs, and even holiday lights. If you choose not to take your kids trick-or-treating this year, you might opt for a family drive around your city instead! Be on the lookout for fun decorations, give each house a rating, or create a scavenger hunt out of it! 
3. Decorate your house and yard. 
While you're in the neighborhood looking at decorations, think up some ideas for your own house! You can buy spider webs, lights, fog machines, skeletons, and other decorations at most craft stores and home improvement stores! If you don't make it to a pumpkin patch this year, you can buy pumpkins at many grocery stores. Set up a makeshift pumpkin patch in your front yard or backyard and let your little one pick their favorite one! 
4. Do a Halloween candy hunt. 
A safer alternative to trick-or-treating would be to help your kids collect candy around your home! You can even buy plastic eggs (just like at Easter!) to hide the candy in. There are also glow-in-the-dark eggs that would be perfect for Halloween night! You can also pack treat bags and tie them to stakes to place around your yard. Or, you can hide candy in small plastic bags with a glow stick inside, and hide them around your yard. Let your kids explore your house and collect all their favorite treats!
If you need some non-candy ideas for Halloween treats, try buying plastic spider rings, glow sticks, bubbles, plastic vampire teeth, stickers, play dough, crayons, slime, and other small toys!
5. Host a backyard movie night. 
If you have a projector and a screen or large sheet, you can host an outdoor Halloween movie night! Gather your family or a few friends for a night filled with spooky, family-friendly Halloween movies! Get out the popcorn, drinks, candy, and some comfy pillows and blankets, and create a fun theater experience right from the comfort of your own yard!
Stumped on Halloween movies that won't keep your kids up all night? Here are a few of our favorites: 
6. Create a virtual Halloween costume contest. 
If typical community events have been cancelled, you can still show off your costumes safely - by using your computer! Tell your friends and family that you'll be hosting an online costume contest, and decide on some easy prizes (like virtual gift cards) and categories such as Cutest, Most Creative, Scariest, Best Family Theme, Most Original, or Best of 2020! Pick a date and time that everyone can meet online for a video call, or create a Facebook event where people can post their photos. There's no reason why kids should miss out on dressing up this year!
7. Host a virtual pumpkin carving competition.
If costumes aren't your thing, consider hosting an online pumpkin carving contest! You can pick categories for prizes as well - such as Spookiest, Best Theme, Most Artistic, Best Theme, and more! Let your friends and family show off their pumpkin creations during a Zoom call or a Facebook event! 
8. "Boo" your neighbors. 
Is your child missing his neighborhood friends? Try this fun activity to spread some kindness in your community! Fill a large bucket or basket with fun Halloween treats, and then leave it on a neighbor or friend's doorstep! Write them a note telling them they've been "Booed" and give them instructions to put up a "We've Been Booed" sign in their window, and then create their own gift basket to surprise another neighbor - and so on! This is a great way to reunite friends and neighbors when everyone has spent so many months isolated!
9. Cook up some spooky recipes. 
Cooking is a fun activity to do with young children, and creating some spooky Halloween recipes together can be an easy activity to do with your family! Here are some simple ideas for Halloween treats: 
Make jack-o-lantern quesadillas by cutting a face into a small tortilla to use for one side of the quesadilla. 

Draw jack-o-lantern faces on fruit cups. 

Place three chocolate chips onto a banana to form a ghost face. 

Peel a small orange and play a celery stick in the middle to form a pumpkin. 

Glue plastic eyes onto chocolate pudding cups and cut out wings to make bats. 

Decorate juice boxes in craft paper and plastic eyes to create adorable monsters. 
However you choose to celebrate this year, your children are sure to have a wonderful time! Whether you're trick-or-treating, or trying one of these fun activities at home, be sure to keep your kids safe by practicing social distancing, hand washing, and wearing masks when appropriate! 
Do remember to follow us on Instagram @keababies and join our loving and supportive KeaBabies Love Group! 
Parenting is awesome. Sleep is overrated. Every day is an adventure.
---
Meet Our KeaMommy Contributor: Kaitlyn Torrez

I'm Kaitlyn Torrez, from the San Francisco Bay Area. I live with my husband and two children, Roman and Logan. I'm a former preschool teacher, currently enjoying being a stay at home mom. I love all things writing, coffee, and chocolate. In my free time, I enjoy reading, blogging, and working out.