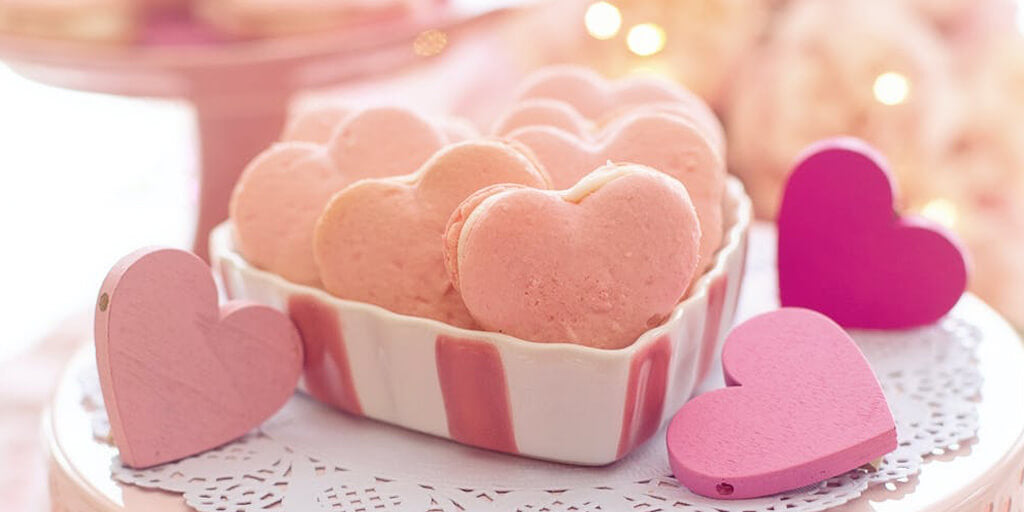 Fun Foods For The Month Of February
It's finally February - the month of love! 
This is a great time to get your kids in the kitchen with you to create some adorable Valentine's Day themed treats.
It's finally February - the month of love! It's time to get festive and celebrate how much you cherish your little ones and your families. Last week, we talked about some fun craft projects to do this month, and this week, we're moving onto festive food ideas! This is a great time to get your kids in the kitchen with you to create some adorable Valentine's Day themed treats!
Valentine's Day Breakfast Ideas:
1. Heart-shaped French toast
French toast is such a fun, simple breakfast to make that is always a hit with kids. All you need to do is whisk together one egg, some vanilla extract, cinnamon, and ¼ cup of milk, and then dip your bread into the mixture and cook on a nonstick skillet until browned on both sides. Grab a heart cookie cutter (or just use a knife) and cut out little heart shapes out of the bread.
2. Heart-shaped egg in a hole
This is another breakfast that kids love! Using a heart-shaped cookie cutter, cut a heart out of the center of a slice of bread. Heat some butter in a skillet, and place your bread in the pan. Then, crack an egg into the heart-shaped hole in the center. Cook for about a minute, and then flip the bread over to finish cooking the other side. When the toast is golden brown and the egg is cooked, you're all set to serve!
3. Heart waffles 
There are some great heart-shaped waffle makers available in stores right now, or you can simply make your own waffles and use a cookie cutter to make them into heart shapes. Serve with some strawberries, raspberries, and whipped cream, and you'll have an adorable themed breakfast in minutes!
Valentine's Day Snack Ideas:
1. Valentine fruit kebabs
Kids love eating food on sticks! All you need for this tasty snack are some skewers and colorful fruits like cantaloupe, honeydew, pineapple, and watermelon. Slice the fruit to about 1-2 inches thick, and then cut heart shapes using a cookie cutter. Put 3 or 4 fruit slices on each skewer, and serve!
2. Valentine fruit salad
Encourage your kids to eat more fresh fruit by creating a fun fruit salad using festive colors and shapes. Use a cookie cutter to cut pieces of watermelon or cantaloupe into heart shapes, and then mix in other red, pink, and purple fruits like strawberries, apples, raspberries, grapes, and blackberries! Be sure to cut fruit into age-appropriate pieces for younger children. 
3. Graham cracker tic-tac-toe 
For this recipe, you'll need graham crackers, icing, and conversation hearts. Using the icing, divide the graham cracker into 9 sections. Then, place candy hearts in different sections on the cracker. Or, you can let your child grab some hearts and play a game of tic-tac-toe using the crackers!
4. Valentine snack platter
If you have a heart-shaped cookie cutter, the possibilities here are endless. Create a fun snack platter for your kids by cutting heart shapes out of sliced cheese, fruits, cake, soft cookies, deli meats, and more! Many kids prefer "grazing" to sitting down for actual meals anyway, so this is a fun way to encourage healthy habits for pickier eaters! 
5. Festive fruits 
Looking for a healthier alternative to Valentine candy? Grab a box of small oranges and some colorful markers, and write words or phrases on them using conversation hearts as inspiration. Your child will be delighted to see things like "cutie," "be mine," and "best friend" written all over her favorite snack!
Valentine's Day Dessert Ideas: 
1. Teddy bear love
If you have teddy bear-shaped cookies and some conversation hearts, you can make an adorable treat! Just grab some frosting or icing, place a dot in the middle of each bear's belly, and press on a conversation heart of your choosing. See how many different creations you can make! 
2. Dipped cookies
Grab some candy melts, food coloring, some sprinkles, and your favorite cookies, and you can make this delicious, festive treat in minutes. Microwave the candy melts until fully liquid, and then add food coloring to turn the chocolate pink or red. Dip your favorite cookies into the candy melts, and then add some little sprinkles. Let cool on a sheet of parchment paper until the candy melts fully harden onto the cookies.
3. Valentine cake pops
Cake pops can be made using your favorite boxed cake mix, frosting, lollipop sticks, candy melts, and sprinkles or icing. Cook the cake according to the package instructions, and then wait for it to cool completely. Once the cake is cool, crumble it into a large bowl. Mix with canned frosting of your choosing, and then chill the mixture in the refrigerator for about 30 minutes. When the mixture is cold, roll it into small balls (about 1 to 1 ½ inch) and place on a baking sheet. Stick a lollipop stick into each cake ball. Then, dip the cake ball into heated candy melts until fully coated. You can add sprinkles and icing as well for even cuter cake pops! 
4. Heart crispy cereal treats 
In a large saucepan, melt 3 tablespoons of butter, and mix in one 10 ounce bag of marshmallows until completely melted. Remove the pan from heat and add in 6 cups of your favorite crispy rice cereal (or really any cereal you prefer!). Stir until well-coated, and using wax paper, press the mixture into a 9 by 13 baking dish coated with nonstick spray. Once the crispy treats are cooled, you can cut out heart shapes using a cookie cutter. You can also add icing and sprinkles if you'd like!
We hope that you'll try out some of these recipes with your families this week! If you do, be sure to post pictures on our Facebook page, The KeaCommunity, for a chance to be featured!
Do remember to follow us on Instagram @keababies and join our loving and supportive KeaCommunity Facebook Group!
Parenting is awesome. Sleep is overrated. Every day is an adventure. 
---
Meet Our KeaMommy Contributor: Kaitlyn Torrez

I'm Kaitlyn Torrez, from the San Francisco Bay Area. I live with my husband and two children, Roman and Logan. I'm a former preschool teacher, currently enjoying being a stay at home mom. I love all things writing, coffee, and chocolate. In my free time, I enjoy reading, blogging, and working out.