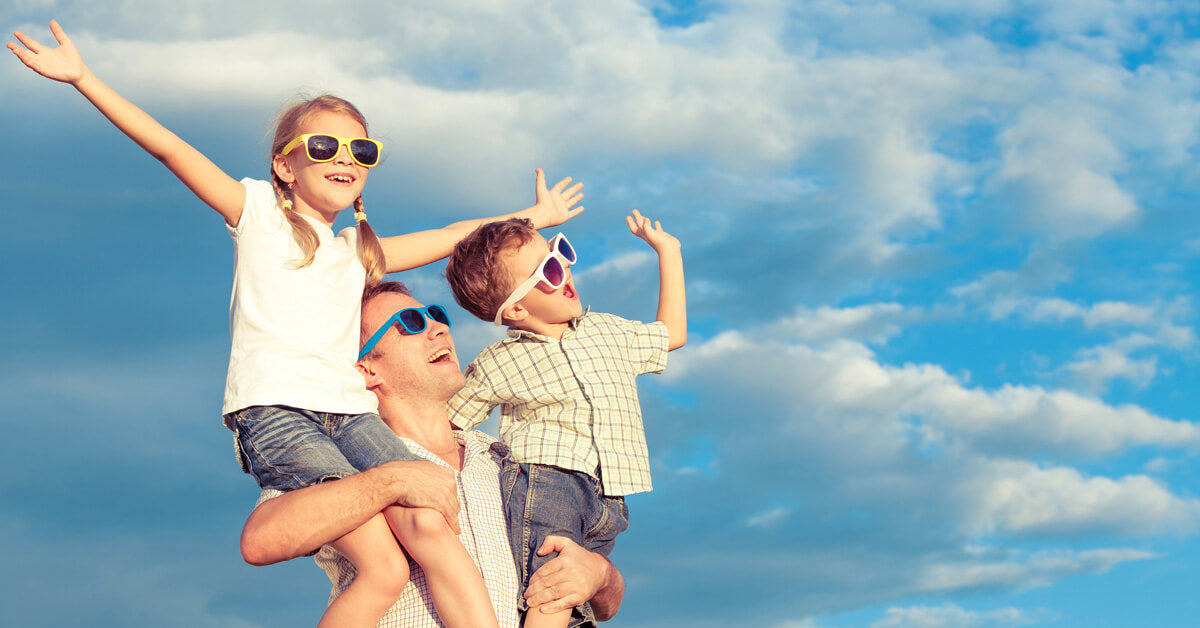 Father's Day Fun For This Month
Father's Day is coming up on June 20, but why not spend the month of June celebrating the amazing dads in our lives? Even if many places are still locked down in your area, there are many ways to have Father's Day fun right at home.
Father's Day is coming up on June 20, but why not spend the month of June celebrating the amazing dads in our lives? Even if many places are still locked down in your area, there are many ways to have Father's Day fun right at home. From game nights, to sports competitions, to barbecue cookoffs, check out these great ideas to make dads feel extra special this month.
1. Go "camping" in the backyard
As many Americans get vaccinated and mask mandates loosen around the country, campgrounds are once again opening - but that doesn't mean everyone feels comfortable with traveling right now. If you're missing your typical summer camping adventures but are worried about traveling, set up camp right in your own backyard! Pitch a tent, get out your comfiest pillows and blankets, bring a few board games and lawn games out, and gift Dad a new firepit or grill. You can still enjoy the sense of calm and relaxation of being in nature without getting in the car. Grill some burgers and hot dogs, roast marshmallows for smores, and play some games together like charades or bocce ball. Backyard camping is fun for the whole family! 
2. Have a barbecue cook off
Create a cooking competition at home for a fun weeknight dinner. See who can come up with the best hot dog toppings, the best ingredients for the perfect burger, the best marinade for chicken wings, most inventive pizza toppings, or the silliest toppings for French fries. If you have young kids, you might need to assist them in creating their secret recipes. Designate a family member to be the judge, and see whose creation is the winning product! 
3. Host a game night (or virtual game night)
Game nights are so much fun for the whole family! If you want to stay connected with friends and extended family, you can also host an online game night through video calling. Some fun family games include Pictionary, Life, Monopoly, charades, trivia, and Go Fish. You can also set Dad up with some fun online game lessons in poker or chess, so he can perfect his game. 
4. Do a special father/child art keepsake
Make Dad feel special by arranging a special father and child art project to work on together. There are many ideas available online, but here are a few options we love: 
Paint the bottom of one of Dad's shoes, press it onto a canvas, and let dry. Then paint the bottom of your baby's foot, and press it onto the shoe print. This makes an adorable size comparison of Daddy and baby! 
Paint Dad's hand, and have him press it onto a canvas. Once it dries, paint your baby's hand, and press it in front of Dad's hand. 
If you have an older baby or toddler, buy some large wooden letters, and have your child hold up "D," "A," "D," and frame the three pictures side by side in a collage frame.
Take a picture of your little one wearing a pair of Dad's shoes, and frame it. Add stickers or text that says "Walking in my Daddy's shoes." 
5. Buy a gym pass or personal training subscription 
Dads need a break, too! Gift him a gym pass so he can work off all his stress from work and raising kids, while getting away from the house for a bit to focus on his own health and fitness goals. If going to the gym isn't an option, consider buying a subscription for an online personal training service that he can use from home. You can buy gym flooring to install in your garage, get him some weights and resistance bands, and he'll be all set up to work on his fitness goals. 
6. Breakfast in bed - with a twist 
Put a spin on the classic breakfast-in-bed scenario that moms get for Mother's Day by making Dad's favorite breakfast (sausage, bacon, potatoes, and pancakes, anyone?) and let him watch his favorite sports all morning from the comfort of his bed. Take the kids to the park or to play in the backyard while he rests and enjoys his feast! 
7. Bring out the competition 
Who doesn't love a little competition? Indulge Dad's inner athlete by arranging a few backyard competitions. Ring toss, cornhole, bocce ball, volleyball, relay races, ping pong, badminton, and flag football are some simple games to play outside. Consider buying Dad a new bocce ball set, a new baseball glove, or a new ping pong table to allow you to have fun all summer long. 
This year, you can celebrate Dad all month long. Whether most businesses are open, or COVID restrictions are still widespread, there are plenty of ways to have Father's Day fun right at home! 
Do remember to follow us on Instagram @keababies and join our loving and supportive KeaCommunity Facebook Group!
Parenting is awesome. Sleep is overrated. Every day is an adventure. 
---
Meet Our KeaMommy Contributor: Kaitlyn Torrez

I'm Kaitlyn Torrez, from the San Francisco Bay Area. I live with my husband and two children, Roman and Logan. I'm a former preschool teacher, currently enjoying being a stay at home mom. I love all things writing, coffee, and chocolate. In my free time, I enjoy reading, blogging, and working out.