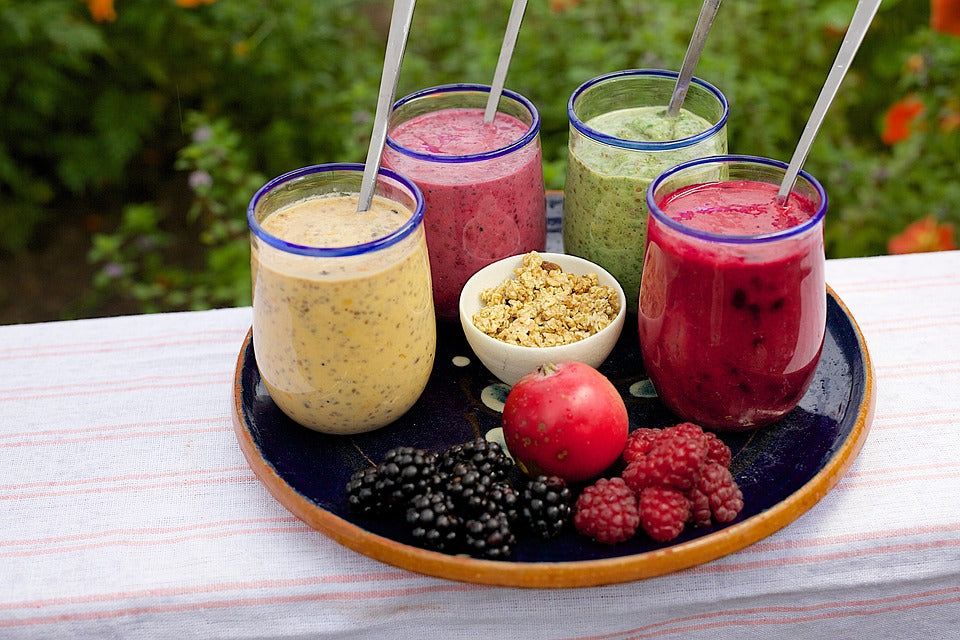 Easy and Fun Smoothie Ideas For Moms and Babies On The Go
Smoothies are a great way to get essential nutrients in your little one (age 6 months or older). How do you make a smoothie for a baby or toddler? What ingredients matter? Read on to find some simple recipes and tips for making simple, healthy smoothies for your child.
It can be hard to get essential nutrients in your little one, especially if they are wary of table food. The good news is, formula and/or breastmilk provides the essential nutrition your little one needs until age 1, but it's still important to feed your baby a well-balanced diet! Smoothies can be an easy and fun way for little ones to get the vitamins they need to grow healthy and strong. If your baby or toddler can drink from a straw cup (there are many straw sippy cups available for infants now), it might be time to try a smoothie! Here are some healthy smoothie ideas that both moms and babies can enjoy!
1. Sunshine Smoothie (www.weelicious.com)
This recipe from Catherine at Weelicious tastes like summer in a glass! The fun bright yellow color will entice your little ones, and the recipe is a great breakfast or snack smoothie. If you have a toddler that drinks milk, you can add whole milk or milk alternative for added protein and calcium. Mamas can also add their own protein powder! Catherine has a knack for creating healthy, simple recipes that the whole family can enjoy! 
Ingredients
1 cup mango (chopped) 
1 cup pineapple (chopped) 
1 cup papaya (chopped)
1 cup milk (for toddlers) 
1 large handful of ice 
Blend and enjoy!
2. Kid-Friendly Smoothies With Vegetables (www.theleangreenbean.com)
This recipe from Lindsay at The Lean Green Bean is perfect for easy snack times. Packed with nutritious vegetable options, kids and adults alike can enjoy this in smoothie form or popsicle form! This recipe is great for little ones who are cautious about eating vegetables. 
Ingredients 
½ cup orange juice
¾ cup vanilla yogurt
1 cup vegetable of choice (roasted carrots, steamed cauliflower, spinach, etc)
¼ cup blueberries
Ice 
Blend and enjoy! 
3. Banana Split Smoothie (www.fitnessista.com) 
This recipe from Gina from the Fitnessista blog is full of protein, carbohydrates, and healthy fats - but it also tastes amazing! Your little one is sure to enjoy this treat. 
Ingredients: 
1 frozen banana
1 cup almond milk 
½ cup plain yogurt 
½ cup fresh or frozen strawberries 
1 tablespoon chocolate chips
½ teaspoon vanilla 
Sprinkle of cinnamon 
Optional - Protein powder of choice for mama 
Optional - Honey (for toddlers one year or older)
Blend and enjoy!
Smoothie tips for babies and toddlers: 
The key to making smoothies for younger babies is to use easy-to-digest ingredients. 

Plain, whole milk yogurt makes a great smoothie base and is safe for infants 6 months and older. 

Bananas are a simple way to thicken smoothies and give them a creamier texture. 

Avoid unsafe smoothie ingredients such as honey (before age 1), nuts, seeds, protein powders, and other choking hazards for infants. 

Smoothies are a great snack on the go! Bring a smoothie along while you run errands, go to the park, or meet up with friends! 

Be aware of sugar content. Do not add sugar to smoothie recipes. Smoothies can be sweetened with a reasonable amount of fruit. 

Smoothies can be a great way to hide vegetables from picky eaters - add spinach, kale, or mild-flavored roasted vegetables like carrots or cauliflower for added nutrients! 

Be sure to use a KeaBabies Bandana Bib or KeaBabies Silicone Bib to prevent drips and spills on your little one's outfit!
Do remember to follow us on Instagram @keababies and join our loving and supportive KeaCommunity Facebook Group!
Parenting is awesome. Sleep is overrated. Every day is an adventure. 
---
Meet Our KeaMommy Contributor: Kaitlyn Torrez

I'm Kaitlyn Torrez, from the San Francisco Bay Area. I live with my husband and two children, Roman and Logan. I'm a former preschool teacher, currently enjoying being a stay at home mom. I love all things writing, coffee, and chocolate. In my free time, I enjoy reading, blogging, and working out.