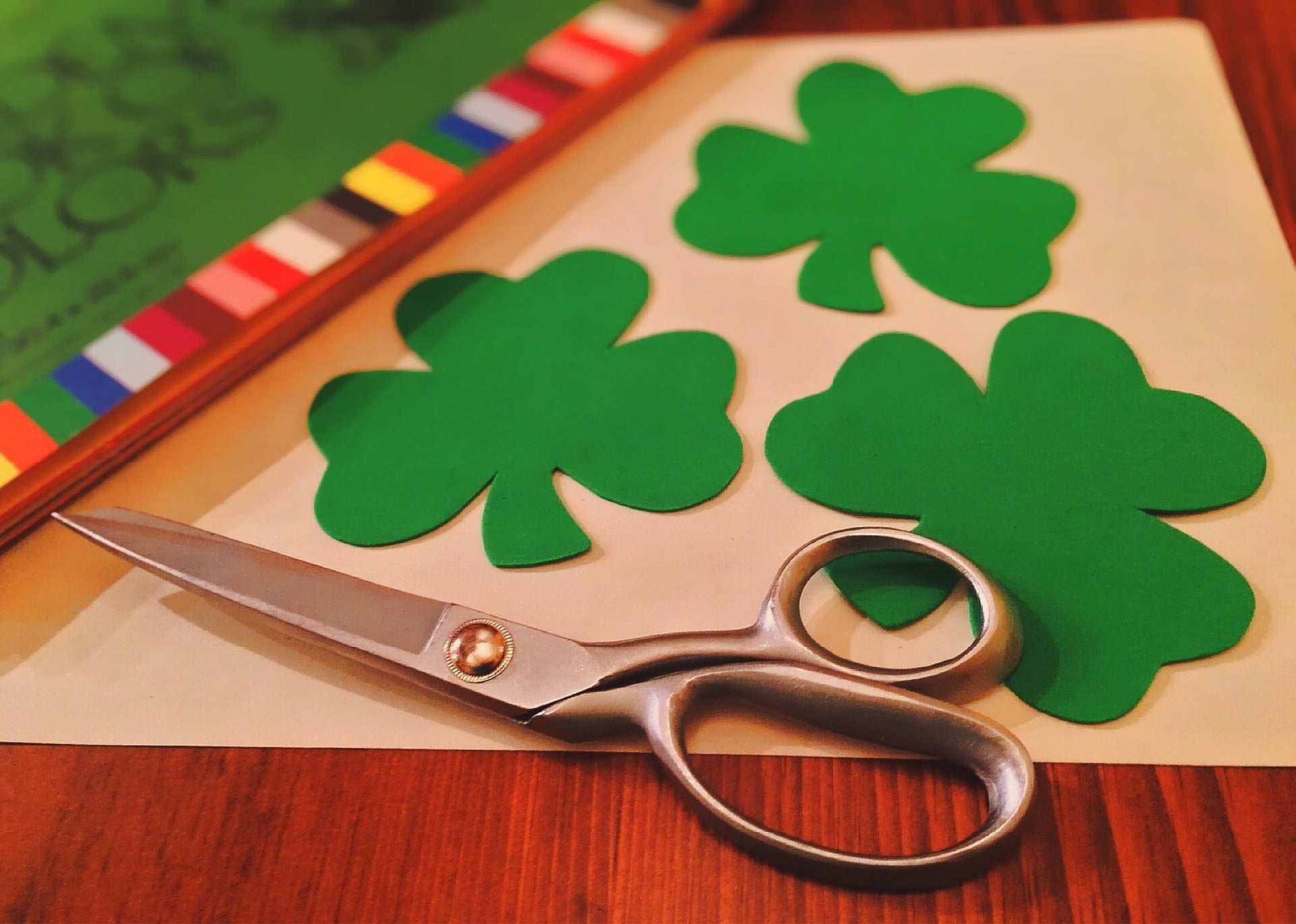 DIY Projects For St. Patrick's Day
Need some ideas for fun projects for St. Patrick's Day? Read our blog for some easy, baby-friendly ideas for St. Patrick's Day crafts you can do with your little one!
It's a new month full of fun! St. Patrick's Day will be on Tuesday, March 17, 2020. This holiday can be so much fun to celebrate with your little ones! Why not celebrate the holiday by creating some fun art projects together? Here are some ideas for babies, toddlers, and preschoolers! 
1. St. Patrick's Day Baby Feet Clover (infants)
The easiest art projects to do with young babies are handprint and footprint paintings! All you need is some non-toxic paint, a soft brush, and a thick piece of paper. Grab some green paint, and gently paint your baby's foot. Then use your baby's feet as a stamp, and stamp 3 "leaves" onto the paper. Then, draw a green stem with the paint brush. Once it dries, you'll have a beautiful clover painting that showcases your baby's adorable tiny toes! 
2. St. Patrick's Day Rainbow Hands Banner (infants and toddlers) 
This project can also be done with the youngest babies who aren't big enough for formal art projects. Grab a set of non-toxic paints and a soft bristle brush, and create a rainbow using your baby's tiny handprints! One by one, paint your baby's hands with each color of the rainbow and stamp onto a thick piece of paper. At the ends of the rainbow, you can hand draw clouds or a pot of gold for an adorable touch. This project gives you a great opportunity to talk with your baby about all the colors of the rainbow!
3. St. Patrick's Day Themed Playdough (toddlers)
Playdough gives little ones a chance to develop their hand-eye coordination and fine motor skills. Thankfully, making homemade playdough is simple! You'll need 2 cups of flour, 2 cups of water, 1 cup of salt, green food coloring, and green glitter (optional). Combine all ingredients in a saucepan and stir on medium heat until the dough thickens. Remove the mixture from heat and let cool before playing. As added fun, you can also incorporate shamrock cookie cutters, plastic gold coins, and other St. Patrick's Day themed items to play with.
4. St. Patrick's Day Sensory Bin (toddlers and preschoolers)
Create a fun St. Patrick's Day sensory bin for your toddler or preschooler. The easiest way to do this is to get a large plastic tub. You can dye rice or pasta green to use as a great base for your sensory bin. Some great objects to incorporate into a sensory bin are measuring cups, cookie cutters, plastic silverware, cups, and special themed objects such as small gold coins, a plastic black pot, and rainbow-colored small plastic balls or blocks. Always supervise your child when they play with a sensory bin to prevent incidences of choking.
5. St. Patrick's Day Rainbow Dot Painting (toddlers and preschoolers)
A wonderful way to allow toddlers and preschoolers to paint is by using "dot paint markers." There are a variety of styles and colors available online and in stores. Paint dotters are easy for toddlers and preschoolers to hold, and doesn't require as much skill and dexterity as painting with a paintbrush. Practicing the motion of grasping the paint dotter and gently dabbing it onto the paper is great motor skill activity for little ones. For a St. Patrick's Day activity, help your little one dab paints to make a picture of the rainbow. Talk with your little one about the order of the colors in the rainbow and the shape of a rainbow. 
If you try out any of these fun ideas, we'd love for you to share with us in our Facebook community, KeaBabies Love!
Do remember to follow us on Instagram @keababies and join our loving and supportive KeaCommunity Facebook Group!
Parenting is awesome. Sleep is overrated. Every day is an adventure. 
---
Meet Our KeaMommy Contributor: Kaitlyn Torrez

I'm Kaitlyn Torrez, from the San Francisco Bay Area. I live with my husband and two children, Roman and Logan. I'm a former preschool teacher, currently enjoying being a stay at home mom. I love all things writing, coffee, and chocolate. In my free time, I enjoy reading, blogging, and working out.