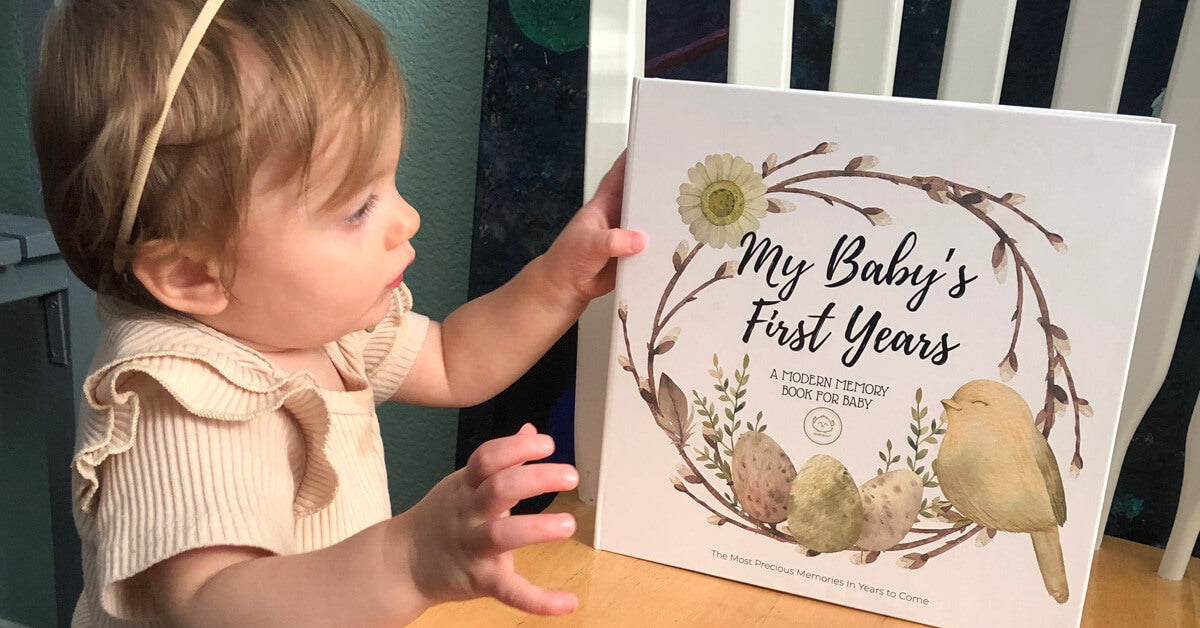 Cherishing Your Baby's First Year With The KeaBabies Baby's First Year Memory Book
Your baby's first year is a wonderfully exciting time - you won't want to miss any of it! Keep track off all your baby's milestones in this wonderful keepsake album. Cherish your baby's memories for years to come with this adorable "wonderland" themed book!
Your baby's first year is an exciting time for new parents. Cherish all your baby's wonderful memories in one of the newest products in the KeaBabies lineup: the Baby's First Year Memory Book. 
Your little one's first year of life is filled with so many amazing milestones, such as crawling, walking, their first words, their first teeth, and their first experience eating food. Those ten tiny fingers and ten tiny toes bring so much joy and wonder to any parent's heart! Babies grow so fast during that first year, and it seems like time just flies by! From the seemingly endless sleepless newborn nights to your baby's first birthday party, all parents wish that time would just slow down.
It's one thing to capture memories with photographs, but an even better way to preserve those precious family memories is through a beautiful baby milestone book. The Baby's First Year Memory Book is filled with gorgeous whimsical designs on every page, articulating a wonderful story of your baby's first milestones. 
Here are some of the highlights of the KeaBabies Baby's First Year Memory Book:
Design: The pages are filled with adorable, whimsical artwork on every page. The book is designed with a "wonderland" theme, perfect for capturing the awe and wonder of your baby's firsts. The book is crafted as a journal, so you can tell your baby's unique story in a way that your family will cherish for years to come. There are cute characters on every page! 

Quality: The book contains 90 art-filled pages, bound with a metal coil. The hardcover book is durable and will last your family for years. It also comes with a keepsake envelope with string closure for keeping small, special items. The book comes in a beautiful gift box - making it a great baby shower or Christmas present for new parents!

Story: They say "a picture's worth a thousand words," but pictures only tell so much. Craft your child's unique, individual story as you fill this memory book. Share your baby's first milestones in this story-like journal. Every chapter of the memory book contains a letter page so you can jot down all your thoughts and wishes at that stage of your little one's life! 

All The Memories: The KeaBabies Baby's First Year Memory Book is unique because it includes pregnancy all the way through age 5! You can journal and paste pictures about your pregnancy journey, and then catalog all of baby's "firsts" during their first 12 months of life, and then also continue into toddlerhood! Don't miss out on any of your child's special moments, even after those precious first months. There are toddler pages to remember your little one's favorite foods, store photographs, and even keep their artwork! 

The KeaBabies Promise: Like all our products, we seek to promote healthy parent-child bonding through fostering wonderful moments between caregivers and their little ones. This memory book can be completed with your little one and cherished for years to come. Your child will enjoy looking back through this beautiful memory book even after he is grown. 
This memory book also comes in a beautiful gift box - making it the perfect gift for baby showers or even Christmas! Include KeaBabies in your holiday season by gifting this wonderful memory book to your friends and family!
Do remember to follow us on Instagram @keababies and join our loving and supportive KeaCommunity Facebook Group!
Parenting is awesome. Sleep is overrated. Every day is an adventure. 
---
Meet Our KeaMommy Contributor: Kaitlyn Torrez

I'm Kaitlyn Torrez, from the San Francisco Bay Area. I live with my husband and two children, Roman and Logan. I'm a former preschool teacher, currently enjoying being a stay at home mom. I love all things writing, coffee, and chocolate. In my free time, I enjoy reading, blogging, and working out.