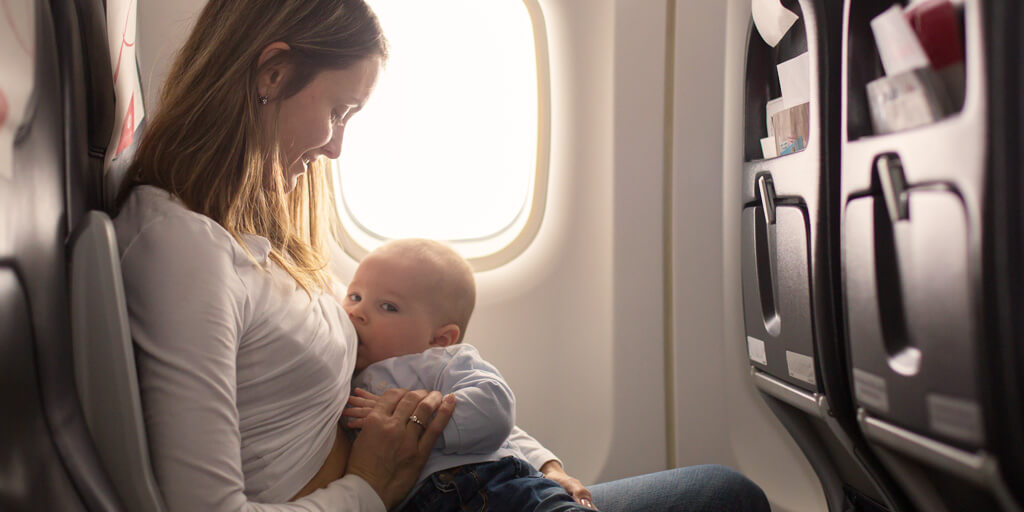 Breastfeeding on a Plane
You're probably planning a vacation to a faraway destination or taking your little one to meet her grandparents. If this sounds like your situation, then you're in good company!
Are you looking for sound advice and tips for breastfeeding while traveling? You're probably planning a vacation to a faraway destination or taking your little one to meet her grandparents. If this sounds like your situation, then you're in good company!
Although traveling on a plane with a breastfeeding infant has its fair share of challenges, it's actually more advantageous than flying with a formula-fed newborn. Breastfeeding is a very nutritious, incredibly convenient, and travel-friendly way to nourish your kiddo on the go.
Another bonus benefit is that swallowing and sucking may also help in relieving pressure buildup in your infant's ears due to altitude changes. That means your baby will enjoy a comfortable, restful, and fairly stress-free flight.
Be that as it may, breastfeeding while traveling on a plane can present an array of unexpected hiccups and uncertainties, especially if you don't plan ahead. But worry not – we've compiled a handy guide for breastfeeding moms traveling by plane, including what you need to consider before booking a flight, what to bring, and more.
Breastfeeding Essentials: What to Bring
First, you'll want to be well-equipped and kitted for your trip. When you have all the breastfeeding essentials within your reach, your travel will be much easier and without any hiccups.
 Here's what you need to bring:
Packed carry-on bag
Your carry-on will hold most of your must-haves for breastfeeding while traveling. For starters, you will need to pack a change of clothes for your little one, not forgetting your own set of breastfeeding-friendly clothes. Most moms and experts recommend that you pack a few of your shirts in your carry-on bag.
Nursing accessories
Even though it's perfectly legal in most destinations, including all U.S. states, some moms don't feel comfortable or confident breastfeeding in public. Plus, it can be difficult to find a quiet, private, and clean place to nurse your baby while traveling.
For this reason, it would be a wise decision to pack a stylish nursing top, nursing cover, or blanket – this will provide you with the privacy and protection you need to breastfeed your kiddo with extra confidence in public, be that on the plane, in the airport, or anywhere in between.
Also, you'll need other nursing essentials, such as burp cloths, lanolin, nipple cream, wet bags, nursing pads, and even an extra set of diapers. You can also pack other important items like a baby wrap carrier, additional nursing bras, diaper changing pad, and perhaps a toddler pillow to help latch your baby properly.
Power adaptor
If you're traveling to an international destination, you want to have a dual-voltage power adaptor handy. This will help with recharging everything from your phone to the pump and rechargeable batteries.
Breast milk storage
If you will be expressing breast milk on the move, you'll want to keep it safely stored. A bunch of freezable storage bottles or bags, plus a portable cooler bag will do the trick. Make sure to confirm with the airline if you're allowed to fly with them.
Pumping essentials
Breastfeeding benefits are immense, but sometimes you'll want to express some breast milk on the go. This is especially true if you plan to do some business while traveling. If you've got an electric pump that uses batteries, make sure to slip spare batteries into your carry-on or suitcase.
For most breastfeeding moms who travel frequently, a portable pump might suffice. Even so, you may want to pack an extra kit of pump accessories and parts if you're not planning to clean it on the move.
We want to be a part of your travel so we made this printable The Traveling Breastfeeding Moms Checklist that you can download here.
Best Places to Vacation while Breastfeeding
There are lots of amazing places to vacation while breastfeeding, all the more exciting because the vast majority are located in the US. However, if you're craving new sights, you may want to try visiting these breastfeeding-friendly destinations to sate your wanderlust:
Norway - All Scandinavian countries, from Finland and Sweden to Denmark and, of course, Norway are "boob-friendly." There's also no shortage of wow-worthy things to see and do in the Norwegian region.
Japan - It comes as a no big shock that Japan is one of the most breastfeeding-forward countries in the world. Free-to-use nursing rooms are found in almost all airports, stores, trains, public spaces, and buildings.
Philippines - A country of 7000+ strong tropical islands, idyllic beaches, and hospitable people, the Philippines is a dreamy destination for a vacay. Even more exciting is that the state has a law in place that requires all lactation stations to be fully equipped with electrical outlets, clean water, and comfortable seating.
Carefree, Arizona - This grand jewel in Arizona offers many great spots for a fun and relaxing vacation, as well as baby-friendly amenities.
Lake Buena Vista, Florida - This sunny destination is packed with mom- and baby-friendly resorts and amenities. The ultimate place that's great for breastfeeding moms is Walt Disney World, of course.
If you still crave faraway sights, try Brazil, Peru, Bali, Mexico, or Morocco; these must-visit places have some of the most progressive breastfeeding laws. Closer home, Honolulu, Boise Idaho, Portsmouth NH, Cannon OR, and Sevierville in Tennessee also come highly recommended by moms.
Important Tips for Traveling On A Plane with Baby While Breastfeeding 
Tip #1 – Book a window or an aisle seat
If possible, make it a point to fly out during the lower volume period of the day or week, which is usually Tuesday through Thursday. For those moms flying with a family member or partner, try booking an aisle or window seat with the other person occupying the seat next to you. 
If the flight is not full, you can always book an entire row. This will not only ensure more privacy but also limit disturbance to other passengers. That's because most babies tend to squirm or kick while suckling.
Tip #2 – Maintain your breastfeeding routine
Did you know that newborns also get the dreaded jet lag? Flying to a different place can throw off your baby's internal clock, and the results aren't usually pretty. You can make it easier on your child by maintaining your normal breastfeeding routine.
Tip #3 – Avoid the rush
The last thing you want is to have to jeopardize your little one's needs in order to make your flight on time. As such, you need to leave plenty of time, so that you can arrive at the airport and make it through security without rushing. Create a checklist of all to-dos and what to pack, so you don't forget anything.
Tip #4 – Scope out quiet breastfeeding-friendly spaces
Most babies can breastfeed practically anywhere. However, if you find it easy to breastfeed away from prying eyes, be sure to seek out nursing-friendly facilities on your route ahead of time.
Most airports across the globe have dedicated baby changing rooms and lactation facilities. Call the airport or carrier ahead just so you can be sure.
Tip #5 – Drink plenty of fluids
When breastfeeding, it's generally a good idea to stay well-hydrated; it's good for you and your lactating little one. Drink enough water and supplement with vitamin-packed drinks.
Tip #6 – Dress for comfort
You must make breastfeeding away from home as comfortable as possible. One of the best ways to do this is to arm yourself with all the essentials, including snacks, nipple cream, nursing pads, heat packs, and whatever you use to make breastfeeding pleasant and hassle-less.
The way you dress will also affect your comfort level. As well as a high-quality nursing bra, wear a comfortable and easy to remove tank top, shirt, or even t-shirt.
Tip #7 – Know your breastfeeding rights
This tip is especially important if you're traveling internationally. Save yourself some headaches by researching breastfeeding laws and local practices in the country or region you're traveling to. You should be familiar with places where you're allowed to breastfeed in public.
---
Meet Our KeaMommy Contributor: Sara Gale

Sara loves traveling and exploring new places with her family. She is mom to 2 lovely children and loves bringing them out on adventures.