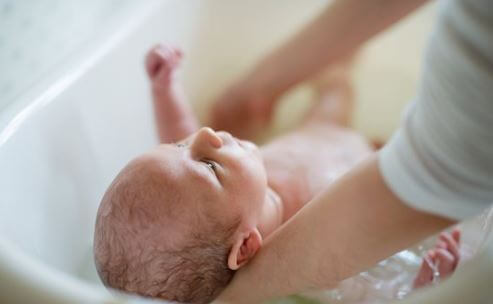 Scrub A Dub, There's A Baby In The Tub!
Ideas for establishing a great bath time ritual for your newborn.
Most babies will receive their first bath in the hospital, but when you come home, the bath time routine is totally up to you! Whether you use an infant bathtub, the kitchen sink, or bathe with your baby, creating a safe bath time routine can be simple and fun. Here are some ideas for establishing a great bath time ritual for your newborn.
When will my baby receive her first bath? 
Sometime during the first few days of life, your baby will receive a bath in the hospital. Usually, a nurse will bathe your newborn while you rest. She will use a basin of warm, slightly soapy water to gently wipe your baby's body, keeping a firm grasp on baby at all times. Then your baby will be swaddled and given back to you for those amazing post-bath snuggles!
When can I bathe my baby after we come home from the hospital?
Your pediatrician will recommend that you wait until the umbilical cord stump falls off completely before submerging your baby's torso in water - and be prepared, this may take a week or two! What you can do is give your baby a simple sponge bath (which is actually recommended by the American Academy of Pediatrics!). Simply find a comfy, flat surface to lay your babies - such as a bed, changing table, or even the floor - and use a sponge with warm water and a gentle soap to scrub your baby. You can even keep your baby covered with a blanket or towel until you clean that part of the body, to prevent your baby from becoming too cold!
Don't forget to clean those hard-to-reach areas, such as your baby's neck fold, armpits, thighs, and in between fingers and toes. 
A hooded towel, such as the KeaBabies Hooded Towel, is perfect for sponge baths because the baby's head can stay warm at all times!
How often should I bathe my newborn? 
Newborns have very sensitive skin! Frequent bathing can cause irritation, dryness, and rashes. Unless there's spit-up or a pee or poop situation - there's no need to bathe your baby. Simply wipe your baby with a damp, warm cloth every night. The main concern is the hard-to-reach areas that easily become dirty and irritated (neck, head, diaper area, creases on arms or legs). 
Many parents assume that their baby needs to be washed every day, but newborns are relatively clean people! After all, they're not eating solids, crawling around on the floor, or touching random objects. Bath time can be a fun bonding time for parents and children, but you can make it part of your nightly routine when he or she is older!
What are some newborn bath time essentials? 
You will want to figure out where your baby will be bathed. You can simply use your kitchen sink (by laying down a towel or using a special bath seat that goes in the sink), or you can buy an infant tub. Infant tubs come in all shapes and sizes, so choose one that you feel comfortable using! There are bath seats that hold your baby in a regular bathtub filled with water, and there are separate, smaller tubs designed for infant bath time. There are pros and cons to each, so be sure to do some research before buying one. 
You will also want a mild, gentle baby soap to clean your baby with. Newborn skin is very sensitive, so steer clear of harsh chemicals, scents, and dyes. Use a brand that is designed for babies, and when possible, choose the "sensitive skin" option. You may have to do some trial-and-error to see what brand of baby soap works best with your baby's skin type.
KeaBabies has some great products for bath time fun! There is our Baby Hooded Towel available in both Lamb and Bear - both adorable and ultra-soft! These towels are perfect for newborns all the way to toddlerhood. The attached hood keeps their head warm, and the premium bamboo fiber is luxuriously soft. KeaBabies also makes sets of washcloths (available in 2 colors) that are great for bath time! They are soft, lightweight, hypoallergenic, and the perfect size for little ones. You can use a soapy washcloth to gently clean your baby, wipe her face after a bottle or nursing session, or place on her body during bathtime to keep her feeling warm and secure. 
A great way to follow up a relaxing bath session is with the KeaBabies Hair Brush and Comb Set For Newborns. The set contains two brushes and a comb, Both both rigid and soft bristle options, the brushes are perfect for your newborn's sensitive scalp - and can even help clear up cradle cap! 
What are some safety precautions when bathing my newborn? 
 First and foremost, you want to check the water temperature. Newborns cannot regulate their body temperature, so it can rise and fall very quickly. Aim to keep the water between 90-100 degrees Fahrenheit. Also, check that the room is warm too, or try heating up baby's towel. A freshly-bathed, wet baby can become cold very fast! 
You will also want to check the water level. Experts recommend no more than 2 inches of water, to prevent accidental drowning. Others recommend filling the water up to the baby's shoulders, as long as you have a very firm grip on your baby at all times so he doesn't slip. 
Bath time can be fun for parents and babies alike! As long as you follow safety precautions, bathing your newborn can be simple and enjoyable. Are KeaBabies products a part of your bath time routine? We'd love to hear from you!
Do remember to follow us on Instagram @keababies and join our loving and supportive KeaCommunity Facebook Group!
Parenting is awesome. Sleep is overrated. Every day is an adventure. 
---
Meet Our KeaMommy Contributor: Kaitlyn Torrez

I'm Kaitlyn Torrez, from the San Francisco Bay Area. I live with my husband and two children, Roman and Logan. I'm a former preschool teacher, currently enjoying being a stay at home mom. I love all things writing, coffee, and chocolate. In my free time, I enjoy reading, blogging, and working out.