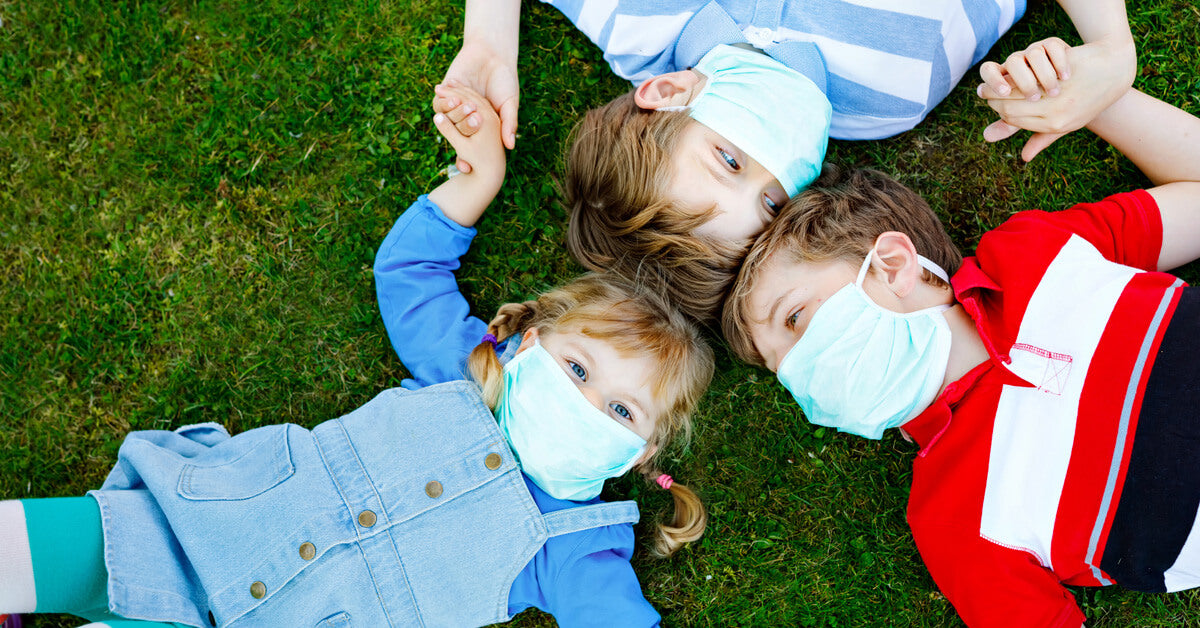 Pandemic Playdates: What You Need To Know To Keep Your Child Safe
It has been a tough year for children who have been sheltered at home due to the pandemic. As the weather warms up and COVID numbers decline, now might be a good time to begin safely socializing with friends again!
It has been over a year since the COVID-19 pandemic created havoc across the country. From curfews to closures to shutdowns, life has changed dramatically for families everywhere. Due to the availability of the vaccines and the current test positivity rates, it seems that things are finally taking a turn for the better - and that means it might soon be safe for gatherings with friends and family outside of your "social bubble!" This is wonderful news for families across the nation whose children have been sheltered at home for months on end. 
Despite the positive trends in how the country is tackling the pandemic, health officials are still urging families to be cautious in how they and their children interact with others. Although it seems as though children do not spread the virus as rapidly as adults and are not affected as badly by it as adults, it is important to note that children under the age of 16 are not yet eligible for any of the available vaccines and therefore are still susceptible to getting sick. 
Now might be a good time to cautiously begin engaging in activities that your family has put on hold for the last year. Children are social creatures by nature, and the benefits to socializing with their peers are countless. Parents should know that there are many safe ways to do so. 
1. Choose your child's social bubble wisely. 
If your child has gone back to in-person school, having playdates with classmates is a good place to start. If your child is already around these children at school, their exposure level is more or less the same, and this can be a safer route to choose when thinking about who your child should interact with. 
2. Interact with families where adults have gotten the vaccine. 
Another aspect you might consider is choosing to socialize with families who have had access to the vaccine. Currently, only adults are eligible for the vaccine, but children are less likely to contract the virus if their parents have already been vaccinated. Many parents, especially frontline workers and those with underlying health conditions that make them higher risk, have had access to the vaccine for several weeks and have a good chance of being protected from the virus (and less likely to spread it to others!). Of course, choosing to receive any vaccination is a personal health decision for individuals based on their personal health history and current level of risk. 
3. Opt for outdoor outings instead of tight indoor spaces. 
The virus doesn't spread as easily in open, outdoor environments as it does in crowded indoor spaces. If your children want to see their friends, opt for a trip to the park, a day at the zoo, or a bike ride together. Even playing in the backyard at a friend's house is safer than playing together inside, in a child's bedroom or playroom. Now that it's springtime and the weather is warming up in many parts of the country, outdoor playdates are becoming easier to manage. 
If you want your children to spend time with their friends, but are still concerned about the risk, be sure to follow these practices for safe interactions with others: 
Wear a mask. When maintaining social distancing is impossible, wearing a mask can help protect children from spreading illnesses to one another. There are many options for masks tailored to children ages 2 or older, so that the mask is both comfortable and fitted properly to their face. Children under the age of 2 should not wear a mask. Be sure to clean your family's masks often, or use disposable masks that you can discard after each use. 
Wash your hands. Good handwashing hygiene is always important, even during non-pandemic times. Children should learn to wash their hands before and after eating, when they enter someone's house or return home, and after using the bathroom. Carry small bottles of hand sanitizer with you in your purse, diaper bag, or your child's backpack or lunchbox. Gently remind your children not to touch their mouth or eyes when out in public. 
Sanitize surfaces. Disinfectant sprays are widely available, and sanitizing surfaces before and after playdates can be useful in stopping the spread of germs. Although the virus doesn't seem to transmit as much via surfaces as it does airborne particles, it is still important to periodically clean and disinfect the surfaces in your house. 
Do not share food or drinks. Although children love to share snacks and treats, it's important to remind them that until the pandemic is over, we need to keep our food to ourselves. If your child would like to share a snack with a friend, prepare snacks ahead of time in individual plastic bags, or buy prepackaged snack foods that come in single servings. Be sure that each child has their own water bottle, and label it with their name or initials to avoid mixups. 
If your children have been missing their friends, now is the perfect time to begin safely interacting with a friend or two that you can trust! Remember, outdoor environments are always the safest option, and be sure to wear a mask when appropriate. 
Do remember to follow us on Instagram @keababies and join our loving and supportive KeaCommunity Facebook Group!
Parenting is awesome. Sleep is overrated. Every day is an adventure. 
---
Meet Our KeaMommy Contributor: Kaitlyn Torrez

I'm Kaitlyn Torrez, from the San Francisco Bay Area. I live with my husband and two children, Roman and Logan. I'm a former preschool teacher, currently enjoying being a stay at home mom. I love all things writing, coffee, and chocolate. In my free time, I enjoy reading, blogging, and working out.