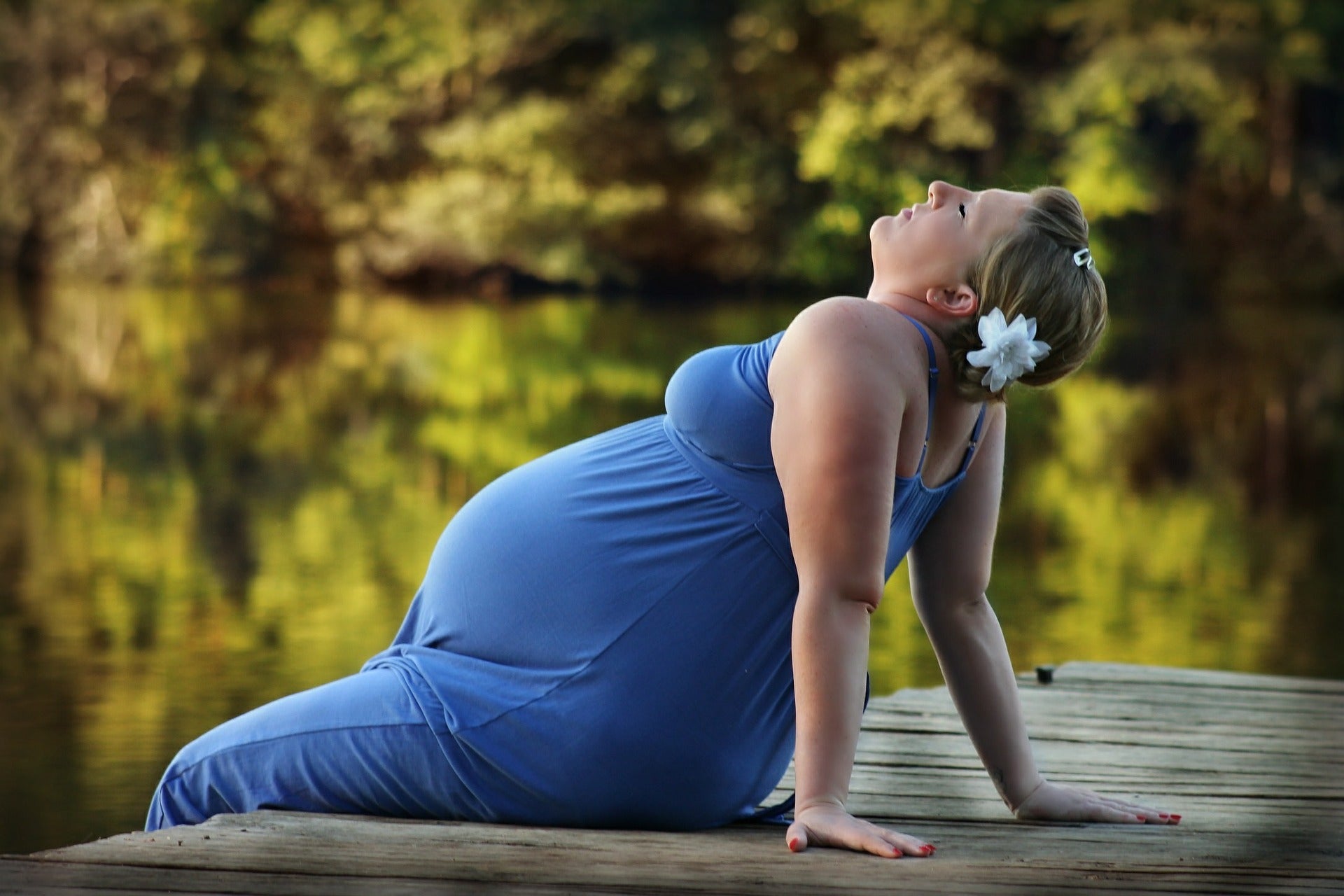 Fall Fashion, Maternity Style
Fall weather is perfect for dressing in lots of layers, cozy sweaters, and soft leggings. See our blog post on how to put together some chic maternity outfits for fall! 
Fall clothes are so fun and comfortable, and maternity outfits don't have to be any different! For many pregnant women, fall is the perfect time to feel fashionable in clothes - the weather is cool enough to be comfortable in layers, and not cold enough to need a bunch of bulky layers. Fall is a great season to showcase your growing baby bump! 
Many families choose to do family photos or maternity photoshoots in the fall, in preparation for the holiday season or sending out holiday cards. These maternity outfit ideas can be helpful for planning for photoshoots as well! 
Here are some fun ideas for emphasizing that beautiful baby bump!


1. Vest and a fitted long-sleeved shirt 
Nothing embodies fall like a great vest! A vest is truly a statement piece and can be worn even when you're not pregnant anymore! Many maternity clothing companies make vests that curve around your belly, so you won't have to worry about having problems zipping or buttoning it closed around your growing bump! A vest can be heavy or lightweight - choose one that suits the weather where you live. Vests pair well with fitted long-sleeved shirts underneath, and you can either go with a fun fall pattern or stick to muted solid colors. Pair with maternity jeans or a maternity skirt, and you'll have a cute outfit in no time! 


2. Stretchy cotton dress and leggings 
It's not hard to find an affordable and stylish cotton dress, sometimes referred to as a "t-shirt dress." They're usually solid colors and enviously soft! The flowy, stretchy fabric makes them ideal for maternity wear because you can wear it even as your belly grows throughout the trimesters. Stretchy dresses are a great option because you can dress them up with jewelry and heels, or dress them down with a denim jacket and flats. For added warmth during the cool summer months, throw a dress over some leggings, and you'll be ready to go! 


 3. Maternity flannel and skinny jeans 
Nothing screams "fall" like a great flannel shirt! Red plaid is the most popular color and pattern for flannel, and the great thing is, many maternity clothing brands are beginning to sell cute flannel tops with elastic to stretch around your belly. If you can't find a maternity-style flannel shirt, you can always pair a plain white or black maternity tank top under a regular button-up flannel shirt, and leave it unbuttoned to showcase that adorable baby belly! Flannel is wonderful for fall because it's warm and cozy.


4. Floral blouse and sweater
If you're into prints and patterns, choose a bold pattern to pair with a lightweight sweater! Choose roses, leaves, or fun "fall" patterns like pumpkins! Many maternity stores shy away from bold patterns, so you make have to find an online boutique that sells exactly what you want. An easy way to tone down a bold print is to pair it with a solid color sweater. Choose hues such as burgundy, gold, black, or green, and your outfit will look chic and put together! 


5. Fitted t-shirt, jeans, and tall boots
If you're planning to do maternity pictures, keep it simple. Photographers warn that too many bold patterns can clash with one another and not show up well in professional photos. Stick to solid colors or muted patterns. One of the easiest, and cutest, outfits for fall photo sessions is a fitted t-shirt, jeans, and tall boots. Fitted clothes will accentuate your belly instead of flowy clothes, which often make you appear larger than you are. Opt for rich fall colors such as maroon, bold yellow, forest green, or plain white. 


6. Flowy dress and long scarf 
Dresses are some of the most comfortable maternity pieces because they don't constrict your baby bump! Choosing a long, flowy dress can accentuate a larger third-trimester bump or even hide the first-trimester belly. You can even add a long scarf as a statement piece to distract from your belly. There's always the ever-popular infinity scarf - which can also double up as a nursing cover later on! Try a KeaBabies Nursing Cover as an infinity scarf for a fashionable maternity piece that will last you long after pregnancy! 
Whatever your personal style, we hope you've found some fun tips for putting together fashionable maternity outfits for the fall! 
Do remember to follow us on Instagram @keababies and join our loving and supportive KeaCommunity Facebook Group!
Parenting is awesome. Sleep is overrated. Every day is an adventure. 
---
Meet Our KeaMommy Contributor: Kaitlyn Torrez

I'm Kaitlyn Torrez, from the San Francisco Bay Area. I live with my husband and two children, Roman and Logan. I'm a former preschool teacher, currently enjoying being a stay at home mom. I love all things writing, coffee, and chocolate. In my free time, I enjoy reading, blogging, and working out.