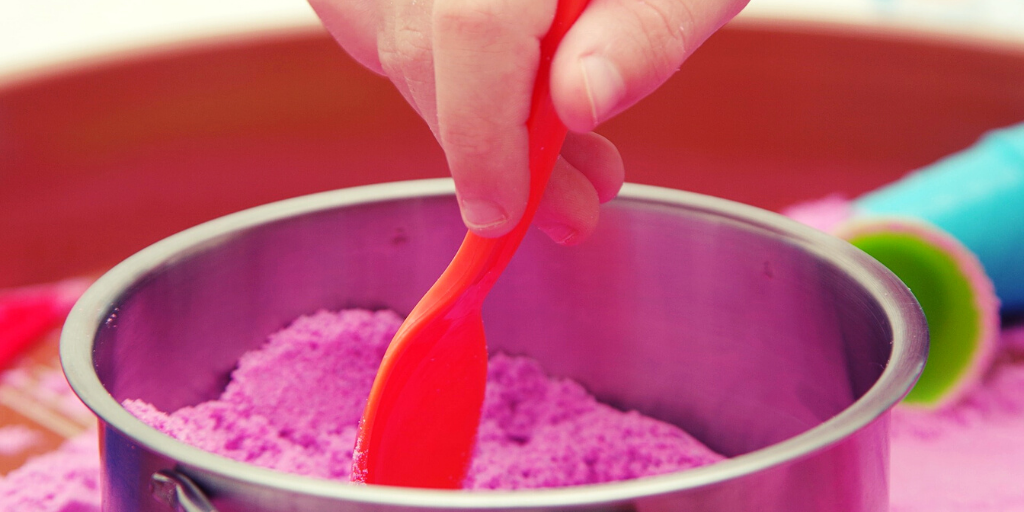 Bringing The Beach Inside With Kinetic Sand
Are you missing those summer beach adventures? Buy or make some kinetic sand, and try out these simple ideas from KeaBabies for some summertime fun with your family, right in the comfort of your home! 
Are you missing out on typical summer trips to the beach? Are you and your families stuck inside and struggling to find new activity ideas? Kinetic sand is all the rage among preschoolers and young children, many kids think that kinetic sand has to be the best things ever and would certainly cannot resist getting their little hands on it! To top it all, it can be the perfect, mess-free solution to missing beach outings! 
Kinetic sand is a wonderful tool for kids to help develop their dexterity and hand-eye coordination. Kids can rake, scoop, and mold kinetic sand into any shape they want, just like play doh! Kinetic sand activities can add some fun ideas to your kids' sensory play to further enhance their fine motor skills.
Although it is made from non-toxic materials, children and toddlers under age 3 or 4 should always be under adult supervision when playing with kinetic sand. It is not intended for consumption and should stay away from your child's face. If you're worried about making a trip to the craft store or waiting for an online delivery that could take weeks, you could also consider making your own kinetic sand at home using this simple recipe from Eating Richly (www.eatingrichly.com) : 
 What you'll need: 
2 ½ cups fine sand

1 ½ cups cornstarch (or flour)

½ cup oil 
Mix the dry ingredients, add the oil, and mix! You can also add food coloring if you'd prefer colored sand. Kinetic sand behaves similarly to wet sand but it doesn't dry out while playing, however, it is best to store them in an airtight container. 
Now that you've got your kinetic sand ready, here are five simple activities to try at home for some summertime fun, as featured on our recent KeaBabies Instagram story! 
1. The Hunt For Buried Treasure
Kids love hunting for treasure! Get some kinetic sand, and bury various small toys or trinkets in the sand and let the kids dig and find them. You can use letter magnets, building blocks, small figurines, toy trains, pretend coins, and more! Make the activity even more memorable by getting a treasure chest for your child to place all the objects in - or just paint an old shoebox or wipes container gold or brown and design your own treasure chest. You can pick a theme for this activity, such as "Easter egg hunt" or "dinosaur dig" and use items corresponding to a certain theme. Have fun playing! 
2. Kinetic Sand Mr. Potato Head
Encourage your child's creativity by designing faces in the kinetic sand using body parts from a Mr. Potato Head toy! This can be a fun way to help your child learn the names of different parts of the body. You can also practice using positional words like "over," "under," "above," and "below" when talking about the placement of objects on the face. Learning how to assemble the different parts of a face can form the necessary foundations for later drawing skills! 

3. Chicka Chicka Sand Sand
A staple during preschool storytimes, Chicka Chicka Boom Boom by Bill Martin Jr. and John Archambault is a light-hearted story all about the alphabet. Bring the story to life by drawing or printing out a picture of a palm tree, and then burying different letters (magnets, stickers, or cardboard letters) in some kinetic sand. Have your little one find each letter one by one and place it on the tree. For an added measure of fine motor skills practice, older toddlers and preschoolers can use large plastic tweezers or a small shovel to retrieve the letters. Before you know it, all the letters will be climbing up the coconut tree! It is indeed a fun way to play with kinetic sand.
4. Cook Up (Pretend) Healthy Meals
What better way to encourage healthy eating than by cooking up some pretend healthy recipes with your child? Kinetic sand can be molded into so many different shapes, so all you need to add are some cooking utensils, and let your imagination soar! You can help your child cook personal pizzas, fruit and vegetable smoothies, granola bars, and anything else that inspires you! During this activity, you can also have your child read pretend (or real) recipes as you "cook" together. Many kids are interested about how their favorite food is prepared, kinetic sand activities provide a fun learning experience for kids.

5. Go On An Alphabet Hunt
Print out or write the alphabet on a piece of paper, bury small letter magnets or beads in a plastic bin with kinetic sand, and have your child search for the letters in the sand. Once your child has uncovered a letter, he must match it to the corresponding letter on the paper. This matching game can be a fun alternative to traditional flashcards and puzzles. You can try the activity with both uppercase and lowercase letters, and help your child learn to recognize the difference. Teaching early literacy skills is much easier when the activity is new and fun! 
What are the developmental benefits of using kinetic sand? 
1. Promotes sensory processing skills. 
2. Encourages fine motor development. Kinetic sand provides a fun learning activity while developing fine motor skills of children.
3. Promotes hand strength and bilateral skills. Bilateral skills refer to the ability to use both sides of the body in coordinated movements and are essential for later gross motor abilities such as walking, running, and skipping.
4. Ideal for kids with tactile sensitivity. Kinetic sand activities are a fun way to help reduce tactile sensitivity.
5. Provides feelings of calm through tactile input. Many kids experience a calming sensation when they interact with sensory materials.
6. A perfect non-messy activity with easy cleanup and storage. 
Kinetic sand is perfect for family fun and learning games! If you're missing out on going to the beach this summer, try ordering or making some kinetic sand for your kids to enjoy! It's a new way to make learning fun, add fun ideas to your kids' sensory play and definitely a lot better than regular sand. So long as you let your kids have fun with kinetic sand under adult supervision, the possibilities for activities are endless. 
Do remember to follow us on Instagram @keababies and join our loving and supportive KeaCommunity Facebook Group!
Parenting is awesome. Sleep is overrated. Every day is an adventure. 
---
Meet Our KeaMommy Contributor: Kaitlyn Torrez

I'm Kaitlyn Torrez, from the San Francisco Bay Area. I live with my husband and two children, Roman and Logan. I'm a former preschool teacher, currently enjoying being a stay at home mom. I love all things writing, coffee, and chocolate. In my free time, I enjoy reading, blogging, and working out.