30-DAY MONEY-BACK GUARANTEE

KEACARE 365 1-YEAR WARRANTY

FREE USA SHIPPING
Why KeaBabies

We simplify parents' lives through trusted, responsibly-made products, heartfelt customer service, and a tight-knit community.

Product Description

Exploring outdoor fun with your baby during cold seasons is made possible with KeaBabies Warmzy Baby Car Seat Cover. Keep your baby warm and cozy while they experience their first spring, autumn, and winter. Suitable for boys and girls. The KeaBabies Warmzy Baby Carseat Cover is designed to fit almost any type of baby car seat from most brands. The unique stretch-fit fabric on our infant car seat cover stretches with ease and fits snugly on your baby car seat easily. Size: 22" (W) by 25" (H). Fits up to: 26" (W) by 30" (H)

Shipping & Warranty

We offer two shipping options, Standard Shipping and Express Shipping.

Standard Shipping takes 3-5 business days. Enjoy free USA shipping storewide.

Express Shipping takes 1-3 business days.

For shipping to US non-contiguous states, click here.

All your purchases are covered under KeaCare 365-day money-back warranty, a 365-days warranty against manufacturing flaws for all of our products, valid from the date of purchase. 
Keep your baby warm and cozy
Cold- and wind-resistant: Dual-layer protection
Universal stretch-fit: Fits almost any type of baby car seatt
Zipped window: For easy interaction with baby
360 degree privacy: Avoid onlookers
Lightweight and versatile: Use as car seat cover, breastfeeding cover, high chair cover and so much more!
Product Dimensions: 22" (W) by 25" (H). Fits up to: 26" (W) by 30" (H)
Temperature: 14F / -10C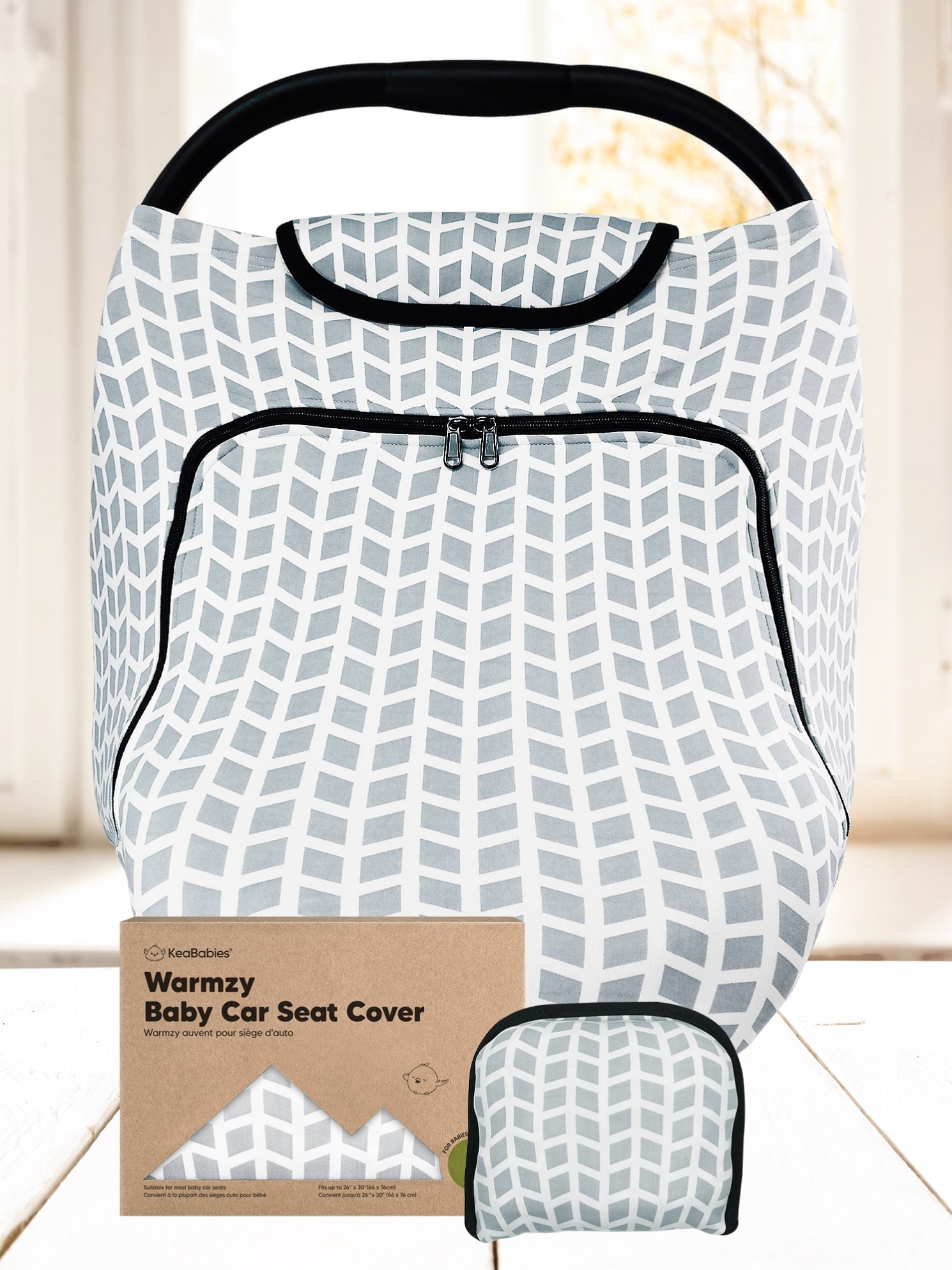 Stylish and Versatile

Carry your baby in their baby car seat around with style and confidence. Gender-neutral and suitable for boys and girls.

KeaBabies Tips

Can be used as a carseat cover, stroller/pram cover, high chair cover, nursing cover for breastfeeding, and so much more!

Convenient To Use

Avoid the hassle of putting on and removing the car seat cover with KeaBabies Warmzy Carseat Cover. Simply open the zipped window to allow airflow while in the car.

Safe and Private

The Warmzy Carseat Cover provides your baby with 360-degree privacy, allowing them to rest and slumber in peace.
Get more inspos from our KeaCommunity
Be a part of our KeaCommunity, where ideas are always flowing! Get endless inspos on making the most of your parenthood moments from fellow parents. Start your adventure here.
join now
Customer Reviews
Sabrina H.
The material & quality of this cover is AMAZING. Super soft & thicker so it's perfect for these Michigan winters. I absolutely love the print, it will be perfect for baby boy. I also love that you can zip it into a pouch for easy storage. Overall super satisfied with this cover!
Mac
No regret to buy it !
Amy
Good Quality. Stretchable and very soft.
Jessica
It's a cute color and it will be handy come winter time!
Rach
This is the greatest thing to be invented! So good to cover the car seat especially when putting it into the stroller and need a rain cover or even to nurse in public!
Calvin
Thick and good for this Houston weather
Bruins
The cover is quite soft and well-crafted. The material is thick and luxurious. I'm not concerned about keeping my infant warm during Wisconsin's frigid winters or dry when it rains. This car seat cover is made of the softest cloth I've ever felt. It's thick yet not too so. It's extremely elastic, making it ideal for any newborn car seat. It perfectly fits our baby seat! The colors are really neutral. The zippers appear to be quite strong. The tiny pocket on top is a nice touch for small stuff.
Holli
Cover is super soft and stretchy and doesn't take up much room when folded up not in use.
Caleb
It is so soft and stretchy. It fit right over the car seat without any problem. It covered it fully. Having the zipper is great. It's also easy to convert into a cover for breast feeding. Overall I'm very happy and glad I picked this one.