30-DAY MONEY-BACK GUARANTEE

KEACARE 365 1-YEAR WARRANTY

FREE USA SHIPPING
Why KeaBabies

We simplify parents' lives through trusted, responsibly-made products, heartfelt customer service, and a tight-knit community.

Product Description

Capture memories with the KeaBabies Heartfelt Baby Hand and Footprint Frame with Letter Board. This baby keepsake frame includes a premium eco-felt letter board and baby-safe air-dry clay kit for easy personalization. It comes with a solid wooden frame and real glass cover to preserve those heartfelt moments. An ideal baby shower gift for new modern parents and memento for pet lovers, this versatile keepsake frame adds a timeless touch to your nursery and home decor.

Shipping & Warranty

We offer two shipping options, Standard Shipping and Express Shipping.

Standard Shipping takes 3-5 business days. Enjoy free USA shipping storewide.

Express Shipping takes 1-2 business days.

For shipping to US non-contiguous states, click here.

All your purchases are covered under KeaCare 365-day money-back warranty, a 365-days warranty against manufacturing flaws for all of our products, valid from the date of purchase. 
Heartfelt Moments To Be Remembered
Personalized photo frame
BPA free, baby-safe, food-grade clay
Premium solid wood frame with real glass cover
Displayed on a tabletop or easily mounted on the wall.
Comes in a beautifully presented kraft gift box
All In One Picture Frame
8.7" by 13.4" felt letter board
2 sets of alphabet/number letters
1 set of fancy phrases and baby-safe air-dry clay
1 x 4.2" by 7" baby handprint frame areas with glass covers
1 x 6.2" by 7" felt letter board
Double side tape
12.4" by 8.2" wooden picture frame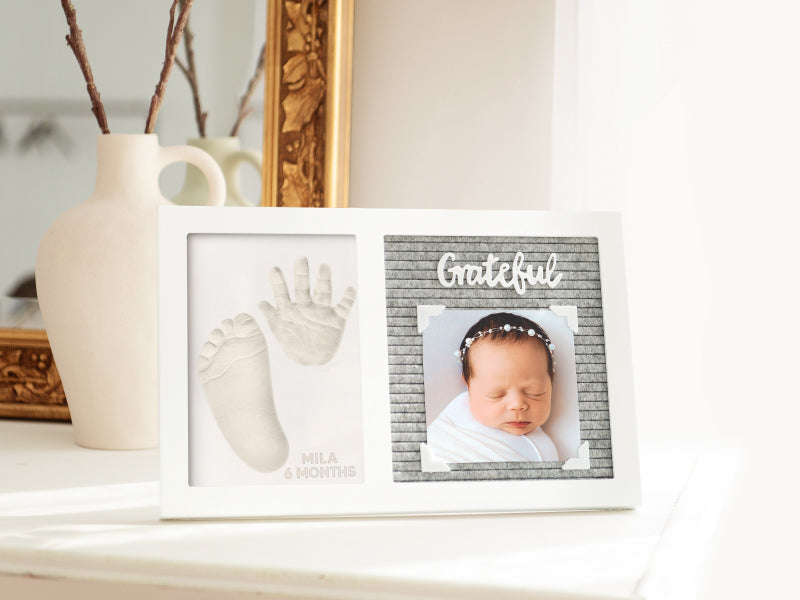 Timeless Treasures
Embrace the journey of parenthood with a touch of elegance and creativity.
A Heartful Decor

Encapsulate your most treasured memories with our Heartfelt Inkless Baby Hand and Footprint Kit. This keepsake picture frame serves as a timeless memento and a symbol of love and joy in your home. It can be displayed on a tabletop or easily mounted on the wall.

Deluxe Felt Letterboard

The soft and tactile felt of our Heartfelt Baby Keepsake Frame creates a delightful backdrop for your cherished memories. With its anchored letters, you can be confident that your message will stay securely in place, adding an elevated look and feel to your baby keepsake.

No Mess, Baby-Safe

Create effortless imprints with our baby-safe inkless ink pad, designed for flawless results. Crafted with quality in mind, this "zero-contact" ink pad allows you to capture your baby's hand and footprints with ease and precision.
Get more inspos from our KeaCommunity
Be a part of our KeaCommunity, where ideas are always flowing! Get endless inspos on making the most of your parenthood moments from fellow parents. Start your adventure here.
join now