30-DAY MONEY-BACK GUARANTEE

KEACARE 365 1-YEAR WARRANTY

FREE USA SHIPPING
Why KeaBabies

We simplify parents' lives through trusted, responsibly-made products, heartfelt customer service, and a tight-knit community.

Product Description

Safety is our priority. Our Baby Car Seat Mirror is shatterproof and 100% baby-safe, so you have one less thing to worry about while driving. Suitable for all car types with removal headrest. Comes fully assembled and it is easy to install.

Shipping & Warranty

We offer two shipping options, Standard Shipping and Express Shipping.

Standard Shipping takes 3-5 business days. Enjoy free USA shipping storewide.

Express Shipping takes 1-3 business days.

For shipping to US non-contiguous states, click here.

All your purchases are covered under KeaCare 365-day money-back warranty, a 365-days warranty against manufacturing flaws for all of our products, valid from the date of purchase. 
Modern Elegance
360 Degrees wide crystal clear reflection
High quality dual bucket straps - fits all adjustable car headrests
Shatterproof car seat mirror
Fully assembled for easy installation
Size Chart
Large 11.5" x 7.5"
Regular 9.7" x 6.9"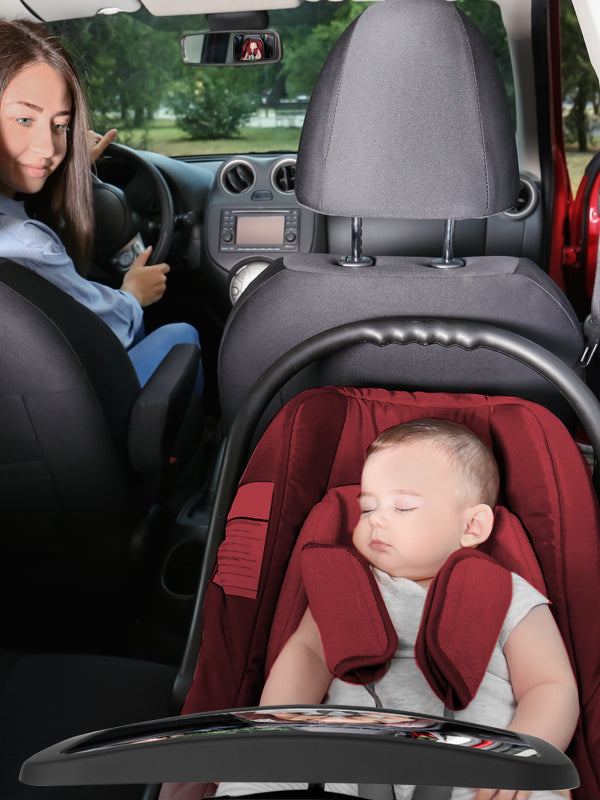 Your Baby's Safety Matters Most
As parents ourselves, we know that baby's safety is the top priority. Stay focused driving on the road while keeping an eye on your little one at stop intervals. Being able to see your baby who is sitting in a rear facing seat provides a great sense of relief and allows for better communication with each other in the car. Be it just a short trip for groceries, or a long-distance ride with baby to somewhere far out, KeaBabies Car Seat Mirror is the perfect car accessories for all modern parents!
100% Baby-safe

Safety is what we stand for. Our Baby Car Seat Mirror is shatterproof and 100% baby-safe, so you have one less thing to worry about while driving.

Suitable For All Car Types: Family Car, SUVs, MPVs, Trucks, Vans

Reinforced Straps & Quality Buckles

Our Baby Car Mirror attaches firmly and stays in place with our high quality buckles and adjustable straps. These safety straps are reinforced with intricate stitching which are durable and lasting, preventing it from breaking. The hard foam padding on the back provides additional support to stablize the Baby Car Mirror while the car is moving, so you can drive with ease and focus on yours and baby's safety.

360 Degrees Wide Crystal Clear View

Get your desired viewing angle with our 360 degrees smooth rotation hinge. You may rotate the Baby Car Seat Mirror into vertical or horizontal position depending on your driver seat rear facing mirror's position. Convex mirror design gives you a wider view of your car back seat without constant adjustments of your Baby Car Mirror.
Get more inspos from our KeaCommunity
Be a part of our KeaCommunity, where ideas are always flowing! Get endless inspos on making the most of your parenthood moments from fellow parents. Start your adventure here.
join now