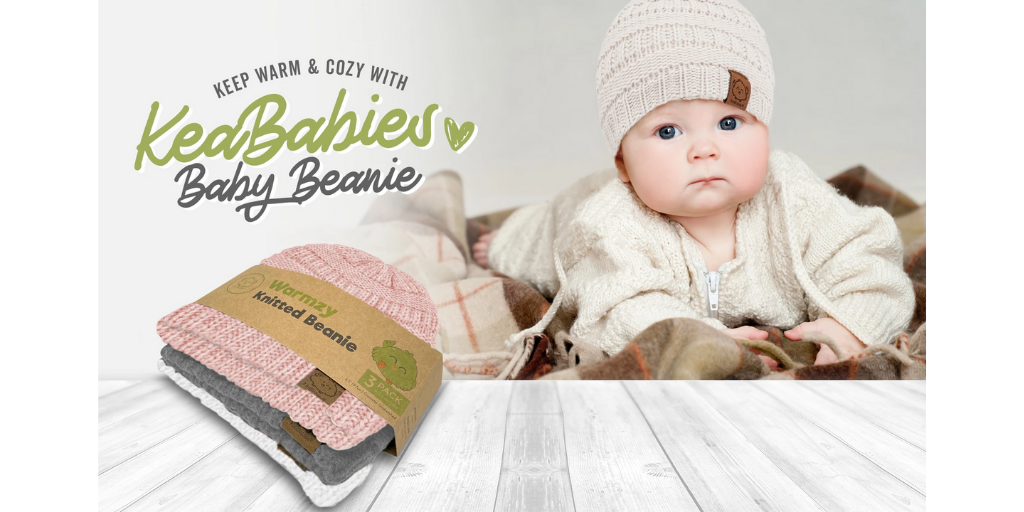 Staying Cozy And Warm With The All-New KeaBabies Beanies
As we approach the cold winter months ahead, you can now keep your precious little one warm with our all-new
Warmzy Baby Beanies
! These packs of knit beanies are stylish, adorable, and adjustable for babies and toddlers alike!
During the cooler fall and winter months, you'll almost always see babies wearing adorable hats. But infant hats are so much more than just an adorable accessory - there's a good reason people are constantly putting hats on babies! 
Turns out, babies actually need hats, and not just when it's freezing outside. Babies need hats more than older children or grown adults because of their head size in proportion to their body size. Babies' heads are much larger compared to the rest of the body, which causes more heat to transfer. Infant hats can prevent too much heat from leaving your little one's body. Chances are, if you can feel a chill in the air, your baby can benefit from wearing a hat! 
Babies don't regulate their body temperature as efficiently as children and adults. 
How can you tell if your baby is cold, if you aren't cold? First, check your baby's extremities (hands, fingers, feet, and ears) to see if they are cold to the touch. Second, pay attention to your baby's cues. Is your baby particularly fussy, even though she's not hungry, wet, or tired? She might be cold. Is your baby suddenly very still or quiet? This sudden change in behavior might mean he's too cold. 
Tip: As a general rule of thumb, dress your baby in one more layer than you are wearing. For example, if you're wearing a short sleeved shirt and jeans, dress your baby in pants and a long sleeved shirt. If you're wearing a sweater, dress your baby in a onesie, a sweatshirt, pants, and warm socks. Don't forget a hat! 
Your little one can stay cozy and warm this season with the all-new product from KeaBabies. 
The newest product in the KeaBabies lineup is the pack of Warmzy Baby Beanies! These beanies are a must-have for the cold winter months ahead, and they come in sets of three, perfect for matching any outfit. These 3-packs are available in two color themes: Urban (jet black, olive green, and navy blue) and Sweet Pea (white, pink, and light gray). 
The KeaBabies Warmzy Baby Beanies are made of durable knit fabric that is stretchy and warm. They are so comfy and snug, your little one won't fuss with them or take them off! With the Warmzy Baby Beanies, you'll know your baby or toddler is safe and cozy during outdoor adventures during the winter. You'll never have to worry about your child playing during the cooler fall and winter months - the Warmzy Beanies will keep her snug and cozy! 
The 3-packs of beanies will complete any fall or winter look, making them an essential for modern families. They are neutral enough to pair with any outfit or style, and are lightweight enough for both for everyday use and for your travels! The beanies are made from 100% premium acrylic material, which keeps your baby warm by repelling water and retaining heat. The stretchable material makes it easy for the beanies to cover your baby's head and ears comfortably - and they're adjustable enough to fit toddlers as well! The beanies are 6.5 inches by 6.5 inches, but can stretch up to 10 inches, making them ideal for children aged 3-36 months! The bottom of the beanie can be cuffed for smaller babies. 
Here at KeaBabies, we're all about comfort and ease. The Warmzy Baby Beanies are machine washable and durable. Due to the intricate knit fabric, the beanies should be washed on a gentle cycle and air dried. Knitted to perfection and quality-checked, these beanies wash easily and dry quickly, making them the ideal winter hat for your little ones. 
These beanies are already getting rave reviews from customers, so be sure to grab yourself a pack to complete your baby's fall and winter wardrobe and keep them safe and warm through this cold season! 
Do remember to follow us on Instagram @keababies and join our loving and supportive KeaBabies Love Group! 
Parenting is awesome. Sleep is overrated. Every day is an adventure.
---
Meet Our KeaMommy Contributor: Kaitlyn Torrez

I'm Kaitlyn Torrez, from the San Francisco Bay Area. I live with my husband and two children, Roman and Logan. I'm a former preschool teacher, currently enjoying being a stay at home mom. I love all things writing, coffee, and chocolate. In my free time, I enjoy reading, blogging, and working out.