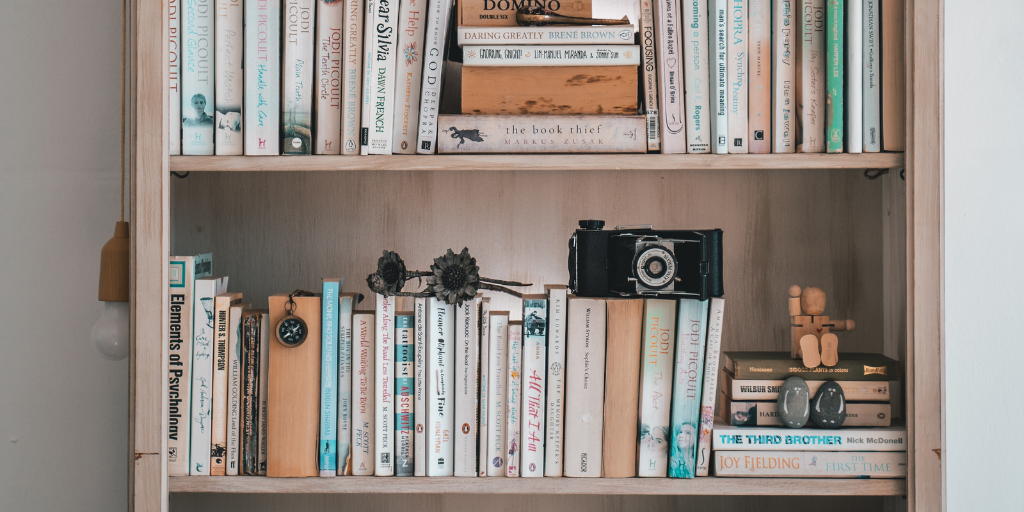 Not So Basic Book Storage
Does your little one love to pull all his books off of his bookshelf and dump them on the floor? Are your baby's books taking over the playroom? Check out our roundup of the best modern book storage units to keep your child's space neat and tidy!
If you've got little ones in the home, you probably have a lot of books. From board books, to fabric books, to hardcover books, to paperbacks, baby books take up space - and storage solutions can often be an issue. If you're looking for some creative ideas for how to store your baby's books, check out our list of some of the most stylish products on the market right now!
1. Wall-mounted shelves
Babies and toddlers love pulling all the books off of bookshelves - much to their parents' dismay! A simple solution is to purchase wall-mounted shelving units that keep books out of baby's reach. Using wall-mounted shelves can also be helpful in small spaces, as it frees up floor space for the rest of your baby's things. Using shelves can be a stylish design statement too, as you can place the shelves in whatever pattern you want - vertically up one wall, horizontally around the room, or staggered on an accent wall. 
2. Decorative art pieces 
Bookshelves can also be a statement piece all by themselves! From curved, rainbow-shaped bookcases to sleek and modern metal open shelves, there's sure to be a bookcase that matches your family's unique style and preferences. There are decorative bookshelves available at Target, Walmart, Amazon, Etsy, Crate&Kids, and more! Consider picking out a bookshelf that matches your nursery decor as you prepare for your baby's arrival! 
Popular amongst Montessori families, front-facing open shelves encourage children to nourish their love of reading. Child-sized open shelves help little ones foster their sense of independence because they can grab books to read whenever they desire! Using a child-sized open shelving unit also helps little ones learn to clean up and keep their space tidy by allowing them to easily return the books to their correct spot. You can organize these shelves however you want, and they can be a great way to start a bi-weekly, monthly, or seasonal book rotation where you put out books by theme. 
4. Storage cubes
Similar to open shelves, cube storage units can be a fun way to display books and keep things looking clean and modern. Many of these storage units come with fabric storage drawers that slide in and out of each cube, but you can also leave out the drawers and display books on the open shelves as well! These storage units come in all sizes and shapes, and are usually made of wood or cork. The colored storage containers can be coordinated with your child's nursery or playroom decor, or swapped out by season! 
File holders or magazine racks can be a non-traditional and fun way to store your child's books. These shelves are unique, stylish, and portable - easy to fit in any space in your house! You can keep the books at your child's level for easy access, or tuck them behind or beside a couch to keep them organized and out of the way. 
6. Multi-functional pieces
If you're low on space, consider buying a multi-functional bookshelf that also contains toy storage! You can find some great pieces that are useful for storing both books and toys. Some have toy boxes on the bottom shelf, and open shelves for books on top, and others have an open shelf or two in the front, and a toy bin on the back. Find a piece that gives your child easy access to the things you want to give her access too, and keeps the other items just out of her reach. Multi-functional pieces can also be a modern, stylish way to keep your child's play space look neat and tidy. Even the KeaBabies Diaper Caddy would be a multi-functional tool for storing a few books and reading accessories, and can easily be transferred from room to room or even to your car or friends' houses!
Babies and toddlers love to look at books - so why not give their book collection a beautiful space to be stored? Gone are the days of beige, outdated wooden bookshelves. You can choose a style and color of bookcase that matches your family's personal style and needs while looking trendy, tidy, and modern! 
Do remember to follow us on Instagram @keababies and join our loving and supportive KeaBabies Love Group! 
Parenting is awesome. Sleep is overrated. Every day is an adventure.
---
Meet Our KeaMommy Contributor: Kaitlyn Torrez

I'm Kaitlyn Torrez, from the San Francisco Bay Area. I live with my husband and two children, Roman and Logan. I'm a former preschool teacher, currently enjoying being a stay at home mom. I love all things writing, coffee, and chocolate. In my free time, I enjoy reading, blogging, and working out.