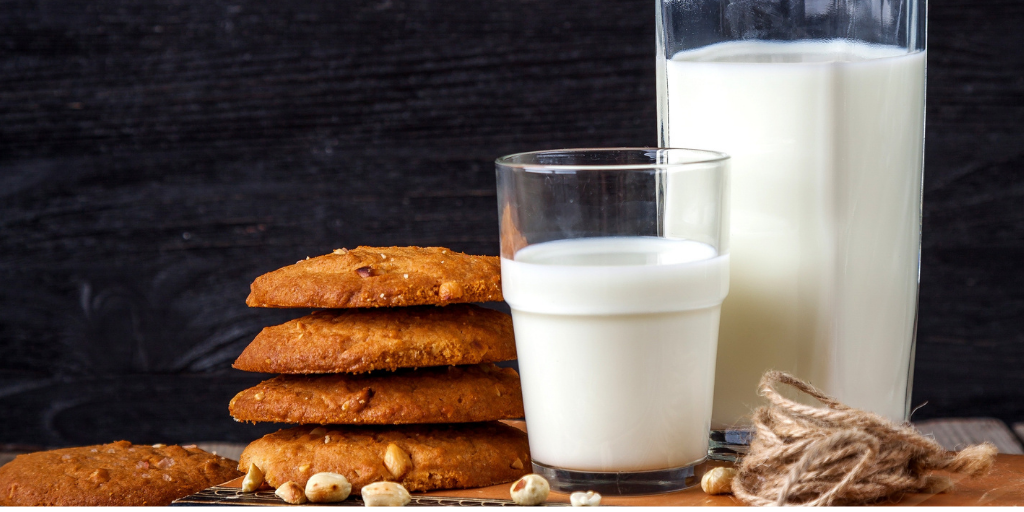 Milk And Cookies, Anyone?
Aside from being a delicious snack, lactation cookies can be a great way to boost your milk supply! If you're a nursing mom, read on for some recipe ideas for baking some amazing cookies full of healthy ingredients to help keep your breastfeeding journey going strong.
Milk and cookies don't have to be a treat reserved for your kids: breastfeeding mamas can load up on scrumptious lactation cookies that are good for both mind and body! 
While lactation cookies are nothing magical, they've been known to give breastfeeding mothers' milk supplies a little boost. Lactation cookie recipes vary, but each contains ingredients that have been shown to increase milk production in nursing mothers - and don't forget the fact that eating cookies is just good for the soul, too! Enjoying a sweet treat can reduce stress levels as well - and the less stressed you are, the better your milk production will be! 
How are lactation cookies different from regular cookies? 
Lactation cookies often look just like normal cookies (but don't worry, if your husband accidentally eats one, he won't start spontaneously lactating). However, they're packed full of ingredients that can help your milk supply regulate. These milk-boosting ingredients are known as galactagogues - substances that range from prescription medications to herbs and foods. 
The galactagogues that often make their way into lactation cookie recipes include brewer's yeast, oats, flaxseed, fenugreek, and barley. 
Brewer's yeast (not nutritional yeast or baker's yeast) contains iron, magnesium, potassium, zinc, and vitamin B. 

Oats, like rolled oats, contain plenty of iron. 

Flaxseed contains omega-3 fatty acids and phytoestrogens. 

Fenugreek is a spice that tastes like maple syrup and has been known to help milk production, especially in the early days of breastfeeding.

Barley contains beta-glucan, which can trigger the hormones needed for breastmilk. 
While lactation cookies aren't the magical solution to all of your breastfeeding woes, they can certainly help. When lactation cookies are eaten along with trying other researched methods for increasing milk supply (pumping, frequent nursing, staying hydrated, and feeding on demand), nursing moms can set themselves up for a successful breastfeeding journey. 
You can make your own "lactation cookie" recipe by simply adding any of these galactagogues to your favorite cookie recipe - or you can try some of these great ideas we found from other breastfeeding mamas! 
1. "Best Lactation Cookies" from How Sweet Eats
From dark chocolate chips to cinnamon, this delicious cookie recipe also contains some milk-boosting ingredients such as brewer's yeast and flaxseed!
2. "Oatmeal Chocolate Chip Lactation Cookies" from Medela 
This simple recipe yields 20 scrumptious cookies packed with milk-boosting ingredients like rolled oats and flaxseed. 
3. "Healthy Lactation Cookies" from Detoxinista
This recipe features coconut oil and coconut sugar, which can be a healthier option!
4. "Lactation Cookies" from Cookies And Cups
These cookies contain walnuts, rolled oats, and flaxseed - the perfect galactagogue combo for boosting that milk supply! 
A helpful piece of advice for breastfeeding moms: double (or triple) the batch of cookies and freeze! Lactation cookies can be stored in an airtight container on the counter or in the refrigerator for up to a week, but you can also store the cookies, or cookie dough, for months in the freezer! That way, you can simply pull out a cookie or two at time! Already-baked cookies can last up to two months in the freezer, and cookie dough can stay good for up to six months.
To make it one step easier, you can also buy lactation cookies in stores or online. Here are some of our favorite brands:
Milkmakers Lactation Cookie Bites

MilkBliss Dark Chocolate Chip Soft Baked Lactation Cookies 

Traditional Medicinals Mother's Milk Chocolate, Fruit, and Nut Lactation Bars

Cafe Baby Mommy's Milk Lactation Cookies 

Mommy Knows Best Oatmeal Chocolate Chip Lactation Cookies

Boobie Bar Oatmeal Chocolate Chip Breastfeeding Bars
Moms are always on the go, so be sure to pack a few cookies in your bag wherever your day's adventures take you!
Do remember to follow us on Instagram @keababies and join our loving and supportive KeaCommunity Facebook Group! 
Parenting is awesome. Sleep is overrated. Every day is an adventure.
---
Meet Our KeaMommy Contributor: Kaitlyn Torrez

I'm Kaitlyn Torrez, from the San Francisco Bay Area. I live with my husband and two children, Roman and Logan. I'm a former preschool teacher, currently enjoying being a stay at home mom. I love all things writing, coffee, and chocolate. In my free time, I enjoy reading, blogging, and working out.