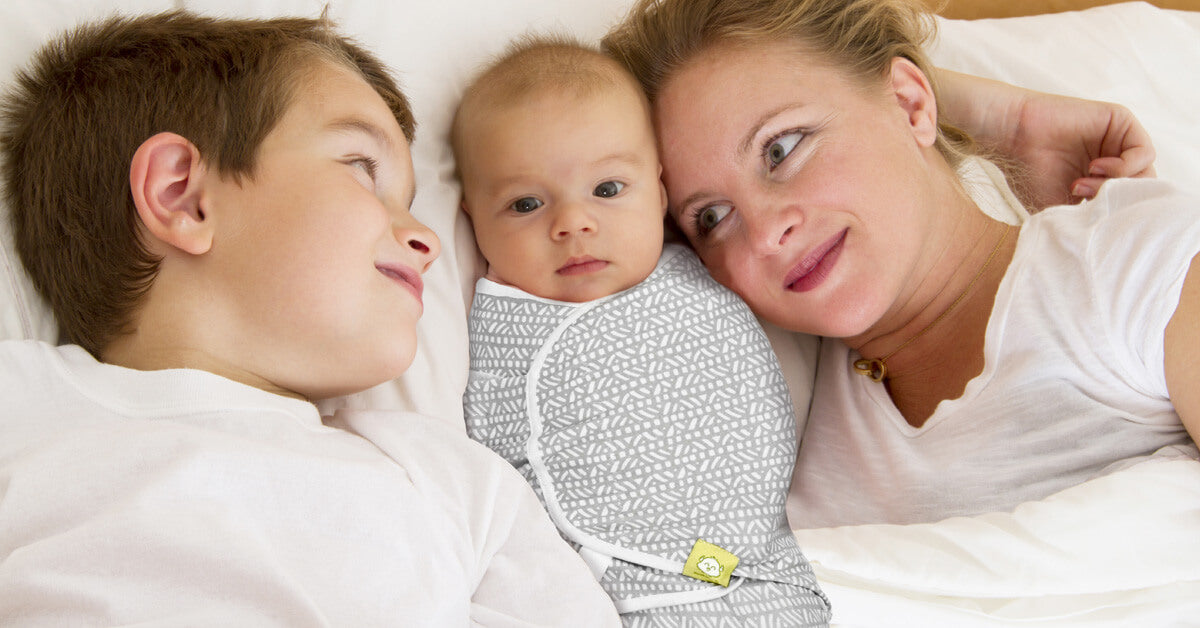 Keeping Your Baby Snug And Cozy With The KeaBabies Soothe Swaddle Wraps
Newborn babies love to be swaddled - and what better way to gently swaddle your little one than with the wonderful new set of
KeaBabies Soothe Swaddle Wraps
!
Newborn babies love to be swaddled - and what better way to gently swaddle your little one than with the wonderful new set of KeaBabies Soothe Swaddle Wraps!
Swaddling your baby is helpful for more than making your sweet little one look extra adorable and snuggly. Swaddling actually reminds your baby of her time in the womb, when she was gently curled up, surrounded by the warmth of your body. Swaddling is also handy because it prevents the startle reflex, or Moro reflex, that babies are born with. The Moro reflex is your baby's response to a sudden movement or sound, which causes her to extend her arms and legs - and this can be very disruptive when it comes to peaceful sleep! When you swaddle your baby, it reminds your baby of being held and touched, which provides a sense of security and calm. Swaddling can also prevent your baby from scratching his face with those sharp newborn nails that are so difficult to trim! 
Although you can swaddle your baby with any blanket of your choosing, many parents opt for velcro or zipper swaddles for convenience! The KeaBabies Soothe Swaddle Wraps are the perfect addition to your newborn's accessories. They are ergonomically designed with style and comfort in mind, and are super simple to use! Your baby will be comfortable and secure in the KeaBabies Swaddle Wraps, gently surrounded from shoulder to torso with 2-way fabric stretch knit, ideal for his growth and development. 
Each swaddle wrap contains an arm pocket, a hip positioner, and a leg pouch. They can fit any preemie or newborn between 6 and 20 pounds, up to 25 inches in height, and should stop being used once your infant can roll over (which usually occurs around 3-4 months old). 
You can swaddle your baby in four easy steps: 
First, open up the swaddle, and place your baby in the middle, the top of the swaddle at shoulder level. 

Insert your baby's legs into the leg pouch. 

Cross the left arm pocket over the front of your baby's chest. 

Cross the right arm pocket over the front of your baby's chest, and secure the straps. 
Tip: Make sure the hip positioner flap is lifted and attached with the hook and loop fastener on the inside of the arm pocket to prevent your baby's hand from getting out. 
What sets the KeaBabies Soothe Swaddle Wraps apart from the rest? 
They are made of premium organic cotton that won't shrink over time. 

They are machine washable. They can be washed in a cold cycle and dried on low heat. Do not use fabric softeners or bleach on the wraps. 

The wraps include a tab to attach your little one's favorite pacifier, so it won't roll away in the middle of the night!

They come in beautiful, affordable sets of three swaddles - perfect for baby shower gifts or for moms that don't want to do laundry every day!

They are ergonomically designed and thoroughly tested on newborns of all sizes to ensure that the wrap's design is ideal for your baby's growth and development. 

They provide comfort and security, the key to a good night's sleep. 

They come in three adorable, gender-neutral designs, the perfect gift for any little boy or girl. 

They are larger than other swaddle wraps on the market, meaning you can get more use out of them as your baby grows. Many other brands shrink easily or become misshapen after several washes, but the KeaBabies Soothe Swaddle Wraps will retain their shape and size over time due to the durable two-way stretch fabric technology. 
Be sure to purchase your set of KeaBabies Soothe Swaddle Wraps to ensure that your sweet little one will have the best night's sleep!
Do remember to follow us on Instagram @keababies and join our loving and supportive KeaCommunity Facebook Group!
Parenting is awesome. Sleep is overrated. Every day is an adventure. 
---
Meet Our KeaMommy Contributor: Kaitlyn Torrez

I'm Kaitlyn Torrez, from the San Francisco Bay Area. I live with my husband and two children, Roman and Logan. I'm a former preschool teacher, currently enjoying being a stay at home mom. I love all things writing, coffee, and chocolate. In my free time, I enjoy reading, blogging, and working out.