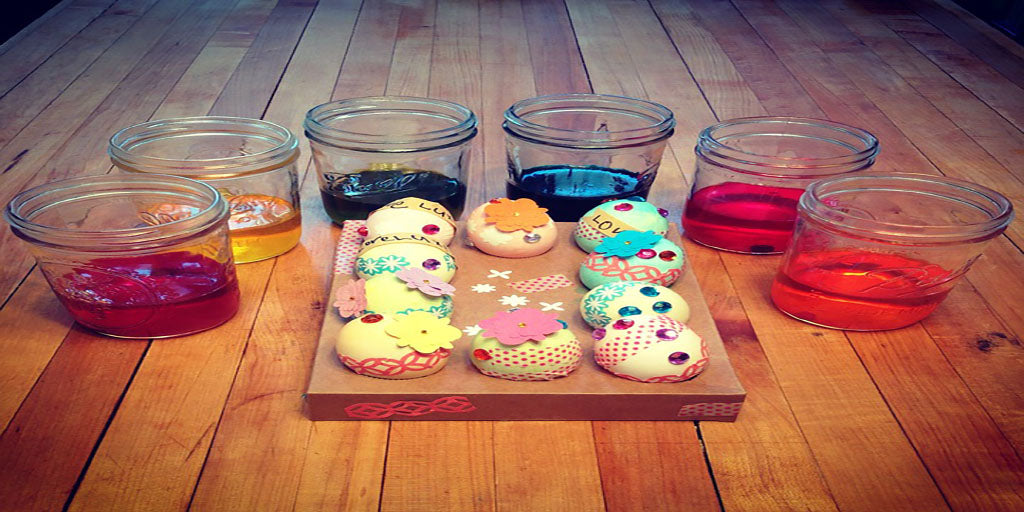 KeaBabies Guide To Easter Activities While Sheltering In Place
Are you currently under stay at home orders? Although community Easter egg hunts, photos with the Easter bunny at the mall, and large church services are cancelled, there are still many ways to create fun family moments your little ones will cherish forever!
Guidelines for social distancing and sheltering in place have made Easter bunny photos, community Easter egg hunts, and church celebrations impossible this year - so how do you make this year's Easter Sunday a special one?
As the world faces a devastating pandemic, these are worrisome times for many families. Easter is looking a whole lot different this year - but that doesn't mean you can't celebrate with your loved ones! Read on for some simple ways to create wonderful family moments together while staying safe and healthy at home!
1. Easter Egg Activities 
Colorful plastic Easter eggs are inexpensive, but can be used for countless learning activities for your little ones! After your at-home Easter egg hunt is over, collect those eggs for some family fun!
Color matching. Help your little one learn colors by finding an empty cardboard egg carton, and coloring the inside slots different colors that correspond to the colors of your Easter eggs. Have your little one open the carton, and place each egg in the slot that matches its color. The carton makes for easy storage, and we're always supportive of activities that involve recycling materials around the house! 
Egg shakers. Fill your Easter eggs with different materials such as rice, small rocks, raw noodles, coins, small building blocks, or hard candies. You may need to tape or glue the eggs shut so your children can't accidentally open them. Let your little one explore the different sounds the eggs make when they are shaken. Toddlers and preschoolers can practice sorting the eggs by sound. Is the sound loud? Quiet? Sing songs while you shake the eggs along to the beat, so your little one can learn simple rhythms! 
Counting practice. Help your little one create a line of Easter eggs. You can place them one by one into a plastic container or an old egg carton, or you can simply create a line on the ground. You can also use a permanent marker to write numbers on the eggs, and have your toddler or preschooler place them in the correct order. You can also write the number on each half of the egg, mix them all up, and have your child match the correct pieces together. The possibilities are endless!
Sensory bins. Sensory bins are so much fun for babies and toddlers alike! Even older children may also join in. You can create a fun springtime sensory bin by dyeing rice a few different colors, pouring it into a plastic tub, and placing Easter eggs inside. Your kids can practice scooping the rice into the eggs or burying the eggs in the rice. Kids also love water play, so you can fill a plastic tub with water, a few splashes of bubble bath or dish soap, and let your little ones practice "washing" the eggs! You can throw in a few sponges or scrub brushes for added sensory fun.
2. Neighborhood "Easter Egg Hunts" 
Social distancing has isolated us from our friends, family, and neighbors - but that doesn't mean we have to become lonely! Many neighborhoods are setting up "Easter egg hunts" by encouraging residents to color or paint Easter egg pictures, and hang them in their front windows so neighbors can see! When you go on your neighborhood walks with your little ones, you can see how many eggs they can spot! Remember, practice social distancing by staying at least 6 feet away from others, and practice good hand washing when you get home! 
3. Church Service Live Streams
Since most churches can no longer conduct services, many are streaming their services online! Some churches are recording sermons, and others are streaming live from the church campus on the weekends! If you don't want to miss out on your Easter church tradition, check websites for local churches to see if any are going live streams of their Easter services this year. 
4. Video Call Celebrations
Easter is usually a time for families to gather together. Although you may not be able to see your extended family this year, you can still interact with one another using video calls. If your kids are missing their grandparents or other family members, set up a time to video call on Easter! You can let your little ones' extended family watch their Easter egg hunt, Easter crafts, or even "eat together" while keeping a video call going. 
5. At-Home Photo Shoots
Check out Pinterest or photography blogs for ideas for at-home photoshoots! Although traditional mall Easter bunny photos won't be an option this year, you can still create adorable moments at home using simple props and backdrops! Download a few free photo editing apps for your smartphone, and you'll be sure to create some adorable Easter-themed photos this year! 
Even though Easter will look very different in 2020, there are so many ways to celebrate with your loved ones and your community. You can create special moments at home that your children will cherish forever! Remember, stay home, stay safe, and stay healthy! Happy Easter, KeaFamily!
Do remember to follow us on Instagram @keababies and join our loving and supportive KeaCommunity Facebook Group!
Parenting is awesome. Sleep is overrated. Every day is an adventure. 
---
Meet Our KeaMommy Contributor: Kaitlyn Torrez

I'm Kaitlyn Torrez, from the San Francisco Bay Area. I live with my husband and two children, Roman and Logan. I'm a former preschool teacher, currently enjoying being a stay at home mom. I love all things writing, coffee, and chocolate. In my free time, I enjoy reading, blogging, and working out.