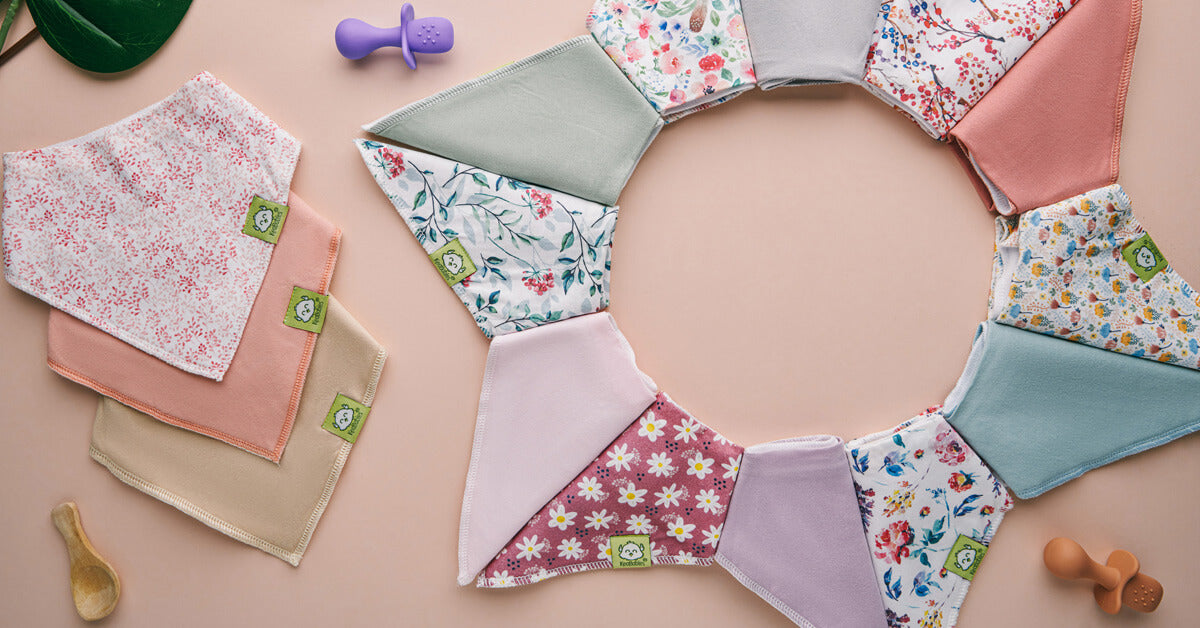 Bandana Bibs Are As Easy As 1, 2, 3! 🙌🏻
Bandana bibs are the perfect way to complete your baby's outfit of the day! KeaBabies Bandana Bibs come in 3 sets, each containing 8 bibs - so you ...
Bandana bibs are the perfect way to complete your baby's outfit of the day! KeaBabies Bandana Bibs come in 3 sets, each containing 8 bibs - so you can easily pick which one to match your baby's unique style! KeaBabies Bandana Bibs stand out from other brands because they come with 3 sizes of adjustable snaps. How does this extra adjustability work for your baby?
Here are some uses!

1. Narrow
The "narrow" setting is ideal for newborns and infants. The narrowest closure ensures a snug hold around your baby's delicate neck, and the KeaBabies Bandana Bibs are made from soft organic cotton that won't irritate even the most sensitive skin.

Why might a newborn or young infant need a bib? 👶🏻

Feeding: Newborns take time to perfect their latch, and bottle feeding or breastfeeding can get messy! A bib keeps formula spills or breast milk droplets out of baby's delicate neck folds and off of their adorable outfits.
Drool: Drooling typically begins between two and four months of age. Drooling indicates that your baby's salivary glands are starting to mature, even though teething (and eating solid foods) won't happen for a few more months. Young babies tend to drool a lot, and this increased saliva can irritate their skin and cause rashes. KeaBabies Bandana Bibs are highly absorbent and keep baby's skin dry all day long!
Photo ops: It's impossible not to snap hundreds of photos of your little one, especially because you've probably received a lot of outfits as gifts for your new bundle of joy! Adding an adorable bandana bib can complete any look!

2. Normal
The "normal" setting is ideal for growing infants! It won't wrap too tightly around their necks but will ensure a proper fit without being too loose or easy for little-exploring hands to unsnap. The ultra-soft fabric will sit gently against the baby's skin without causing irritation.
Why might an infant need a bib?
Feeding: It's still typical for infants and older babies to be messy while they eat, whether breastfed or bottle-fed. Bandana bibs make for easy cleanup and are gentler for wiping skin than baby wipes.
Cereal and/or solid food: Between 4 and 6 months of age, your baby's pediatrician will most likely suggest starting solid foods. Many parents start with rice cereal or oatmeal mixed with breast milk or formula. Some parents choose to wait until their baby is older and ready to try solid food. Others prefer a method of introducing foods called "Baby-Led Weaning," in which the baby eats regular table food that the rest of the family eats, just cut into infant-safe shapes to prevent choking. Whatever method you choose, the baby is sure to have fun making a giant mess! Bandana bibs keep squishy, wet, crumbly food off of their skin and clothes!
OOTD: It's fun to accessorize! Bandana bibs can give any outfit a stylish edge, whether you prefer dressing baby in bright hues or muted, unisex tones.
3. Widest
The "widest" setting is ideal for bigger babies or toddlers, all the way up to 36 months! It is loose enough to hug your little one's neck without being too tight or scratchy. The snap closure ensures that the bib stays put even as a curious toddler might pull on it. While other bibs might have Velcro closures or buttons that easily come out of place, KeaBabies Bandana Bibs always stay right where you need them!
Why might an older baby or toddler need a bib?
Eating: Babies and toddlers love to eat – especially when it comes to snacks. Using a bib is a great way to prevent spills from all those puffs, food pouches, fruits and veggies, and juice boxes! Older babies and toddlers aren't the cleanest eaters. They often enjoy testing the texture, smell, and weight of food as much as they enjoy actually eating it. Bibs are still necessary at this stage!
Drool: The drooling doesn't end when the baby turns one year old – teething lasts well into toddlerhood! A child usually won't get all of their teeth until they are between 2 and 3 years old. Teething can cause increased saliva production, and using a bandana bib can be an easy way to quickly wipe the moisture off of the baby's face.
Accessorizing: Bandana bibs are adorable accessories. In addition to their usefulness, they make an outfit just plain cute!
KeaBabies Bandana Bibs are a wonderful gift for parents and perfect for babies at every age and stage!

Get your very own set of KeaBibs today!