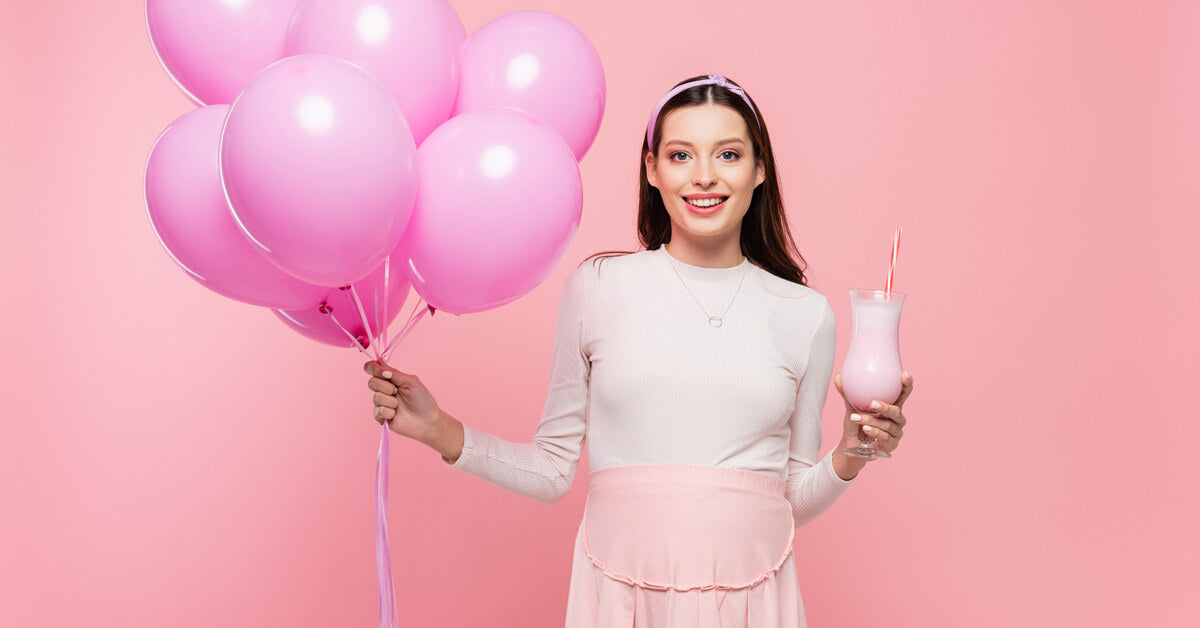 How to Throw a Virtual Baby Shower
It's true that a virtual shower can never replace a traditional one IRL. But in order to make the most out of the current pandemic situation that has affected us globally, why not utilize the available technology?
The trying days of social distancing and Coronavirus don't necessarily have to lead to missed opportunities when it comes to sharing the important dates and joys with your family and friends. Thanks to the digital age we live in, no occasion has to be truly canceled, and especially not a baby shower. So, let's dive straight into the ins and outs of throwing a virtual baby shower, organizational details, baby shower ideas, and more.
What is a Virtual Baby Shower?
It's true that a virtual shower can never replace a traditional one IRL. But in order to make the most out of the current pandemic situation that has affected us globally, why not utilize the available technology?
A virtual shower can start as any regular group meeting online where you get to talk and laugh with your friends and family. True, things may get a little bit awkward since you're not physically together, but that's OK.
How Do Virtual Baby Showers Work?
It might feel strange to open gifts in front of the camera and not have all the games and essentials that a regular baby shower would. But you can still have a blast when you get to see your loved ones, even over the screen.
We understand that you probably have a bunch of concerns. Wondering whether you should play any music or prepare appropriate games is perfectly normal. You might even feel like it would be really difficult to keep this online party alive. Take a deep breath; these are all the concerns you'd probably have to a certain extent even with a traditional baby shower.
Not everything is better with IRL parties though. When you host a virtual shower, you clearly don't have to worry about preparing enough refreshments and bites to eat for everyone. Not to mention that there's no cleaning involved afterward either. And if you wish to sit through this online party in your yoga pants, you most certainly can – just like your online guests. In the end, it might prove even easier for the pregnant mom-to-be.
How to Organize a Virtual Baby Shower?
Just like a traditional baby shower, this virtual one is a celebration of you and your baby. And it also requires some careful planning.
Select a date and make a guest list
Obviously, you want your closest friends and family members at your baby shower. That said, it's important to pick a date and time that works well for everyone.
If some of your guests live in a different time zone, try your best to schedule a time that can accommodate everyone. Most importantly, don't rush the main event. After all, once you send out your invites, you have to leave your guests enough time to pick out and send gifts so that you can open them up in front of them.
In general, there's no need to schedule more than one-two hours for this online event.
Choose a platform and make sure it works for everybody
All that you and your guests need for a virtual baby shower is an Internet connection and a phone/computer with a camera. There are several different platforms you can use for live streaming; the most popular include Zoom, Skype, Facetime, Facebook Messenger, and Google Meet (formerly known as Google Hangouts).
Zoom is one of the most popular platforms for live video meetings. It allows up to 100 connections at the same time. Using Zoom live chat can be done via any Web browser; it's not necessary to install an app or create an account at all costs. As a host, you simply set up a virtual room and send out the ID and password to the invited guest to join. However, the free Zoom version allows only 40 minutes of video chatting consecutively; but it's easy to deal with this issue simply by creating another chat room and sending the invitations again.
Skype is another popular option very similar to Zoom that's completely free and doesn't require you to install an app when using a web browser on the computer. It's also not password-protected. While there's no time limit for your online video chat, the maximum number of connections that Skype allows is 50.
Facebook Messenger Room allows up to 50 connections just like Skype. It's not necessary to create a Facebook account in order to join in the call. There's also no time limit to worry about. A truly fun thing about Facebook Messenger Rooms is that the people on the call can use filters and backgrounds. And you can name the room however you want to honor the celebration.
Facetime is a completely free video platform for Apple users that allows up to 32 connections. You as a host have to send out the invites and the guests can then join with their Apple ID. The obvious flaw of Facetime though is that Android and non-Mac users cannot participate.
Google Meet (Google Hangouts) requires a Gmail account. Most people nowadays have at least one, but it's also free and simple to sign up for. While Google Hangouts allows up to 250 connections for audio calls, it's important to mention that it supports only 10 connections max for video calls.
Every single video service mentioned also incorporates a regular chatting option, allowing you to type whatever you want, send emojis, share photos, and more.
Prepare an agenda and send out invitations
Even if you're talking to someone 101 online, things can get slightly awkward if the call lasts too long. And when it comes to hosting an online baby shower, it would be best to incorporate a plan, just like you would with a traditional one.
Let's say that you've decided to use Zoom and host a party for 40 minutes. Your plan can look something like this:
5 minutes – catch up with everyone, check whether everything works and you can all see and hear each other, prepare for the party
20 minutes – enjoy playing the games together
10 minutes – time to open gifts
5 minutes – say your thanks and virtual goodbyes
If you decide to go with a different video service or schedule more time for the party, you can adjust the above timeline and do the planning accordingly.
Just like you're going digital for your baby shower, don't hesitate to do the same for your invitations. There are plenty of websites that you can use for this purpose, some of the most popular being Greenvelope, Paperless Post, Evite, and Minted.  Not only can you choose among thousands of beautiful designs and templates, but you can also add cool extras such as registry links, music, and gifs.
Some of our favorite templates:
When you're writing the invitations, you won't need venue info per se; but make sure that you provide clear instructions for your guests when it comes to the video platform you'll be using. You might even have some explaining to do ahead of time.
Consider theme and decorations
Your virtual baby shower doesn't necessarily need a theme, but if having one would make you as a future mom happy, then by all means go for it!
A great start to a thematic online baby shower is the use of a specific template and/or event header for your email invites and thank you cards, specific games, a custom Zoom background, and whatever else you think of.
Decorations are also welcome since your guests will see you on camera. Balloons and wall hangings sound perfect as they're not difficult to put up even for a pregnant lady!
Baby shower ideas for décor:
The Pastel Dream. A very popular and simple to do, pastels fit perfectly with the baby shower decor. Pastel balloons and garlands, pastel clothes, and pastel frosting on your cookies, and voila! Complete the setting with this nice pastel Zoom background, and you're done.
The Plushies theme. Another easy one. Set up your baby's plush toys or the one you own (we're all kids at heart) so that they're visible to your guests. Keep one on your lap if you want. Choose an endearing plushies background and you're all set.
Little Sailor. If you're going with a sailor theme, think blues, whites, and reds. You can hang little boats on the wall and have plenty of balloons in these three colors around. Don't forget to wear a blue-white striped shirt and maybe even tie a red scarf around your neck. This cute whale Zoom background could fit perfectly.
Involve and entertain the guests
Hosting a remote party doesn't mean you can't prepare some fun virtual baby shower games for everyone to enjoy and engage in! You can even come up with prizes for the winners.
Some interesting baby shower games to consider:
Don't Say "Baby"! This game can last however long you want it to! From the moment it starts, guests aren't allowed to say the word "baby". Or at least they have to use this word the least in order to win.
Guess the Parent. Due to the situation, you'd probably want both your parents at the shower. And with the new rules, both parents-to-be can be present as well. That way, you can play the parents game where guests will guess the answers to "mom or dad" questions. Think something along the lines of How many kids do you want, Who will be stricter, and so on.
How Well Do You Know My Mom? The guests will be asked to guess the random facts about the future mom, such as your favorite color, music genre, etc. as well as answer some parenting questions that are true for you, such as "stroller or baby-wearing", for example.
Prizes can also be digital, such as e-gift cards, online class subscriptions, a month-worth of a video/audio service, and so on.
Keepsake & Gratitude
A great thing about throwing an online baby shower via a video platform is the ease of recording the whole thing! You can also suggest this to your guests and encourage everyone to take screenshots. Imagine just how fun it will be for both of you as parents to view the recording once the baby arrives!
Of course, you want to thank everyone who joined this event. Just like with online invitations, you can also choose among different thank-you cards and patterns. If you plan to spice things up with party favors, choose some that are easy to mail. For instance, these might be baby hair ties, baby-themed bottle openers and/or stoppers, baby-inspired key charms, etc.
Virtual Baby Shower Etiquette
You might be unsure about some party essentials when it comes to doing everything online. Hopefully, this will clear things up:
Should I prepare an online baby registry?
Sure! You can even include the link to it in your invitations.
Should I get everyone to dress up?
If your virtual party will be small with a specific theme, you might suggest dressing up to your guests. However, this may not be such a good idea if you plan a larger online gathering.
Should I skip the food?
There's no need to prepare anything special for a virtual baby shower. You can make something for yourself to eat and drink during the video call and encourage your guests to do the same.
Should I open the gifts live?
Of course! This is the best part of every baby shower, including the virtual one.
An Ultimate Online Baby Shower Checklist
Create your guest list
Pick out the date and time that works for everyone on your guest list, leaving enough time for the gifts to arrive
Choose a video platform that everyone can use with ease ahead of time
Create a baby registry online
Pick out a theme and appropriate décor for your virtual shower to properly welcome your new baby; this is when you can decide what party favors you'll send out later
Send out digital invitations that match your theme and explain how to use the chosen video platform; add a link to your baby registry if you want
Come up with a couple of games that you can play online and prepare the prizes for the winners
Create a timeline for this virtual baby shower party
Don't worry about things such as food and refreshments and simply enjoy yourself and your pregnancy
Your virtual baby shower might not have the same feel as the traditional one, but it can definitely turn into a cherished and beautiful memory. You can still do the planning, invite guests, choose the décor, organize games that can be played online, and record the whole thing as a meaningful keepsake.