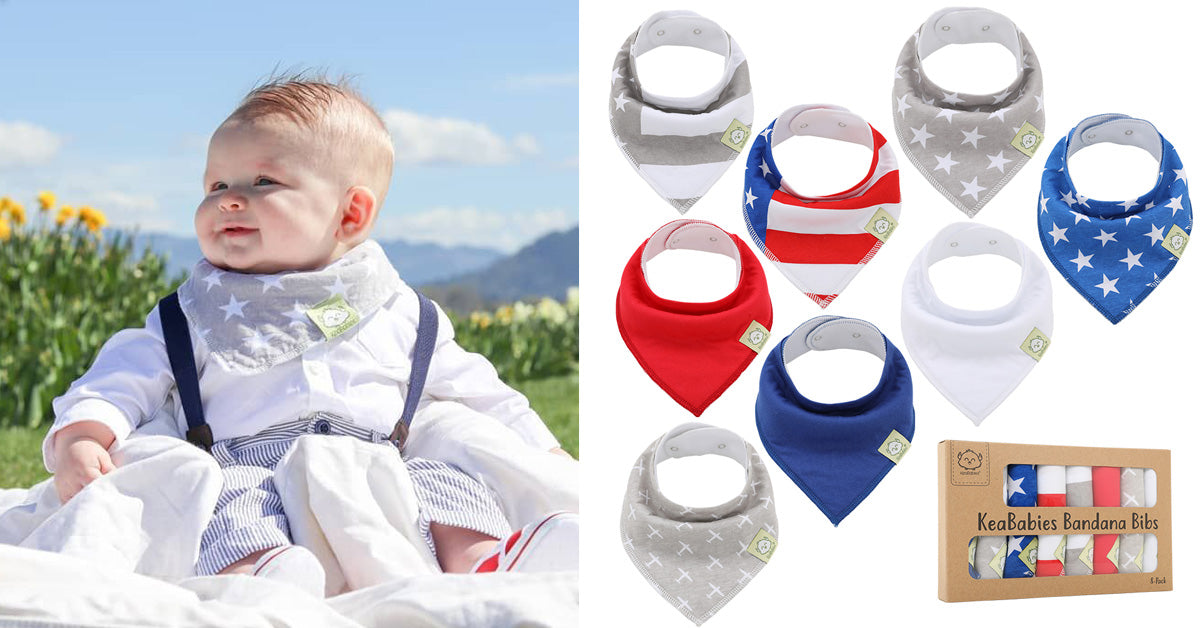 Fun Fourth of July Outfits For KeaBabies
Your precious little ones will look amazing on the Fourth of July with KeaBabies Bandana Bibs 
This is the time of year we celebrate living in the land of the free, and the home of the brave! The Fourth of July is just around the corner, and we hope that you and your loved ones find special ways to celebrate living in this wonderful country. 
Did you know that many of our KeaBabies Bandana Bib sets include patriotic patterns? What better way to dress your baby up for the holiday than with some amazing, soft, quality bibs from KeaBabies? 
Our popular "US of A" collection contains eight different bibs, all with beautiful patriotic patterns and colors! There are four bibs in neutral hues of gray and white, easy to match any holiday outfit! There are two rich blue bibs, one plain and decorated with adorable white stars. There is also one plain red bib. And lastly, a beautiful bib decorated with the American flag – a great addition to your little one's outfit for Fourth of July parties! Your little one will be sure to stand out in these amazing, adorable bibs! 
The "Grayscape" collection also contains a few patriotic bibs – so don't fret if you don't have time to order the "US of A" collection before the holiday! The "Grayscape" collection contains a gray and white American flag, and a gray bib with white stars. Either of these gorgeous bibs would look great on your little boy or little girl on the Fourth of July! And the wonderful thing about these bibs is that they are neutral – easy to pair with any outfit of the day!
The "Adventurer" collection also contains two bibs that would work perfectly for the Fourth of July! This set contains a bib that is blue with white stars and a bib that is white with black stars. Both of these bibs would be easy to match with many patriotic baby boy outfits. 
How do you plan on dressing your little one for the holiday? Will you dress your sweet baby boy in rich hues of blue or red? Will your precious little baby girl wear a cute white dress? Perhaps your little one will sport an adorable romper, a button-up shirt, a bowtie, or a frilly tank top and denim shorts? We're sure your precious little ones will look amazing on the Fourth of July!
KeaBabies Bandana Bibs are great because they are soft, highly absorbent, and grow with your baby with adjustable snaps. They are also affordable and a true bargain with eight different colors and patterns in each set. The KeaBabies Bandana Bibs make wonderful baby shower gifts – so if you or someone you know is due around the Fourth of July, consider gifting them with a "US of A" bandana bib set!