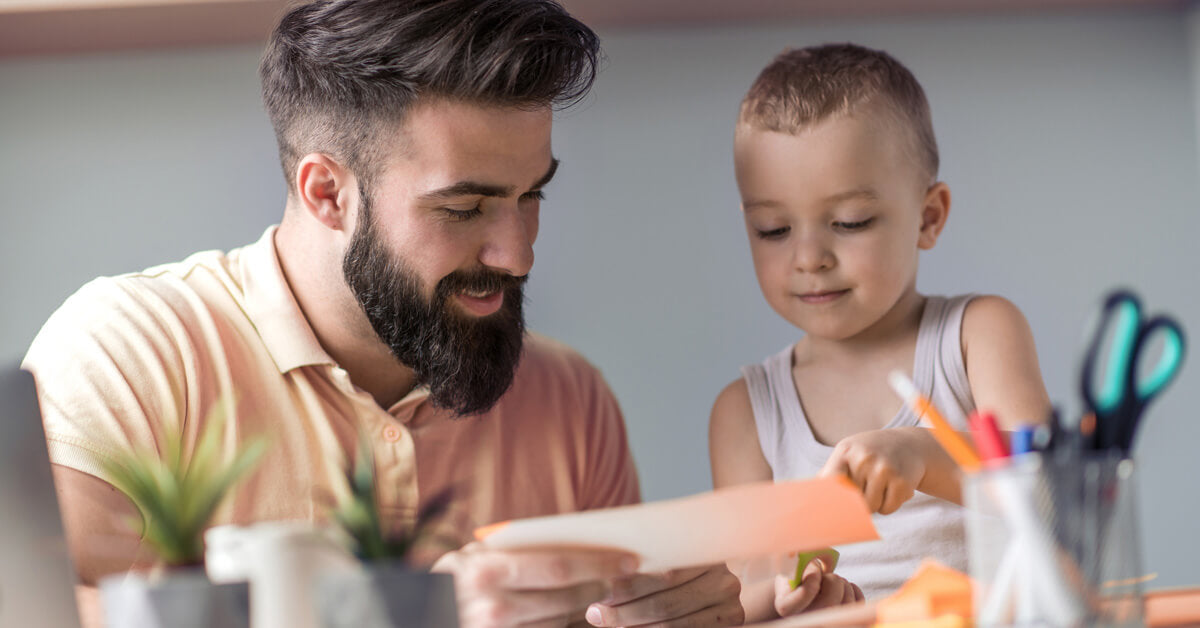 Father's Day Craft Roundup
Father's Day is just around the corner, and what better way to surprise Dad than with a special homemade keepsake? Gather your craft supplies, set up an art table, and get to work with your kids creating fun projects for Dad this year.
Father's Day is just around the corner, and what better way to surprise Dad than with a special homemade keepsake? Gather your craft supplies, set up an art table, and get to work with your kids creating fun projects for Dad this year.
1. Create photo frames
This simple idea can be done even with young toddlers. All you need is some cardboard (or popsicle sticks) to create the picture frame itself, and then whatever materials your child wants to use! Some fun ideas for decorating photo frames include buttons, tissue paper, glitter, paint, jewels, dyed pasta, and stickers. When the frame is dry, add a photo of Daddy for an adorable Father's Day gift. 
2. Paper plate medal 
Does your child have the best Daddy ever? Reward him with a handmade medal so he can cherish this special honor! Help your child paint or color a paper plate with gold or yellow paint, covering the entire plate. Once it is colored or the paint is dry, add some decorations along the outer edge (buttons, jewels, stickers, small shapes). Using a permanent marker, write "World's Best Daddy" or "#1 Dad" in the center of the plate. Add some colored ribbon at the bottom, and your award will be ready to present to Dad on Father's Day!
3. Nuts and bolts card
If Dad is the fix-it type, rummage through his toolbox for a few old screws, nuts, paper clips, fasteners, and bolts. You will also need cardstock or thick construction paper, and strong craft glue or hot glue. Help your child choose pieces to use to create a picture of Daddy, and glue onto the piece of cardstock. If you have a young child that needs extra help, give them some prompting questions such as "Which piece looks like Daddy's hand?" or "Which piece looks like Daddy's shoe?" If you're using a hot glue gun, make sure your child's fingers stay far away from the glue itself, and don't let him operate the glue gun on his own. You can add googly eyes at the end, and then write (or have your child write) a cute saying like "You keep us bolted together, Dad!" 
4. Daddy's shoes footprint art
Document how fast your little one grows with this adorable footprint keepsake! Find a pair of dad's shoes, and paint the bottom of one with washable paint. Stamp it onto a canvas or large piece of construction paper, and let dry. Next, pick a different color of paint and gently paint your baby's foot. Stamp it on top of the print of Dad's shoe, and let it dry. This makes for an adorable size comparison! Write in "following in my Daddy's footsteps" somewhere on the paper, and frame it for an amazing keepsake to hold onto for years to come. 
5. For dads that like to fish 
If Daddy loves to fish, this art project is perfect for him! Get a white piece of paper or cardstock, and draw or print out a picture of a fishing boat. Help your child draw a fishing pole and fishing line, and then assist your child in cutting out a small fish out of colored construction paper. You can also trace your child's hand on a colored piece of paper and use that as the fish! Glue the fish to the end of the fishing line. You can add glitter or paint to create the water, and add a googly eye on the fish for added effect. At the top of the card, write "Hooked on Daddy" - he'll really appreciate this heartfelt craft!
6. Rocket ship footprint 
You don't need a lot of materials for this cute idea. Grab a white piece of paper, some paint, and a marker. Paint the bottom of your baby's foot in a color of your choosing, and then stamp onto the paper upside down (toes at the bottom). Draw a triangle at the top of the footprint (above the heel), and two triangles on the sides. Add some stars around the paper. This will become the "rocket ship" blasting off to space! Somewhere on the page, write "I love you to the moon and back, Daddy" for a sweet Father's Day message. 
7. Daddy's little monster
If you affectionately refer to your child as a silly little monster, this is a great craft idea. Trace your child's hand onto a few different colors of construction paper, and then cut them out. Help your child glue googly eyes and small pom-poms onto each handprint, to form adorable little monsters. On the other side of the card, you can write, "Have a wonderful Father's Day! From, your little monster." 
8. Mess-free painting 
If you have a baby or toddler, mess-free painting is the way to go. Cut a piece of cardstock to fit into a large zip lock bag, and then squeeze several globs of different colors of paint all over the paper. Seal the paper inside the plastic bag, and then let your toddler have fun "finger painting," squishing the paint all around the page - minus the mess! Carefully remove the paper from the bag, and let dry. Once the paint is dry, you can cut it to whatever shape you want. A large heart would be a cute addition to any Father's Day card, and Daddy will be so impressed at your little one's painting skills! 
9. Handprint tree
This project is simple enough to do even with a young baby or many siblings! Simply draw a tree trunk and branches on a piece of white paper, and then paint your children's hands green (you can use different shades for different children), and stamp their handprints onto the top of the tree to look like leaves. Once the paint dries, you can write this message: "No matter how tall we grow, we will always look up to you, Daddy." This would be a great keepsake to frame! 
10. For the sports fan 
There are many options for handprint/footprint art with a sports theme, but once simple idea is to cut out a large circle from white construction paper. Draw red stitching along each side to look like a baseball. Paint your child's hands with a bright color, like blue or green, and stamp them onto the middle of the baseball. Write "Daddy's #1 Fan" somewhere on the baseball, and you'll have a cute card for any dad that loves sports! 
Handmade crafts are some of the most precious, heartfelt gifts to celebrate special holidays like Father's Day. Set aside some time this year to create some beautiful art projects for Dad this Father's Day!
Do remember to follow us on Instagram @keababies and join our loving and supportive KeaCommunity Facebook Group!
Parenting is awesome. Sleep is overrated. Every day is an adventure. 
---
Meet Our KeaMommy Contributor: Kaitlyn Torrez

I'm Kaitlyn Torrez, from the San Francisco Bay Area. I live with my husband and two children, Roman and Logan. I'm a former preschool teacher, currently enjoying being a stay at home mom. I love all things writing, coffee, and chocolate. In my free time, I enjoy reading, blogging, and working out.