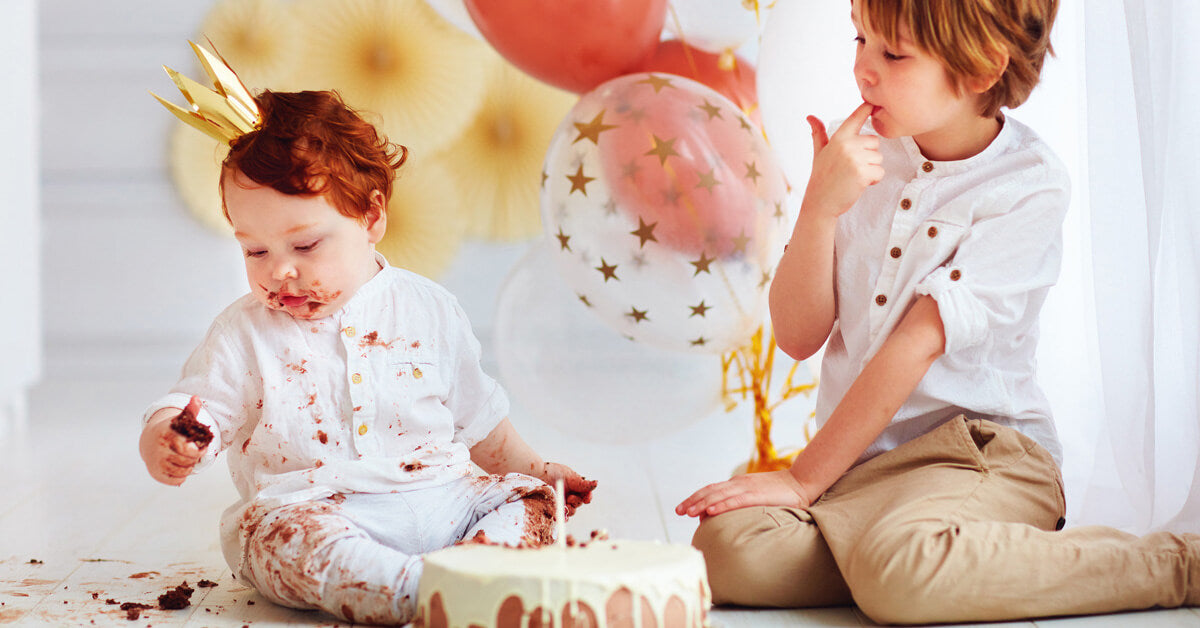 Creative Themes For Your Baby's First Birthday Celebration
Your baby's first birthday is a momentous occasion, so be sure to celebrate with a creative and fun party theme! No matter what your baby's personality and interests are, there's sure to be a first birthday theme that suits her perfectly! 
Baby's first birthday is a momentous occasion and deserves to be celebrated in a big way! If you're stumped for first birthday party ideas, check out this list below for 15 ideas for creative and unique ways to commemorate your little one's first year of life! 
1. Wild One 
Celebrate your wild little celebrant with a jungle themed party called "Wild One!" Decorate with balloons or cardboard cutouts in the shape of jungle animals like lions, zebras, monkeys, snakes, and tigers. Use colorful hues of green, gold, and brown. You can buy faux leaves or trees to create an epic jungle environment! This is a popular theme, so many party kits are available for purchase online, making it even easier to create an exciting party for your guests. 
You may let friends and family know that you have chosen this safari birthday party theme so when they bring a birthday cake they can custom made to include wild things in decorating the cake.
2. Mr. One-derful 
Is your handsome little man turning one? Consider throwing a "Mr. One-derful (Mr. Wonderful)" party to celebrate your sophisticated little guy! Create a fancy party environment by decorating with gold, silver, black, and metallic balloons. Dress your little man in a white button up shirt and a black bowtie, and you can even add some suspenders to make his outfit extra special. KeaBabies Bandana Bibs in Baby Boss fits this birthday party theme perfectly. Mustache party decorations also work well with this first birthday theme. 
3. Baby's First Down/First Year Down 
Got a football lover in the family? Why not commemorate your baby's first birthday with a fantastic football theme? Decorate with balloons and streamers in shades of green, brown, and white, and decorate with toy (or real!) footballs and sports gear. Your baby's smash cake could even be in the shape of a football. You can create a "scoreboard" chalkboard sign to write your baby's stats (height, weight, number of teeth, favorite foods, etc). You can print some photos of your baby, and arrange them in the shape of a goalpost. You can also buy a green metallic streamer curtain to use as a background, and add a big "1" balloon in front to use as a prop for a great photo area! 
4. Baby Shark 
Baby Shark is still all the rage with babies and toddlers alike, and would make a great first birthday theme. In addition to the many party kits available online, you can come up with some creative "under the sea" games and treats for your guests. Add a bubble machine, a ball pit, or a small baby pool filled with toy sharks to please young party guests. Serve ocean-themed snacks like Goldfish, Swedish Fish, blue Jello, shark gummies, or pretzels dipped in blue frosting! 
5. "Donut" (Do Not) Grow Up 
Donuts are a sweet treat that make an adorable party theme! As parents, we all want our little tots to stay small forever, so a "Donut Grow Up" theme works perfectly for the occasion! Create a cute backdrop by hanging some streamer curtains or string lights, and placing a giant donut balloon in front. Decorate with balloons and streamers in pastel shades of pink, purple, blue, green, and yellow. You can even create a "one" display by using a donut balloon for the "O" and adding balloon letters for "N" and "E." Find confetti that looks like sprinkles. And of course, serve everyone's favorite sweet treat, donuts! Ask around for local bakeries that can cater for your party. 
6. "One In A Melon" (One In A Million)
This cute birthday party theme is all about watermelons! Decorate with shades of pink, green, and black, and have plenty of watermelon-themed decorations! You can buy watermelon party kits online for simplicity, and add extra balloons if you want! Use red checkered picnic blankets as decorations or tablecloths, and add a few picnic baskets and flowers around the rooms. Your baby's cake can even be decorated to look like a watermelon (or, if you're trying to skip the sugary treats, just serve your baby watermelon instead of cake!). 
7. Twinkle Twinkle Little Star
Celebrate your shining star's first year of life with this simple party theme! Decorate in shades of white, blue, silver, and gold, and create an environment that looks like a captivating night sky! You can create oversized clouds using white balloons or cloth, and you can hang large star and moon balloons all around the room. You can buy twinkling lights or a light curtain to add to the shining effect! Make a banner that reads: "Twinkle twinkle little star, 'onederful' is what you are." Your baby's smash cake can be white with a large gold star on top! 
8. My Rookie Year
If your family loves baseball, this is the perfect 1st birthday party theme for you! Celebrate your baby's "rookie year" with a baseball themed birthday bash! Decorate with red, white, blue, and black streamers and balloons, and find some cute banners to display pictures of your one year old. Your baby's birthday cake can be designed to look like a baseball. You can also get a chalkboard and write your baby's first-year stats like weight, favorite foods, special skills, first words, and more!
9. The Big One/O-fish-ally One 
There's not much cuter than a fishing-themed first birthday party - and it's easy to find decorations and props to fit this theme! Celebrate your little one "o-fish-ally" turning one by creating an adorable party scene filled with fishing poles, toy fish, balloons, streamers, banners, and bubbles! Colors such as blue, red, orange, black, and yellow work well with this theme. Snacks can include fish-themed treats like fish crackers or gummy fish. You can also make blue jello or pudding. Decorate a birthday cake to look like rippling water, and add gummy fish to add to the look. Dress your baby in a tiny bucket hat and vest, and he'll be ready to steal the show!
10. Sweet One 
If your little one is as sweet as can be, consider going with this candy-themed party idea! When purchasing decorations, think about everything sweet: ice cream, donuts, lollipops, cupcakes, and more! You can find balloons in the shapes of many sweet treats. Bright, vibrant colors really work well with this party theme. For party favors, you can make your guests little bags of assorted candies! Don't forget that fruit also counts as a sweet treat, so you can also do this party theme around fruit instead of candy and desserts.
 11. One-derland 
Create an adorable party based on "Alice In Wonderland!" The invitations and party banners can say "(Your baby's name) In Onederland," and you can decorate with brightly colored balloons and streamers, a deck of cards, teapots and teacups, feathers, rabbits, clocks, and more! If you have a baby girl, find a party dress to look like Alice's dress - a white and blue gown. This theme is the perfect opportunity to throw a cute tea party for your little Alice in Wonderland and her friends! 
12. Baby's First Fiesta
This theme is so much fun for babies and party guests alike! The "first fiesta" theme makes it simple to pick out party food: a taco bar, nacho bar, tamales, enchiladas, or rice and beans work well for this theme. Decorate with balloons and banners in bright colors like magenta, teal, neon green, and yellow, and think about elements that might suit this theme like an inflatable cactus, a sombrero-wearing teddy bear, or maracas! Use mini piñatas as a great photo prop!
13. My First Rodeo 
Break out the cowboy gear and get ready to celebrate your baby's first rodeo! Colors like red, black, beige, and blue work great with this theme. Decorate with cowboy hats, boots, cactus, bandanas, and other wild west items to create a cute look for your baby's birthday party. You can even use letter balloons to spell out "My First Rodeo" to create some great photo opportunities! 
14. Hole in One 
Do you have a tiny golf pro at home? This first birthday theme will suit him (or her) well! Decorate with shades of green, white, and blue, and add golf elements throughout the party scene to set the stage for your little pro in the making. Adding fake grass to look like a putting green, and get cookies or cake decorated to look like golf balls. This theme is simple, and yet unique! 
15. Look Whoo's One 
"Whoo" is one? Your little baby! Try this adorable owl theme for your child's first birthday, and your guests will be impressed. Decorate with trees, flowers, and owl cutouts, and shades of pink, brown, and teal, for a sweet party environment that is sure to please. 
Your baby's first birthday is a momentous occasion, so be sure to celebrate with a creative and fun party theme! We can also opt for something we are very familiar with, something we grew up loving - like Sesame Street, Snow White or Mickey Mouse. No matter what your baby's personality and interests are, there's sure to be a first birthday theme that suits her perfectly! 
Do remember to follow us on Instagram @keababies and join our loving and supportive KeaCommunity Facebook Group!
Parenting is awesome. Sleep is overrated. Every day is an adventure. 
---
Meet Our KeaMommy Contributor: Kaitlyn Torrez

I'm Kaitlyn Torrez, from the San Francisco Bay Area. I live with my husband and two children, Roman and Logan. I'm a former preschool teacher, currently enjoying being a stay at home mom. I love all things writing, coffee, and chocolate. In my free time, I enjoy reading, blogging, and working out.