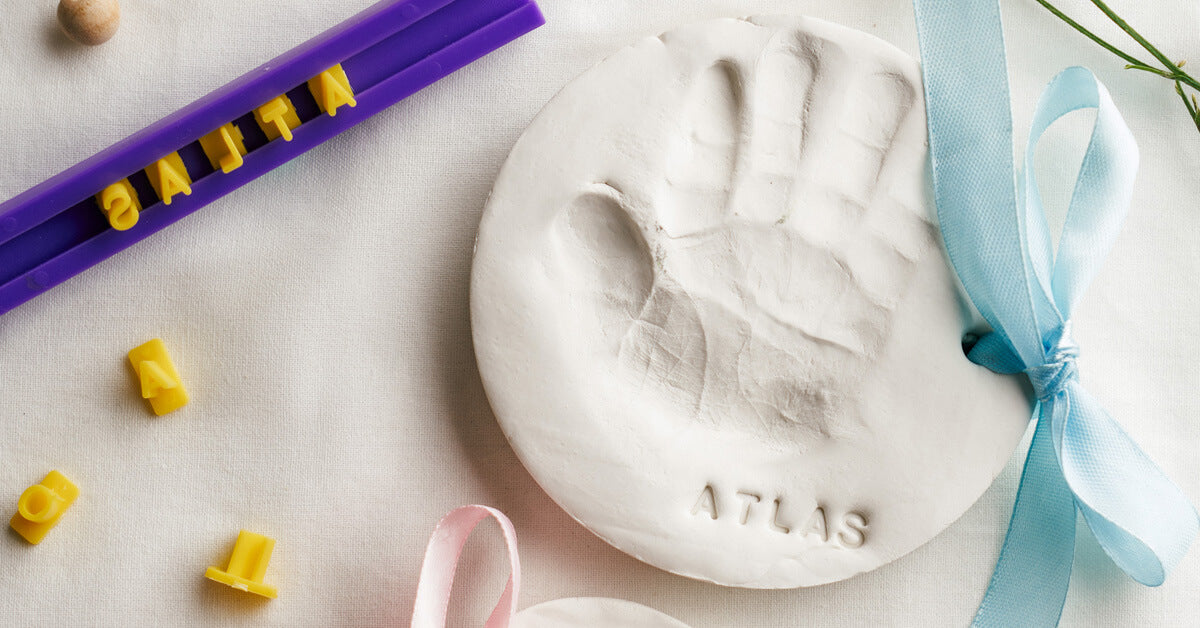 Creating Memories With The KeaBabies Handprint Keepsake Ornament
Create a wonderful art piece to remember how tiny your baby was at one point in time! 
Ten tiny fingers, and ten tiny toes - don't all parents want to freeze time and treasure those little newborn features forever?
Here at KeaBabies, we've designed a way to do just that! With the KeaBabies Baby Handprint Keepsake Ornament, you can create a wonderful art piece to remember how tiny your baby was at one point in time!
What does the KeaBabies Handprint Keepsake Ornament Kit come with?
The ornament kit comes with an instruction video, non-toxic clay, a high-quality easel, gold paint, an adorable gift box, and letters and numbers for printing the date and your baby's name! This kit comes with everything you need for a simple, but beautiful keepsake you and your family will enjoy for years to come! The step-by-step instruction video will walk you through every stage of the process.
Why choose the KeaBabies ornament kit over other brands?
As with all products in the KeaBabies family, the KeaBabies Handprint Keepsake Ornament Kit is made of the best quality materials! The non-toxic clay makes the kit perfectly safe to use, even with sensitive newborns. The clay also won't mold, so you'll be able to enjoy your keepsake for years to come. Lastly, all KeaBabies products come with the KeaBabies 365 Customer Satisfaction warranty - so if anything happens to your product, or you are unhappy with the quality, you have a full year to receive a full refund, hassle-free!
Who is the KeaBabies ornament kit made for?
This kit is perfect for all parents! Whether you baby is a newborn, infant, or toddler, you can create a wonderful ornament to hang in your child's room or display somewhere in your house! It comes with four ribbon color options, making it easy to match any decor.
The KeaBabies Handprint Keepsake Ornament Kit also makes a great baby shower gift! The cute design matches any nursery theme, the kit comes with a beautiful gift box, and it can be personalized! This ornament kit is the ideal gift for any expecting parents!
Creating Special Moments with the KeaBabies Handprint Ornament Kit
At KeaBabies, we strive to create products that enhance parent-child bonding, and this ornament kit is a wonderful way to spend quality time with your child. Creating this sweet keepsake takes time and patience, so try to enjoy the process with your little one and savor that special time together. You can make it a family activity and get everyone involved!
The KeaBabies Handprint Ornament Keepsake Kit is a wonderful gift for expectant parents or for the upcoming holidays! It would even make a precious gift to godparents or grandparents. However you choose to gift the KeaBabies Handprint Ornament Keepsake, it is sure to bring a smile to the recipient's face!
Do remember to follow us on Instagram @keababies and join our loving and supportive KeaCommunity Facebook Group!
Parenting is awesome. Sleep is overrated. Every day is an adventure. 
---
Meet Our KeaMommy Contributor: Kaitlyn Torrez

I'm Kaitlyn Torrez, from the San Francisco Bay Area. I live with my husband and two children, Roman and Logan. I'm a former preschool teacher, currently enjoying being a stay at home mom. I love all things writing, coffee, and chocolate. In my free time, I enjoy reading, blogging, and working out.