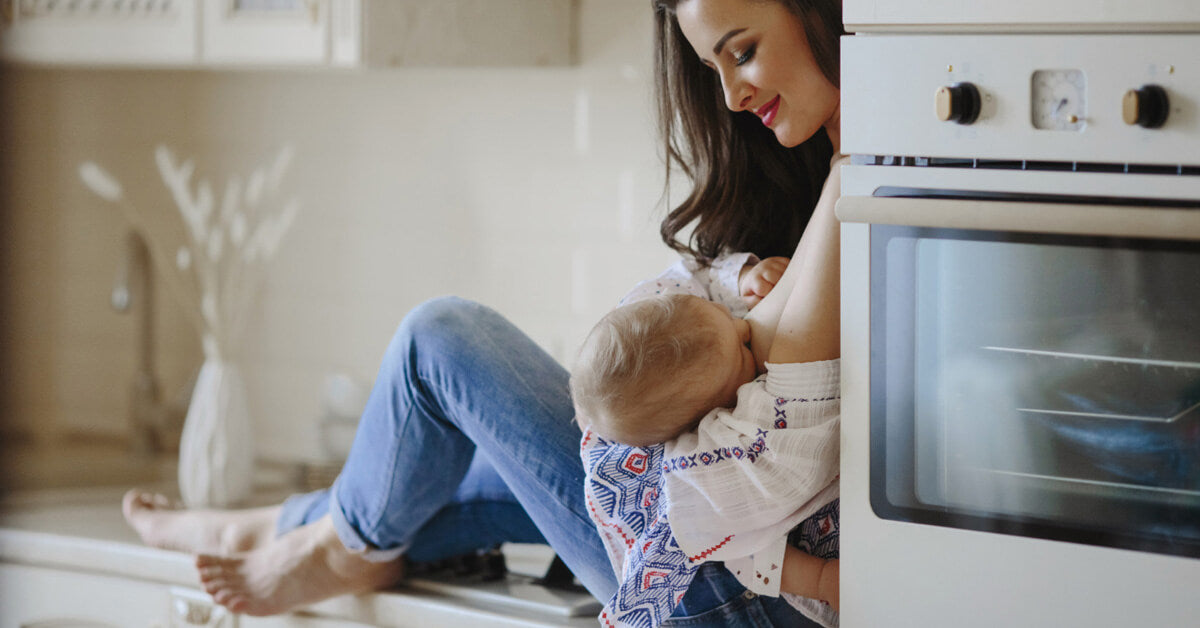 Breastfeeding Essentials For The Modern Mom
Making the choice to breastfeed is an individual decision dependent on a number of factors - but if you plan to breastfeed your little one, be sure to stock up on all the essentials while you're pregnant!
Making the choice to breastfeed is an individual decision dependent on a number of factors - but if you plan to breastfeed your little one, be sure to stock up on all the essentials while you're pregnant! Before your baby's arrival, you'll want to be sure to purchase everything you'll need to ensure a successful start to your nursing journey. Because of the wider acceptance and support of breastfeeding mothers, there are now more products than ever available to help nursing mothers have a great breastfeeding experience. From creams, to pads, to pumps, here are all the options you'll want to consider purchasing before your new little one's arrival!
1. A breast pump 
Breast pumps come in all shapes and sizes. Some are hands-free, some run on battery, some are manual, and some are portable. Choosing a breast pump can be tricky, so be sure to ask around for recommendations from experienced breastfeeding mamas or a lactation consultant. Breast pumps can be costly, but many insurances now cover the cost of a breast pump for mothers who plan on nursing their babies! Be sure to check with your doctor or insurance provider about how to research and purchase an eligible pump. If this isn't an option, some hospitals will allow mothers to rent a hospital-grade breast pump, which can also be a more cost-effective solution. 
2. A breast milk collector
Some mothers leak a substantial amount of milk between or during feedings, and they don't want to waste any of that liquid gold! If you find yourself leaking several ounces of milk each day, you might want to consider buying a milk collector that suctions to the breast and contains any drops of milk that spill from the breast. These can be worn inside the bra and then emptied into a bottle or breastmilk storage bag to use for later feedings. 
3. Hands-free pumping bra
Pumping is a great way to store milk so that another caregiver can help feed the baby - but it is time consuming! If you don't feel like holding onto the flanges while pumping, get yourself a good pumping bra! These bras help maintain seal and suction, and can be used with a variety of pump brands. 
4. Nursing bras
Although breastfeeding mother's don't necessarily need nursing bras, you can't beat the convenience! Nursing bras are designed with a special clip that unlocks when it's time to feed your baby. Nursing bras make breastfeeding in public easier and more private. You can also buy nursing shirts and nursing tanks that make breastfeeding on the go a breeze! As much as possible, avoid tight-fitting or underwire bras while you are nursing, as these can cause painful clogged ducts over time. 
5. Lanolin cream 
Lanolin can help soothe pain and discomfort during breastfeeding by relieving dry, cracked nipples. It can also help prevent friction between the nipple and your bra. Lanolin is completely safe for babies, so you don't need to wipe it off before each feeding. There are many companies that make lanolin creams for breastfeeding mothers, so check your local store for options. Or ask your lactation consultant for a highly recommended nipple cream!
6. Cooling gel pads
In the early days of breastfeeding, mothers often experience tender, sore breasts. As the baby learns to latch properly and mothers adjust to the sensations of breastfeeding, it's important to soothe any pain between feedings. You can purchase round gel pads that can be refrigerated and then placed inside your bra between feedings. The cool, soft material can soothe sore nipples. 
Cooling gel pads are convenient alternative to nipple cream.
7. Breast pads
Mothers often leak milk between feedings, especially in the early days as their bodies adjust to meet their babies' needs. You can prevent ruining your shirts with leaked milk by investing in quality breast pads to insert in your nursing bra. Although disposable breast pads are an option, they are often uncomfortable and scratchy. Purchasing reusable nursing pads such as the KeaBabies Organic Nursing Pads can be a cost effective, environmentally friendly option for mamas who value comfort and ease. The KeaBabies Nursing Pads contain 4 soft layers to allow for maximum absorption. They are also machine washable and come in packs of 7 pairs - so you won't find yourself doing laundry every day. Check out the different colors available, from plain white and black, to sweet pastels and lovely nudes, there should be a set of nursing pads to go with your favorite nursing bra!
8. Nipple shield
Some mothers and babies have problems with breastfeeding because of the mother's nipple shape or the baby's ability to latch properly. An improper latch can be very painful and can cause issues over time. A nipple shield is a flexible silicone shield that goes over the nipple to help hold the nipple in the correct position, and prevent pain during latching. Nipple shields should only be used temporarily, and cleaned thoroughly before each feeding. Mothers with flat or inverted nipples can benefit greatly from using a nipple shield until their baby is old enough to latch well! 
9. Nursing cover

Although nursing moms are free to feed their babies wherever they choose, many moms prefer to be private and discreet when nursing their little ones in public. The KeaBabies All-In-1 Multi Use Cover is soft, flexible, and perfect for breastfeeding moms on the go. It comes in a small carrying pouch that can be easily tucked into a diaper bag or purse. It gently wraps around mom and baby, and provides maximum comfort and privacy during nursing sessions. The fabric is stretchy and breathable, so your baby won't get too hot while nursing. 
Because of the functionality of this all-in-1 nursing cover, it makes a good baby shower gift for new moms whether they decide to breastfeed or not.
10. Nursing pillow or positioner
There are many different types of holds and positions that are common for breastfeeding, but some nursing moms prefer to use a little extra help! A nursing pillow or positioner can help position your baby at the breast and make it easier to feed your baby. They can also help free up your hands while you breastfeed your baby. These pillows and positioners are especially useful when your baby is very small. 
If you have decided before giving birth to breastfeed, then you should probably add a nursing pillow to your baby registry. Nursing pillows are awesome baby shower gifts!
11. Breast milk storage bags
If you plan on using a breast pump, you will also need a way to store your breast milk. Purchase breastmilk storage bags that can go in the refrigerator and freezer to keep your milk fresh and safe for feeding. Freshly pumped breastmilk can be stored in the refrigerator for up to 4 days, in the freezer for up to 6 months, or in a deep freezer for up to 1 year. Lay the bags flat until frozen, and then place in plastic freezer bags or a plastic carton to keep your freezer neat and organized. You would not want your precious liquid gold to go to waste!
12. Large water bottle

Breastmilk is largely composed of water, so breastfeeding mothers need to stay hydrated (aiming for 90-100 ounces per day is ideal). Invest in a gallon-sized water bottle to make tracking your water intake simpler. Especially in the early days, breastfeeding mothers often report feeling very thirsty, so having an oversized water bottle on hand can be a huge relief! 
13. Healthy snacks

Breastfeeding mothers also need extra calories, so be sure to stock up on healthy, high-protein snacks to keep on hand. Apples and peanut butter, cheese and crackers, protein bars, granola bars, dried fruit, nuts, trail mix, fresh fruit, carrots and hummus, celery and peanut butter, and prepackaged protein shakes are some simple snack ideas for nursing mothers to give them the energy and better their milk supply.
14. Mobile app to track feedings
Breastfeeding mothers need to keep track of many different things, and with "mom brain," this can be difficult! If you want to keep track of what side your baby last nursed on, how long the baby ate for, how many ounces of pumped milk your baby drank, or when you last pumped, be sure to download a mobile app for your phone that tracks all of these things! You can also use a simple pen and paper to track your breastfeeding sessions. 
If you get these things ready while you're still pregnant, you'll be all set up for a successful start to your breastfeeding journey once your baby arrives. Remember, breastfeeding looks different for everyone, so be sure to give yourself some grace as you navigate this amazing journey with your new baby. 
Meet Our KeaMommy Contributor: Kaitlyn Torrez

I'm Kaitlyn Torrez, from the San Francisco Bay Area. I live with my husband and two children, Roman and Logan. I'm a former preschool teacher, currently enjoying being a stay at home mom. I love all things writing, coffee, and chocolate. In my free time, I enjoy reading, blogging, and working out.