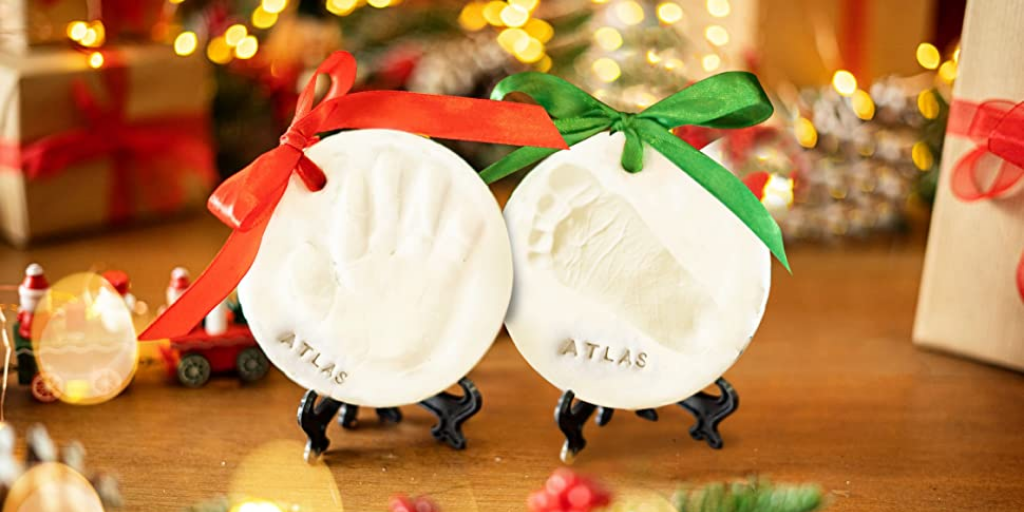 A Beautiful Keepsake To Ornament Your Tree
Everyone loves personalized Christmas tree ornaments - and KeaBabies has you covered! With the Cherish Baby Handprint Keepsake Ornament Kit, you'll be able to create a sweet and memorable keepsake ornament to remember how sweet and tiny your little one's hand once was! Read on for more information on this great gift idea!
Christmas ornaments are fun to shop for, but they're even more fun to make! We've shared some homemade ornament ideas on the KeaBabies blog, but if you're looking to simplify the crafting experience, look no further than the KeaBabies Cherish Baby Handprint Keepsake Ornament Kit! 
If arts and crafts aren't your strong suit, be sure to try one of these ornament kits from KeaBabies. This kit takes all the guesswork out of the equation and provides all the materials you'll need to create wonderful memories with your baby. 
The KeaBabies keepsake ornament kit stands out from the rest. 
Each ornament is made from food grade baby safe clay and comes with paint and numbers and letters for etching out whatever saying you want! It also comes with a high-quality display easel in case you want to keep your ornament keepsake in full view all year round. Each kit comes in a cute gift box, which makes it the ideal gift for expecting mothers or new moms! Better yet, everything you'll need is in one place - and there are even simple step-by-step instructions available online at https://keababies.com/pages/tutorials. 
There are currently four paint color options when you order your kit, making it easy to personalize with your unique style! The paints for the kit currently come in gold, silver, glaze, and multi-color. You can hang the ornament on your tree using one of the five satin ribbons that come with the kit, or you can use your own ribbon! 
Babies have sensitive skin, and KeaBabies seeks to protect their fragile hands. 
Your baby's safety is our number one priority. We work hard to make all our products baby-safe, and any materials that touch your baby's delicate skin should be safe for contact. The food-grade clay is 100% safe even for newborns. 
The clay is also high-quality and made to last - meaning you'll be able to display it on your Christmas tree for years to come. 
This adorable keepsake ornament is sure to be a prized possession in the family throughout your little one's childhood! She'll be delighted year after year to compare her handprint and see how much she's grown! 
Do you already have the KeaBabies Cherish Baby Handprint Keepsake Ornament Kit? Here's how to use it. 
Cut out the letters of your baby's name. Line the letters in mirror image on the letter holder.

Prepare your work space by placing one of the paper mats onto a flat surface. 

Line up the "O" ring on the dotted line on the mat. 

Open one packet of clay, and remove it from the bag. Make sure your hands are clean and dry. 

Knead the clay with your hands for at least 3 minutes to smooth it out. 

Gently press the ball of clay into the center of the "O" ring, and then using the palm of your hand, gently press the clay out to reach the boundary of the circle. 

Use the straw to make a hole near the end of the "O" ring. Once the keepsake it dry, ribbon can be threaded through this hole for hanging. 

Use a roller to smooth out the clay. Take your time!

Press the letter holder into the clay at the desired location for 5 seconds, then remove.

Place your baby's hand or foot into the clay for several seconds. 

Let the clay set for 4 days. Do not remove the ornament from the "O" ring during drying. 

Once the clay is completely dry, remove from the "O" ring and paint. Let the paint dry for at least 2 days. 

Tie the ribbon onto the hole you punched with the straw, or display on a table using one of the easels included in the kit!
These ornaments are a great way to create lasting moments with your little one. Having imprints of your baby's tiny hand or footprint can spark precious memories for years to come. This ornament kit is the perfect activity to do during Christmastime, as you can proudly display your special keepsake on your Christmas tree this year! 
Enjoy creating special memories with your little ones this holiday season!
Do remember to follow us on Instagram @keababies and join our loving and supportive KeaCommunity Facebook Group! 
Parenting is awesome. Sleep is overrated. Every day is an adventure.
---
Meet Our KeaMommy Contributor: Kaitlyn Torrez

I'm Kaitlyn Torrez, from the San Francisco Bay Area. I live with my husband and two children, Roman and Logan. I'm a former preschool teacher, currently enjoying being a stay at home mom. I love all things writing, coffee, and chocolate. In my free time, I enjoy reading, blogging, and working out.