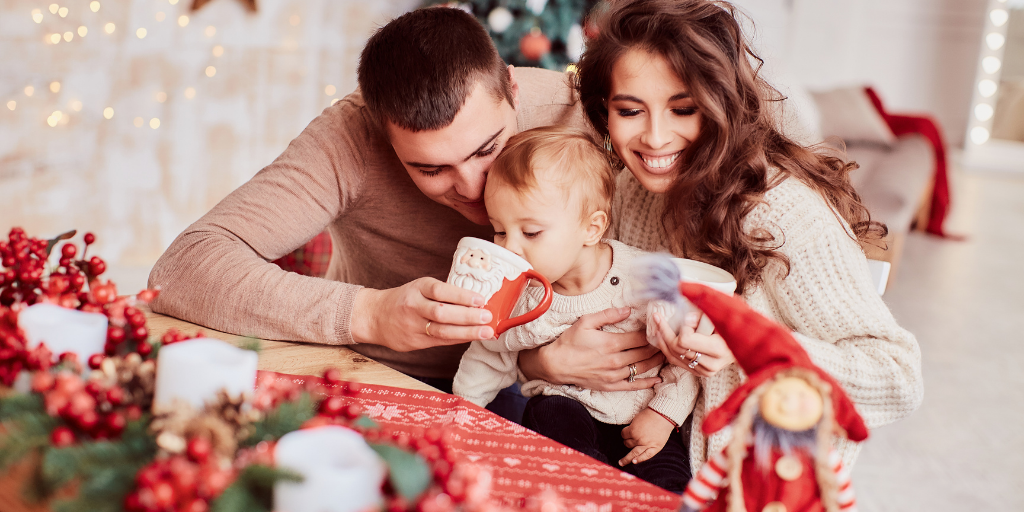 8 Christmas Traditions To Start In 2020
While this year's holiday festivities probably look much different than years past, there's still plenty of time to create fun memories with your families this Christmas season. If you're looking for a new (and pandemic-safe) family tradition to start in 2020, look no further - we've compiled a list of our eight favorite traditions you can do with your little ones this year!
1. Family Tradition #1: Create homemade Christmas cards for friends, family, and neighbors. 
 An easy way to spread holiday cheer is to make adorable cards to mail to friends, family, and neighbors. You can also encourage your children to create cards to send to frontline workers or nursing home residents - people who might need some extra cheering up this year. 
Even if you have a newborn, you can still create adorable cards to send people! If you need a simple idea, find some green paint and create a "mistletoe" card. Paint your baby's feet green, and stamp them onto the paper upside-down. Get a red marker to draw a ribbon at the top of the footprint. Write "mistletoes" at the bottom of the paper, and you'll have a sweet card all set! If you have a toddler or older child, thumbprint painting can be an easy way to make cute Christmas cards! Using a black marker, draw a wavy line going horizontally across the card. Then, paint your child's thumbs different colors, and help them stamp along the black line. The thumbprints will look like sparkling Christmas lights! You can also paint your child's thumbs brown and stamp 4-5 all over the card. Draw some antlers, add a red nose, and use plastic craft eyes to make cute little reindeer.
2. Family Tradition #2: Rock out to a Christmas playlist tailored for kids. 
Host a family dance party right from the comfort of your living room. Have everyone dress in their favorite holiday pyjamas or sweaters, grab some glow sticks, and blast your favorite holiday tunes! Encourage your kids to dance the night away and show off your best moves! Here are some kid-approved Christmas classics, and a few newer songs for the whole family to enjoy. 
12 Days Of Christmas

Jingle Bells

Deck The Halls

Rudolph The Red-Nosed Reindeer

Oh Christmas Tree

Let It Snow

Jingle Bell Rock

Here Comes Santa Claus

Frosty The Snowman 

Santa Claus Is Coming To Town 

You're a Mean One, Mr. Grinch 

Santa Shark (Super Simple Songs)

The Reindeer Pokey (The Kiboomers)

Merry Twistmas (Pinkfong)

Five Little Elves (The Kiboomers)

Little Saint Nick (The Beach Boys)

Christmas Is (Run-D.M.C.)
3. Family Tradition #3: Create a "Christmas Eve box" to open the night before Christmas. 
Create a fun gift box of goodies for your children to open on Christmas Eve. Some festive items to include in the box could be matching Christmas pyjamas, slippers, Christmas books, hot cocoa packets, Christmas movies, microwave popcorn, glow sticks, or stuffed animals. 
4. Family Tradition #4: Do a driving tour of your city's best Christmas lights displays. 
You can still get in the holiday spirit without attending large gatherings. Bundle up and get the family in the car to drive around looking at your neighborhood's Christmas lights. You can also look online or search in your local parenting groups on Facebook to get pointers on where the best houses are at! Some cities also have large drive-through Christmas lights displays that families can attend even during the pandemic. Turn up the Christmas music and enjoy the drive!
5. Family Tradition #5: Make homemade ornaments for your tree (and send some to loved ones!). 
The cutest (and easiest) ornaments for the Christmas tree are salt dough ornaments. 
Here's a simple salt dough recipe:
Ingredients: 4 cups flour, 1 cup of table salt, 1 ½ cups of water
Directions: Mix the ingredients together, and then knead the dough for 5 minutes until soft and uniform. Divide the dough and roll out about .5" thick between two sheets of parchment paper (to prevent sticking). Cut out shapes with Christmas cookie cutters, then place on a parchment paper lined baking sheet. Bake at 250 degrees Fahrenheit for 2-3 hours, or until they aren't soft and squishy anymore. You can also use a straw or toothpick to make a hole at the top of each shape so you can add a string or an ornament hook after baking!
Here are a few cute ideas for salt dough ornaments: 
Cut a circle out of the dough, and help your little one press her hand into the center of the dough. Once the ornament is baked and cooled, paint the handprint to look like Santa - the fingers can be painted white to look like his beard, you can add his face and his hat in the palm of the hand. 

Cut a circle out of the dough, and stamp your little one's thumb print several times across the middle. Once it has baked and cooled, paint the thumbprints to look like Christmas lights!

Using your child's thumbprints, create a snowman by pressing his thumb into the dough three times. Once the ornament has baked and cooled, paint the thumbprints white and draw on some cute hats and faces with a black permanent marker!
6. Family Tradition #6: Have an indoor family campout by the Christmas tree. 
The holiday season is such a fun time to decorate your home's interior, and what better way to enjoy your beautiful Christmas decorations than with a family sleepover by the Christmas tree! You can even pitch a tent inside if you want the real camping experience. All you need are some warm blankets or sleeping bags, pillows, and lots of snacks. Gather everyone around the tree and enjoy an evening sleeping by the sparkling lights of your Christmas tree.
7. Family Tradition #7: Set up a hot cocoa bar with all the fixings. 
Who doesn't love hot chocolate? Given all the extra time people are spending indoors, families are going all-out on their holiday snacking! One fun way to enjoy some family time is to set up a "hot cocoa bar" one night. Set out some mugs and hot cocoa, and then include all the fun toppings you can think of! Some tasty toppings include mini marshmallows, crushed candy canes, sprinkles, Christmas cookies, candies, mini donuts, caramel, chocolate syrup, or flavored whipped cream. 
8. Family Tradition #8: Create a "Christmas bucket list" to complete this season.
At the beginning of the month, sit down as a family and create a "Christmas bucket list" for 2020. Check off each item as you complete them. Think of fun activities you can do with your loved ones safely during the pandemic. Need some ideas? How about a Christmas movie marathon, complete with popcorn and movie theater candy? Or, you can go to a Christmas tree farm and cut down your own Christmas tree this year. You can plan a family photo shoot and get dressed up and take cute pictures at a local park or tree farm. You can have a board game night and sip on hot chocolate together. You can create a "Christmas countdown" banner to hang somewhere in your house. You can compile a list of the best-looking Christmas cookie recipes and have a family day baking at home. Once you write everything down, hang your list somewhere where everyone can see it! See if you can complete all your bucket list activities by the end of the month. 
We hope you'll try one of these traditions this year! Even though we may be far apart from family and friends, we can still show one another how much we love and cherish each other by sending special homemade cards or gifts to our one another! From crazy Christmas lights displays, to rocking out to some new Christmas music, there's plenty of fun to be had this month!
Do remember to follow us on Instagram @keababies and join our loving and supportive KeaCommunity Facebook Group! 
Parenting is awesome. Sleep is overrated. Every day is an adventure.
---
Meet Our KeaMommy Contributor: Kaitlyn Torrez

I'm Kaitlyn Torrez, from the San Francisco Bay Area. I live with my husband and two children, Roman and Logan. I'm a former preschool teacher, currently enjoying being a stay at home mom. I love all things writing, coffee, and chocolate. In my free time, I enjoy reading, blogging, and working out.