30-DAY MONEY-BACK GUARANTEE

KEACARE 365 1-YEAR WARRANTY

FREE USA SHIPPING
Why KeaBabies

We simplify parents' lives through trusted, responsibly-made products, heartfelt customer service, and a tight-knit community.

Product Description

Safety is our priority. Our Baby Car Seat Mirror is shatterproof and 100% baby-safe, so you have one less thing to worry about while driving. Suitable for all car types with removal headrest. Comes fully assembled and it is easy to install.

Shipping & Warranty

We offer two shipping options, Standard Shipping and Express Shipping.

Standard Shipping takes 3-5 business days. Enjoy free USA shipping storewide.

Express Shipping takes 1-3 business days.

For shipping to US non-contiguous states, click here.

All your purchases are covered under KeaCare 365-day money-back warranty, a 365-days warranty against manufacturing flaws for all of our products, valid from the date of purchase. 
An Elegant Touch for Your Car
Suitable for MPVs, SUVs, Trucks, Vans, and Sedans
360° Wide & Tall Crystal Clear, Scratch-free Mirror
Crash-tested & Shatter-proof
Easy Installation with Steady Dual Buckle Straps
Size Chart
Large 11.5" x 7.5"
Regular 9.7" x 6.9"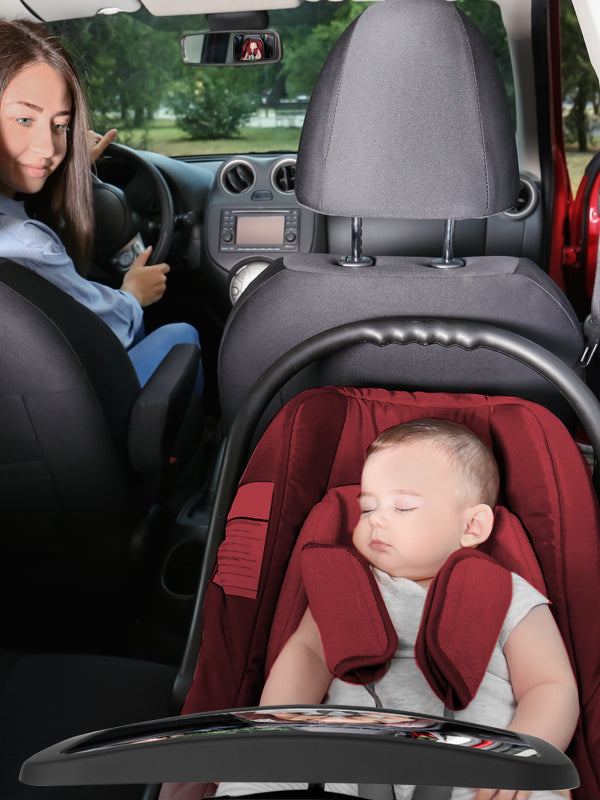 The Wide-angled Baby Car Seat Mirror
Car rides with your baby feel like a breeze with KeaBabies Baby Car Seat Mirror. Whether a daily drive to run errands or an adventurous road trip, our mirror enables you to check on and stay connected with your baby while staying focused on the road. Drive with peace of mind while your baby is nestled safely and comfortably in their rear-facing car seat.
Uncompromised Safety

We are fully committed to ensuring that all of KeaBabies' products are 100% baby-safe. Our Baby Car Seat Mirror is shatter-proof, having undergone rigorous quality and crash tests to ensure it is safe to use.

Suitable For All Car Types: Family Car, SUVs, MPVs, Trucks, Vans

Steady with Durable Dual Buckle Straps

Our Baby Car Seat Mirror comes with dual-buckled sturdy straps that ensure firm and steady attachment, even during bumpy, long drives. These straps have intricate stitching that guards them against breaking. Plus, the mirror comes with backside padding to enhance stability.

Enjoy the Crystal Clear Best View

Get your best viewing angle and adjust your Baby Car Seat Mirror with the convenient 360° rotational ball hinge. Enjoy the flexibility of positioning the mirror vertically or horizontally, too. The convex mirror allows for a wide-angled crystal clear view.
Get more inspos from our KeaCommunity
Be a part of our KeaCommunity, where ideas are always flowing! Get endless inspos on making the most of your parenthood moments from fellow parents. Start your adventure here.
join now