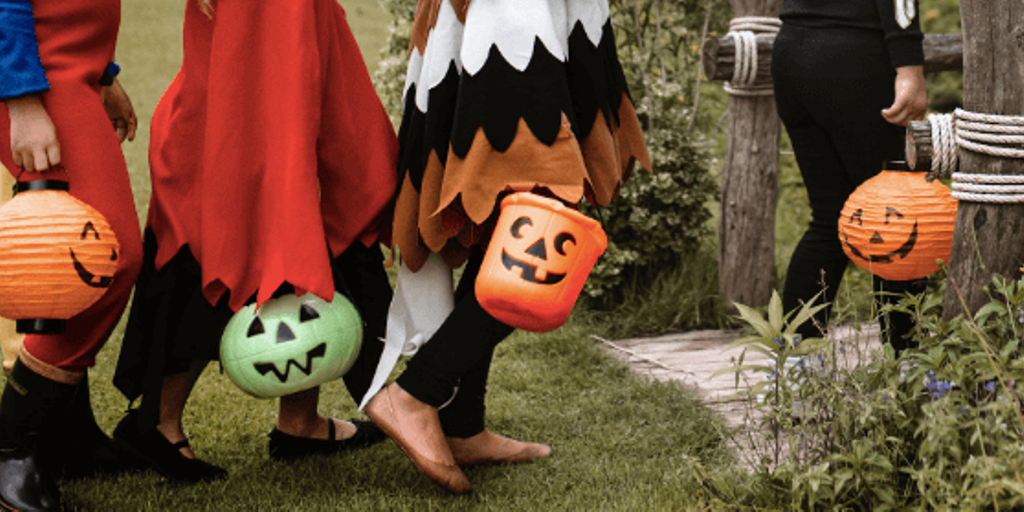 Fabulous Family Halloween Costumes
Need help picking a fabulous family Halloween costume theme? Look no further! We've put together a list of top family costume ideas to suit your individual style!
Fall is a wonderful time of year for families. There are pumpkin patches, apple picking, holiday parties, great weather, and of course - Halloween! It can be fun to have coordinating costumes for your family members! Need help narrowing down the perfect family costume theme? Look no further - we've compiled a list of our favorites! 


1. The Superheroes 
One of the most popular family costume themes is the superhero theme. There are so many superhero movies and merchandise out there right now, it's not hard to find coordinating costumes to suit your tastes! An adorable family theme is from the Pixar movie, The Incredibles. With Mr. Incredible, Elastigirl, Violet, Dash, and Jack-Jack, your family is sure to impress! You can also be Marvel superheroes like Spider-Man, Captain America, Iron Man, Wonder Woman, and the Hulk.



2. Down On The Farm 
All babies and kids look adorable dressed as animals - so why not get Mom and Dad in on the action too! Mom and Dad can dress up as farmers, and you can decorate your little one's stroller or wagon as a barn or a tractor! Babies look adorable as chicks, puppies, cows, pigs, and horses! All Mom and Dad need to dress up as farmers are jeans or overalls, a bandana, and a straw hat! 



3. The Foodies
Does your family love food? Do you enjoy cooking or baking? Do you binge-watch cooking competitions on TV? What better way to celebrate your family's passion than to dress up as food? If you love baking, you can do a baking theme: mom can be a cookie, dad can be a slice of pie, and the baby can be a cupcake! Do you love Italian food? Mom and Dad can be chefs, and the baby can dress up like a bowl of spaghetti. You can even decorate your baby's stroller as a giant bowl! If you're more trendy, a great family theme would be "avocado toast" - Mom (or Dad) can be a slice of bread, and your little one can be an avocado! You could also do a breakfast theme with family members dressed up as a fried egg, slices of avocado, toast, and bacon! Another popular theme is "smores" - Mom and Dad are graham crackers, one child is a chocolate bar, and the other child is a marshmallow. 


4. The Traditional Haunts
No need to reinvent the wheel this year - some of the easiest family costumes are traditional Halloween characters like black cats, ghosts, witches, pumpkins, vampires, and scarecrows. All you need for a great ghost costume is a white sheet! You can cut out holes for eyes, or draw them on with black marker or paint. You can be a cat by getting a cat ears headband and using black face paint or eyeliner to draw a nose and whiskers. 



5. The Cinema-Inspired 
One easy way to coordinate family costumes is to choose a movie or television show and use the characters as your guide! You'll want to choose a movie or show with a good amount of main characters! Some great themes include Despicable Me, Toy Story, Winnie the Pooh, The Flinstones, Shrek, Finding Nemo, Peter Pan, Mickey Mouse, Star Wars, Aladdin, Alice in Wonderland, Peanuts, Monsters Inc, and Scooby-Doo. 

6. The Shark Family
Commemorate your little one's obsession with the hit song Baby Shark by dressing up as the shark family for Halloween! There's Mommy Shark, Daddy Shark, Grandpa Shark, Grandma Shark, and Baby Shark - so everyone can get in on the action! You can also include Brother Shark or Sister Shark too! If your baby is in a stroller or wagon, you can decorate it to look like the ocean by using construction paper to make bubbles, seaweed, or ocean waves! 
There are so many other ways your family can coordinate your Halloween costumes! Check online for more ideas. You don't need to go out and buy expensive costumes - you can often make costumes out of things around your house! 
Do remember to follow us on Instagram @keababies and join our loving and supportive KeaCommunity Facebook Group!
Parenting is awesome. Sleep is overrated. Every day is an adventure. 
---
Meet Our KeaMommy Contributor: Kaitlyn Torrez

I'm Kaitlyn Torrez, from the San Francisco Bay Area. I live with my husband and two children, Roman and Logan. I'm a former preschool teacher, currently enjoying being a stay at home mom. I love all things writing, coffee, and chocolate. In my free time, I enjoy reading, blogging, and working out.